G-Walk Marijuana Strain Information and Review
Take a stroll with me, dear reader, as we delve into the fascinating and potent cannabis strain known as G-Walk. G-Walk is your golden ticket if you're seeking a marijuana strain that can take you from zero to cloud nine in no time. This isn't just any ordinary strain but a potent concoction bred by the wizards…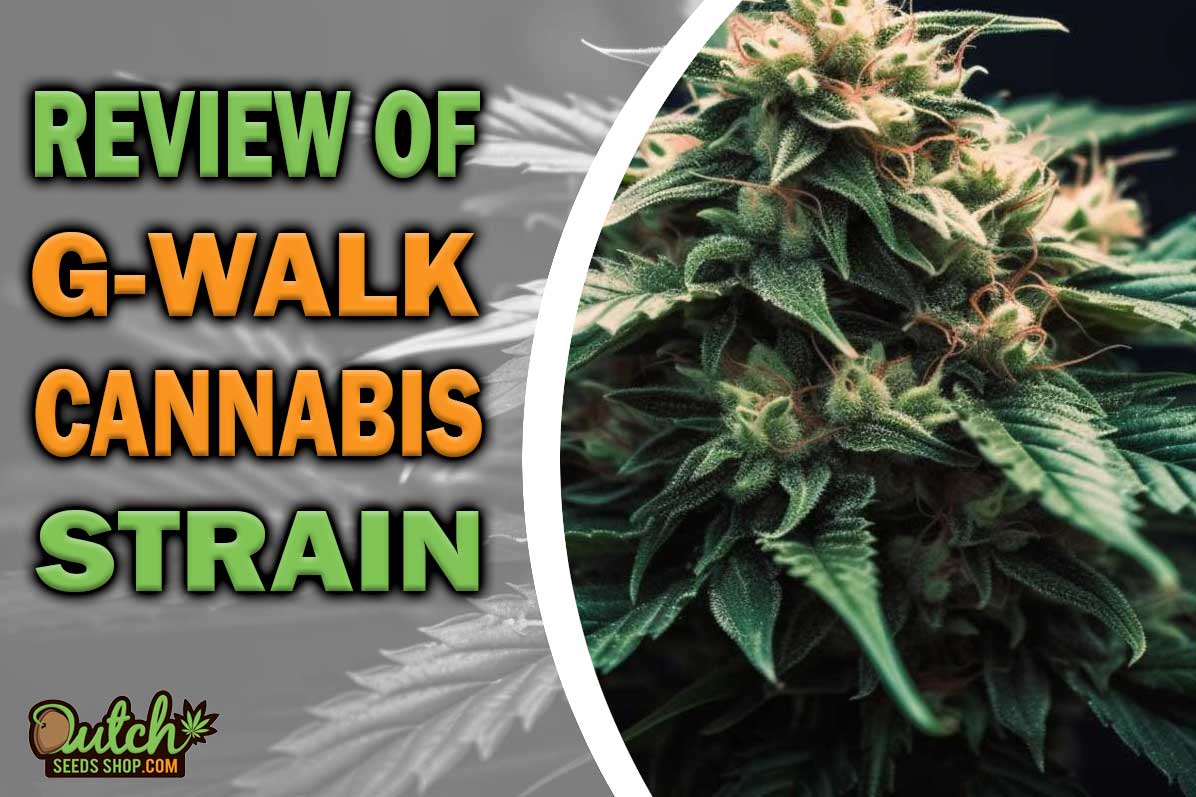 Written by Nenad Nikolic
Date: 2023-07-06 12:26:40
Type: 80% Indica / 20% Sativa
Genetic: Grease Monkey x Florida OG
Terpenes: Caryophyllene, Limonene, Myrcene, Pinene
Flowering Time: 56 – 63 days
Indoor Yield: 1.1 – 1.6 oz/ft²
Outdoor Yield: 12 – 16 oz/plant
Effects: Cerebral, Physical, Relaxed, Uplifted
Flavors/Taste: Fruity, Skunky Diesel, Sweet, Vanilla
G-Walk Strain Genetics
Origins and Lineage
G-Walk is a brainchild of Exotic Genetix, a name that resounds across the cannabis world like a heartthrob pop star.
It's a lovechild of two absolute powerhouses in the cannabis realm: Grease Monkey and Florida OG.
History
The Appearance of G-Walk Weed
Is G-Walk Indica or Sativa?
The age-old question: indica or sativa? Well, G-Walk doesn't believe in choosing sides.
It's a hybrid, marrying the best of both worlds.
This strain is the perfect blend, offering a balanced experience of uplifting and relaxing effects.
Cannabinoids and Terpenes
Terpenes Profile
THC and CBD levels
Aroma and Flavor
G-Walk Strain Effects and Medical Benefits
Feelings
When you take a hit of G-Walk, you'll feel like you've strapped yourself onto a rocket ship blasting off to the moon.
It's a potent, uplifting strain that brings a calm, relaxing effect.
Negatives
G-Walk Strain Helps With
Growing G-Walk
G-Walk Seeds
Growing Guide
G-Walk prefers a warm, sunny climate and a whole lot of love.
It's a moderately difficult strain to grow, but with patience and the proper care, you'll be rewarded with a generous yield of potent, frosty buds.
Indoor and Outdoor Growing Info
Whether growing G-Walk indoors or outdoors, it's all about creating the right environment.
Indoors, you'll need to monitor humidity and temperature levels closely.
Outdoors, you'll need a sunny, Mediterranean-style climate for optimal growth.
Feeding G-Walk Plants
G-Walk plants are like high-performing athletes – they need a balanced diet to perform at their best.
A well-rounded nutrient mix is crucial for optimal growth and yields.
Flowering Time and Yield of G-Walk Seeds
G-Walk has a flowering time of around 8-9 weeks.
With proper care and feeding, you can expect a generous yield as rewarding as the effort you put into cultivating this potent strain.
Comparison of Alternative Strains to G-Walk Strain
Every strain has its charm, and G-Walk is no exception.
But how does it compare to strains like Cake Walk, Florida Wedding, Grease Monkey, and Grease Dog?
Let's find out!
| | | | |
| --- | --- | --- | --- |
| Strain | Genetics | Effects | Flavors |
| G-Walk | Grease Monkey x Florida OG | Balanced, Uplifting, Relaxing | Sweet, Skunky Diesel, Vanilla |
| Cake Walk | Girl Scout Cookies x Cherry Pie | Relaxing, Happy, Euphoric | Sweet, Earthy, Berry |
| Florida Wedding | Wedding Cake x Florida OG | Uplifting, Euphoric, Relaxing | Sweet, Citrus, Earthy |
| Grease Monkey | Gorilla Glue #4 x Cookies and Cream | Relaxing, Happy, Sleepy | Sweet, Earthy, Pungent |
| Grease Dog | StarDawg x Grease Monkey | Energetic, Uplifting, Creative | Diesel, Skunky, Earthy |
FAQ
Is G Walk strain indica or sativa?
G-Walk is a hybrid strain, offering a balanced mix of indica and sativa effects.
What strains are like Grease Monkey?
Strains like Grease Monkey include Gorilla Glue #4, Cookies and Cream, and our star strain, G-Walk.
Written by Nenad Nikolic
Date: 2023-07-06 12:26:40