Uncle Snoop Marijuana Strain Information and Review
Greetings, green-thumb gardeners! Prepare to meet the cannabis strain that's got everyone buzzing – Uncle Snoop. This unique marijuana strain is a distinctive blend of sweet, fruity aroma and potent effects, which will have you flying high in no time! This article will take you through Uncle Snoop's family tree, its distinct aroma and flavor,…
Written by Nenad Nikolic
Date: 2023-07-10 15:28:05
Type: 70% Indica / 30% Sativa
Genetic: Sunset Sherbert x Wedding Cake
Terpenes: Caryophyllene, Limonene, Myrcene
Flowering Time: 56 – 63 days
Indoor Yield: 1 – 2 oz/ft²
Outdoor Yield: 10 – 20 oz/plant
Effects: Euphoric, Happy, Relaxed
Flavors/Taste: Citrus, Diesel, Skunk, Sweet Kush
Uncle Snoop Strain Genetics
When it comes to Uncle Snoop, it's all about family! 🌳
Origins and Lineage
Our dear Uncle Snoop is the lovechild of Sunset Sherbert and Wedding Cake, two renowned cannabis strains known for their distinctive aroma and potent effects.
Uncle Snoop was lovingly nurtured into existence by the expert breeders at Backpack Boyz, who gave us a gem.
History
Hitting the scene like a thunderbolt, Uncle Snoop has quickly climbed up the ranks, winning the hearts and minds of cannabis connoisseurs around the globe.
Thanks to its parentage and outstanding THC content, Uncle Snoop is swiftly becoming the talk of the cannabis world.
The Appearance of Uncle Snoop Weed
Uncle Snoop is one handsome fellow.
This strain boasts deep purple nugs with burnt orange hairs and a sprinkling of trichomes that give it a powdery white look. A beauty indeed! 👀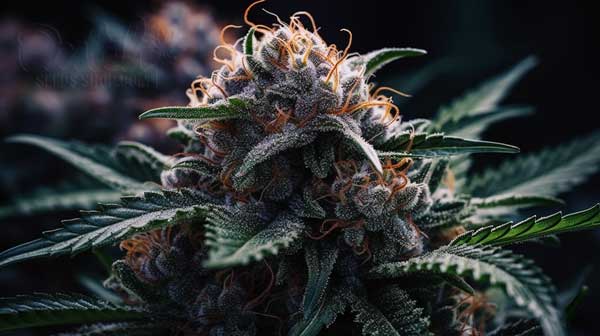 Is Uncle Snoop Indica or Sativa?
Here's where Uncle Snoop reveals his true colors. He's a 70% Indica and 30% Sativa hybrid, offering the best of both worlds in one potent bud.
Cannabinoids and Terpenes
The secret behind Uncle Snoop's charm lies in his cannabinoids and terpenes.
Terpenes Profile
The terpene profile of Uncle Snoop remains a mystery, but the aromatic clues hint towards a blend of myrcene, limonene, and caryophyllene.
These terpenes are known for their sweet, fruity, and spicy flavors.
THC and CBD Levels
Uncle Snoop is not one to shy away from a party. With THC levels ranging from 27% to 35% and an average THC content of 30.3%, Uncle Snoop is a powerhouse ready to deliver long-lasting effects.
His CBD content, however, is a modest 0.28%, perfect for those looking for a THC-dominant strain.
Aroma and Flavor
A whiff of Uncle Snoop will greet you with a potent blend of cream, skunk, and sweet kush, reminiscent of a summer's day spent in a citrus grove.
Lighting him up, you'll be treated to an earthy, citrusy flavor with a diesel undertone, a true delight for the senses!
Uncle Snoop Strain Effects and Medical Benefits
Uncle Snoop is more than just a pretty bud. He's got a heart of gold too! 💛
Feelings
You'll find yourself engulfed in waves of relaxation, euphoria, and happiness upon partaking in Uncle Snoop.
But beware, Uncle Snoop's high THC content may not suit cannabis novices and could cause paranoia.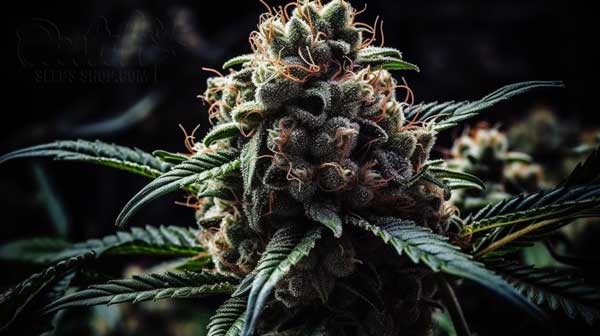 Negatives
Like every cannabis strain, Uncle Snoop has its drawbacks.
The most commonly reported side effects include dry mouth, dry eyes, and the potential for inducing anxiety.
But hey, even uncles have their off days, right?
Uncle Snoop Strain Helps With
Uncle Snoop has been known to alleviate various ailments, such as chronic pain, stress, insomnia, and depression.
So if you're seeking a natural alternative for relief, Uncle Snoop may be your guy!
Growing Uncle Snoop
If you fancy taking a shot at growing Uncle Snoop, here's what you need to know.
Uncle Snoop Seeds
Uncle Snoop seeds are as potent and unique as the strain itself.
These high-quality seeds give birth to some of the most beautiful and aromatic plants you could wish for.
Growing Guide
Uncle Snoop is a tall fellow and prefers a warm, sunny climate.
He's adaptable, though, and can be grown indoors and outdoors.
Indoor and Outdoor Growing Info
Given Uncle Snoop's height, indoor growers may need to invest in sizeable grow rooms or use training techniques to control his growth.
On the other hand, outdoor cultivation allows Uncle Snoop to reach his full potential.
Feeding Uncle Snoop Plants
Feeding Uncle Snoop the proper diet of nutrients will ensure he grows up to be the immense, potent strain you're after.
Regular feeding with high-quality fertilizers will give you a bountiful harvest of dense, resinous buds.
Flowering Time and Yield of Uncle Snoop Seeds
Uncle Snoop takes his sweet time to flower, typically around 8-9 weeks.
But trust me, your patience will be rewarded with a generous yield of potent buds.
Comparison of Alternative Strains to Uncle Snoop Strain
In the family of cannabis, there are many cousins to Uncle Snoop. Here's how they stack up:
Doggy Bag offers an uplifting and relaxing experience with sweet and earthy flavors, but its genetic information is unknown.
Air Melon induces creativity and energy, featuring melon and sweet tastes, yet its specific lineage remains undisclosed.
Snoop's Dream, a combination of Blue Dream and Master Kush, provides a relaxing and euphoric high, boasting blueberry and earthy flavors.
Snoop's Master Kush, derived from Master Kush, delivers a relaxed and happy sensation with earthy and woody notes.
Devils Lettuce results from a blend of Shishkaberry and Great White Shark, providing a relaxing and sleepy effect with a skunky aroma.
| | | | |
| --- | --- | --- | --- |
| Strain | Genetics | Effects | Flavors |
| Doggy Bag | Unknown | Uplifting, Relaxing | Sweet, Earthy |
| Air Melon | Unknown | Creative, Energetic | Melon, Sweet |
| Snoop's Dream | Blue Dream x Master Kush | Relaxing, Euphoric | Blueberry, Earthy |
| Snoop's Master Kush | Master Kush | Relaxed, Happy | Earthy, Woody |
| Devils Lettuce | Shishkaberry and Great White Shar | Relaxing, Sleepy | Skunky, Citrus |
So there you have it, the full scoop on Uncle Snoop!
From its potent THC levels to its incredible flavors, Uncle Snoop has quickly become a favorite among cannabis enthusiasts.
Whether you're an experienced smoker or a newbie looking for a high-quality strain, Uncle Snoop won't disappoint.
As always, happy growing and puff puff pass! 🌿💨💨
FAQ
Is Uncle Snoop indica or sativa?
Uncle Snoop is an indica-dominant hybrid with 70% indica and 30% sativa genetics.
What are the best Snoop Dogg strains?
Popular Snoop Dogg strains include Uncle Snoop, Snoop's Dream, and Snoop's Master Kush. They offer potent effects and unique flavors.
Written by Nenad Nikolic
Date: 2023-07-10 15:28:05