Amnesia Autoflower Seeds Information
Hold onto your grow pots because Amnesia seeds are here to take your cannabis cultivation journey to new, intoxicating heights.
These cannabis seeds are your ticket to a paradise of dense buds, sky-high potency levels, and unforgettable flavors.
Are you up for the ride?
Amnesia Auto Strain Origin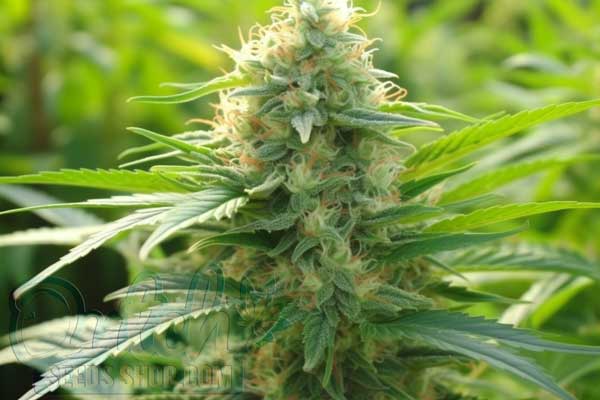 This autoflowering strain is a rockstar in the cannabis world, born from the glorious union of Amnesia Haze and Ruderalis.
With genetics as stunning as these, it's no surprise that this strain is one of the most sought-after among growers and tokers alike.
What makes it truly unique is its Sativa dominant hybrid profile - comprising a whopping 80% Sativa and 20% Indica - that delivers an unparalleled mental high.
Amnesia Auto Weed Effects
Imagine feeling energetic, euphoric, and positively cerebral.
Well, stop imagining because that's precisely the ride this weed promises.
This isn't some lackluster weed experience; it's a whole energetic roller coaster you won't want to get off.
The sativa strain is known for its mood-lifting qualities and munchie-inducing effects, great for those having a hard time eating.
It is not just a recreational thrill but also a possible remedy for chronic conditions like depression, migraines, muscle spasms, and stress.
Individual results may vary, but this strain generally scores high on the therapeutic scale.
You're not merely lighting up; you're lighting up your life.
THC and CBD
Here's where things get lit.
With THC levels ranging between 16% and 17%, this is a treat you won't forget.
Let's be clear; this isn't a strain for the faint-hearted.
While CBD content is less than 1%, this means you're on a one-way trip to euphoria town, potentially easing pain and boosting your mood.
When you grow these cannabis seeds, you're cultivating an experience - a high tetrahydrocannabinol escapade with minimal CBD intervention.
This unique cannabinoid profile offers profound mental highs and potential therapeutic effects for stress and chronic pain.
Aroma and Flavor
Inhale. Ahh, you can almost smell that blend of citrus, hash, spicy, and earthy sweet aromas.
This isn't just another plant; it's a feast for the senses.
With a terpene profile rich in terpinolene, caryophyllene, and myrcene, your nose is in for a fruity, peppery, earthy and herbal ride.
Once lit, this strain keeps you captivated from the first puff to the last.
It's not just the high that keeps people returning but the flavorful journey, combining sweet and spicy notes that tingle taste buds.
You're not just smoking; you're partaking in an aromatic odyssey.
Growing Amnesia Autoflowering Plants
So, you're itching to get your hands in the dirt and start growing this beauty? You've got great taste!
Amnesia strain that screams user-friendly and bountiful, and it delivers.
Cultivating it is like playing a rewarding game - the rules are straightforward, but the prizes are nothing short of exhilarating.
Let's get into the nitty-gritty.
This strain can be grown in either soil or hydroponics, but either way, make sure you've got top-notch drainage.
A poor drainage system will keep you away from those fabulous yields.
In terms of lighting, you're looking at 18 hours of light for optimal indoor growth.
If you decide to venture outdoors, aim for a sunny spot where the plant can soak up the rays.
Overall, you're setting up an ecosystem where this green goddess can flourish, whether it's a discreet indoor grow or an outdoor garden of Eden.
Preferred Climate
This one loves a mild climate, a forgiving little champion for those who may not have a perfect setup.
Whether you're a city dweller with a small balcony or someone with a spacious garden, this weed can cope well.
The key is to carefully balance your humidity and temperature levels to maximize yield and potency.
Of course, being resistant to mold and diseases, it's a comparatively hassle-free grow.
You might be concerned about bugs or common cannabis diseases, but not with this trooper.
This is like the Swiss army knife of cannabis plants, well-suited for different conditions but preferring a mild environment.
Indoor and Outdoor Yield
Hold your horses because you're about to be floored.
When growing indoors, expect anywhere from 1.1 to 1.3 oz/ft².
Venture outdoors, and you could be looking at a range of 9 to 11 oz per plant.
Oh, yes, this isn't your average yield; it's a cornucopia of psychoactive goodness.
Numerous factors can influence your yield, including the nutrient mix, watering schedule, and light conditions.
Get these dialed in, and you're setting yourself up for a serious harvest bounty, whether you're an amateur grower or a seasoned cultivator.
Flowering Time
If patience isn't your strong suit, then you're in luck!
This weed goes from 56 to 63 days in blooming, making it a relatively quick turnaround for such a potent strain.
Factors like growing conditions and nutrients can affect this timeline, but generally speaking, you're looking at a harvest in about 11 weeks.
What's particularly remarkable is the strain's resistance to common plant issues like mold and diseases.
That ensures that your blooming phase goes as smoothly as possible.
So, as you count the days and watch those nugs covered in trichomes swell, rest easy knowing you're on track for a spectacular harvest.
Buy Cannabis Seeds for Sale Online
Ready to buy seeds that promise a high yield?
Dutch Seeds Shop is your go-to!
From the novice to the connoisseur, we offer high-quality auto and feminized seeds that have been rigorously tested for germination rates, ensuring you're not wasting time or money.
The selection at Dutch Seeds Shop ranges from CBD-rich weed for the medical user to potent THC-drenched options for those looking for that cerebral high.
You're not just purchasing auto and feminized seeds; you're buying into a lineage of quality and variety.
The array is so broad and unique that it's not just a shop; it's a weed cornucopia.
Free Shipping Worldwide - Including the USA
Got your eye on those auto and feminized seeds? Don't let shipping fees bog you down.
Dutch Seeds Shop seed bank offers free worldwide shipping. Yeah, you read that right!
Whether you're in a remote corner of the globe or sitting pretty in the USA, these seeds can be in your hand in no time and without breaking the bank.
But wait, there's more to this sweet deal.
Place an order above $100 and prepare for a delightful surprise - free seeds come your way!
We also offer a speedy delivery option of just 2 to 5 days.
Imagine this: Today, you're scrolling through a treasure trove of options, and by the end of the week, you've got premium seeds in hand, ready to be planted.
Free shipping from Dutch Seeds Shop isn't just a deal; it's a steal!
Similar Marijuana Seeds
Dive right in, cultivators and weed enthusiasts!
If Amnesia marijuana strain has caught your eye, you'll want to know about these other strains that share some family traits.
Here's how they stack up against this autoflowering cannabis variety:
Amnesia Haze Autoflowering: Both serve up that irresistible citrus aroma, but their personalities in the grow room differ. Original Amnesia Haze auto has a longer flowering time of around 65 days, this Amnesia Haze variety is demanding a bit more patience and skill from the grower. Conversely, Auto Amnesia is a more straightforward option with quicker flowering times, making it a easy to grow choice for those looking to harvest sooner.
Gelato Auto: Now, here's a sweet treat! Auto Gelato is a balanced hybrid, contrasting Amnesia's Sativa-dominant nature. It has a shorter blooming time of around 56 days and yields slightly less when grown indoors. However, its rich, sweet and sour dessert-like aroma and higher THC content (up to 25%) make it a tempting alternative.
Amnesia Lemon: Tart and zesty, it brings that classic high with a citrus twist. It has similar potency but leans more towards an even Sativa Indica split. Its growing difficulty is similar, making it another excellent choice for growers looking for a bit of variety in their adventure.
Amnesia XXL Auto: Think of it as bigger sibling of our autoflowering hybrid with sativa heritage. This strain has a slightly more extended blooming period of around 75 days but rewards you with a significantly higher yield. Potency, smell and taste align closely, making it an ideal choice for those looking for a more bountiful harvest and weed that is easier to grow.
Auto Blue Amnesia: A colorful variant, it showcases lavender hues in its buds. With a slightly lower tetrahydrocannabinol content ranging between 14-16%, it offers a milder experience. Its flowering time and yield are pretty much on par, making it an easy switch for those intrigued by its unique coloring.
Each of these strains brings its own unique spin to the table.
Whether you're after bountiful yields, exquisite flavors, or diverse effects, you've got options galore!
FAQ
How long does it take for autoflower Amnesia to grow?
It takes 56 to 63 days for flowering and an additional week or two for the vegetative phase.
What is the most potent auto seed?
While potency can vary, sativas strains like Amnesia weed and classic Amnesia Haze with a THC level of up to 17% are considered among the most potent.
How big does autoflower Amnesia get?
This autoflowering marijuana plant reaches a medium height, ideal for both indoor and outdoor cultivation.
Who has the best Amnesia seeds?
Dutch Seeds Shop is renowned for its quality seeds, promising robust growth and high yield.