Amnesia Blue Headband Feminized Seeds Information
If you're searching for a strain that's a perfect cocktail of cerebral elation and bodily relaxation, your journey ends here.
Amnesia Blue Headband Feminized Seeds are the golden ticket to your ideal weed garden, offering more than just a typical high - it's an experience you don't want to miss!
Amnesia Blue Headband Strain Origin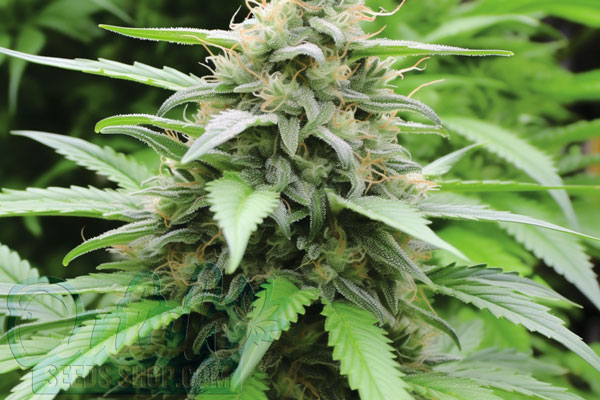 Meet the offspring of two greats: Amnesia and Blue Headband. 
This strain inherited the balanced qualities of its parents, coming out as a 50% Indica and 50% Sativa hybrid.
Its lineage offers the best of both worlds, making it a uniquely versatile and therapeutic strain.
The genetics here have created a potent, moderate-to-grow plant ideal for stress relief and mental wellness.
Amnesia Blue Headband Weed Effects
Imagine the clouds lifting off your mind and your body floating in a tranquil sea.
That's what Amnesia Blue Headband feels like.
Known for its calming, relaxed, and happy effects, this strain will boost your mood while melting away anxiety.
Especially beneficial for those dealing with PTSD, OCD, or even daily stress, this is the herb to lift your spirits high.
THC and CBD
When it comes to cannabinoids, Amnesia Blue Headband doesn't hold back.
With THC levels ranging from 15% to 20% and CBD under 1%, you get an intense high rich in psychoactive effects.
These levels make the strain particularly adept at managing anxiety and depression, alleviating pain, and bringing about a relaxed state of mind and body.
Aroma and Flavor
As you light up a joint, the room fills with a refreshing mix of earthy, lemon, and sweet aromas.
Imagine cutting into a lemon right next to a flourishing garden bed - oh yeah, that's what this strain is all about.
Terpenes like limonene and caryophyllene add layers of complexity to the taste, making every puff an aromatic journey.
Growing Amnesia Blue Headband Plants
Interested in crafting your weed garden but craving a bit of a challenge? Look no further!
Growing Amnesia Blue Headband is the compelling next chapter in your cannabis cultivation journey.
Preferred Climate
The Amnesia Blue Headband strain enjoys a mild climate - think Mediterranean or sunny Californian atmospheres.
Monitor temperature and sunlight; both are vital for maximizing cannabinoid content.
Harvest before the end of October if you're in the northern hemisphere to avoid any cold weather catastrophes.
Indoor and Outdoor Yield
For those taking the indoor route, anticipate yields ranging from 1.3 to 1.6 oz/ft².
Going outdoor? You're looking at a generous 17 to 21 oz per plant.
Factors like soil quality and careful trimming can make a huge difference.
Flowering Time
Patience is a virtue, especially when your Amnesia Blue Headband plants take 63 to 70 days to flower.
During this crucial period, maintain optimal growing conditions to get the most bang for your bud.
Buy Cannabis Seeds for Sale Online
You can buy Amnesia Blue Headband feminized seeds straight from the Dutch Seeds Shop, guaranteeing quality and reliability.
Don't miss out; elevate your garden to a whole new level!
Free Shipping Worldwide - Including the USA
Guess what?
Dutch Seeds Shop offers free worldwide shipping, and yes, that includes the USA!
Plus, get free seeds on orders over $100.
On top of all that, we offer a fast delivery option where your order will reach you in just 2 to 5 days.
Similar Marijuana Seeds
When you think of planting that perfect garden, the options can feel overwhelming.
So, let's put Amnesia Blue Headband under the microscope, comparing its traits to other intriguing strains like New Glue, Critical Widow, and Little Devil.
New Glue: This powerhouse boasts a higher THC level, sometimes exceeding 25%, making it more potent than the Amnesia Blue Headband. When it comes to yield, New Glue falls short, averaging 16 oz per plant outdoors, compared to Amnesia Blue Headband's generous 17-21 oz.
Critical Widow: Known for its fast flowering time of around 60 days, Critical Widow is a quicker option compared to the 63-70 day range of Amnesia Blue Headband. However, it has a similar balanced genetic profile, with a 50/50 Indica-Sativa ratio, keeping the user experience quite comparable.
Little Devil: If space is a concern, Little Devil is your strain. It grows shorter than the medium-height Amnesia Blue Headband. Yield-wise, it's modest but reliable, producing 12-16 oz per plant outdoors, slightly less than our spotlight strain.
Now, you've got a bit of comparative insight to help guide you through your seed-shopping journey.
Happy growing!
FAQ
What is the indica-to-sativa ratio of the Amnesia Blue Headband strain?
The Amnesia Blue Headband strain boasts a balanced Indica to Sativa ratio of 50:50.
Is the Amnesia Blue Headband a hybrid?
Yes, the Amnesia Blue Headband is a hybrid, merging the traits of both Indica and Sativa parents.
What does Amnesia Blue Headband taste like?
Amnesia Blue Headband offers an intricate flavor profile that blends earthy, lemon, and sweet notes.