BC Big Bud Feminized Seeds Information
Ah, BC BigBud, a name that echoes the very essence of robust yields and overwhelming euphoria.
Trust me, whether you're lighting up for the first time or the hundredth, this strain is something to be excited about.
The buds are almost begging to be picked, smoked, or transformed into heavenly hash.
So, what's the buzz about?
BC Big Bud Strain Origin
Cradled in the arms of Big Bud and an unknown Sativa, BC Big Bud is a Canadian classic.
It's a strain that's been stabilized to give you a balanced blend of 35% Indica and 65% Sativa.
BC BigBud is your cannabis cup of relaxation and zest swirled into one.
Its breeders took the best aspects of its parents, focusing on producing plants that pack a wallop in the Tetrahydrocannabinol department.
It's a strain that's been brought to perfection through meticulous breeding.
BC Big Bud Weed Effects
Sit back, light up, and transcend.
Consuming this gem is like boarding a rocket ship to Planet Chill.
You're not just getting a cerebral high; you're also signed up for a luxurious body buzz.
The cerebral effects are instant and potent, allowing a sense of relaxation to wash over you like a warm hug from Mother Nature herself.
Inhale, and the smooth smoke dances in your lungs, as though preparing your entire being for bliss.
The Big Bud is infamous for its intense happy and euphoric vibes, matched by an uplifting mood that can break through even the gloomiest days.
Don't be surprised if you find yourself with droopy red eyes; it's a small price to pay for nirvana.
That makes this strain a top choice for dealing with stress, insomnia, and even conditions like ADD/ADHD.
Your problems don't stand a chance when you're enveloped in this cloud of tranquility.
THC and CBD
Let's talk numbers: 12-16% THC and CBD levels below 0.4%.
This isn't just cannabis; it's practically a lifeline for anyone seeking relief from chronic pain, anxiety, or insomnia.
With THC content like this, it's a strain that can offer substantial relief for a wide range of symptoms.
While the CBD levels aren't quite as high, they do contribute to the overall serene experience.
Aroma and Flavor
Inhale deeply and surrender to the sublime scent of sweet, fruity notes wrapped in a blanket of spicy molasses.
Nestled within that intoxicating bouquet is a skunky undertone with a hint of spice.
You'll find it difficult to pinpoint the exact flavor; it's like a citrusy, fruity cocktail that's both exotic and familiar.
Once you take a hit, you'll notice the taste mirrors the scent.
Indeed, this is a potent strain where scent and flavor are in harmonious sync.
It's a full sensory experience that will make you look forward to every puff.
As you navigate this tapestry of scents, you'll quickly realize that this is no ordinary green; it's a symphony, ready to transport you to new heights.
Growing BC Big Bud Plants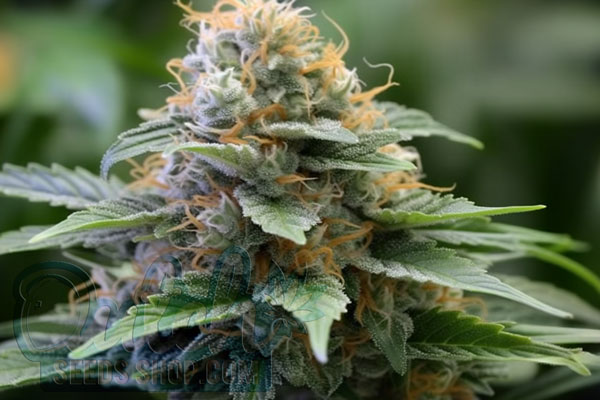 Growers, your next masterpiece is beckoning.
This isn't just another leafy green; it's a treasure trove of massive yields, resilience, and captivating scent.
Those enormous yields come packed with huge buds that'll make your eyes pop and your jaw drop.
Perfect for Sea Of Green and Screen Of Green setups, this dynamo can be grown indoors to maximize its potential, a golden opportunity especially for new growers aiming to get their feet wet.
And if you're into the high-tech approach, it thrives in a hydroponic setup.
Commercial growers, pay attention: the return on investment here can be through the roof.
If you're a cultivator, this is the sort of plant that could make you want to quit your day job!
So roll up your sleeves, because this plant is calling you to elevate your game. It's the ultimate canvas for both rookie and veteran cultivators alike.
Preferred Climate
Big Bud thrives in mild climates with just so high temperatures and humidity.
Dial it up too hot or too cold, and you could be bargaining with the devil for a good yield.
Extreme conditions could encourage mold, especially on those resin-coated buds that you so prize.
The plants can adapt to various conditions, but "mild" is the keyword for optimum growth.
Indoor and Outdoor Yield
You can expect indoor yields to range from 2.3 to 2.9 oz/ft² (700 to 900 grams per square meter), and that's not just foliage we're talking about - these are massive buds covered in resin.
Outdoor plants can produce a staggering 25 to 35 ounces per plant (700 to 1000 grams per-plant).
If you've been eyeing a plant that's the epitome of potency and yield, this one is calling your name.
Want a bountiful harvest?
Well, you better pay close attention to factors like light, soil quality, and water.
Techniques like Supercropping and Lollipopping could be your secret sauce to unlocking those treasure chests of yield.
When done right, you're not just growing a plant; you're sculpting a masterpiece.
Flowering Time
Mark your calendars for 8 to 9 weeks.
That's the time it takes for the plants to complete their flowering stage.
With such a short flowering period, this beauty is a high yield artist you don't want to ignore.
Depending on your grow setup, the flowering time can vary slightly, but that's a ballpark estimate.
In the world of growing, time is of the essence, and this plant delivers on both fronts: a quick turnaround and an abundant harvest.
Buy Cannabis Seeds for Sale Online
Don't miss your chance to cultivate Big Bud seeds at home.
Opt for feminized to steer clear of male plants and maximize your yield.
Buy Big Bud from Dutch Seeds Shop, where quality meets variety.
When you shop with us, you're not just buying seeds; you're investing in a lifestyle.
Free Shipping Worldwide - Including the USA
Yes, you read that right!
Free worldwide shipping, folks - including the USA.
We also offer a fast delivery option ranging from 2 to 5 days.
And hey, orders over $100 come with free seeds, too!
Similar Marijuana Seeds
Craving more marijuana strains that could go toe-to-toe with this powerhouse? Buckle up!
We're diving into a symphony of flavor, yield, and effects as we compare some popular varieties.
Get ready to explore!
Big Bud Ryder: Think of this one as the laid-back cousin, ideal for those leaning towards indica vibes. In contrast to Big Bud, Big Bud Ryder offers an easy-growing experience, perfect for newcomers.
Super Lemon Haze: This zesty player stands in stark contrast aroma-wise. Both varieties sport a close Tetrahydrocannabinol range, but sativa dominant Super Lemon Haze demands a bit more cultivation know-how.
Sour Diesel: Brace yourself for an electrifying cerebral lift! While both strains come with a moderate level of grow difficulty, Sour Diesel tips the scales toward sativa-side and tests your patience with a slightly longer blooming time.
Grape Ape: Rich in deep purple hues, indica-dominant strain Grape Ape brings a visual spectacle. Its indica dominance offers a different type of relaxation and a contrasting flavor profile of Big Bud.
Critical: If yield is your game, meet your match. Critical is easier to cultivate, but with slightly smaller yields per plant, it's a tight race between these two in the cultivation arena.
Each of these cannabis strains is a universe in itself, tailored for cultivators ranging from novice to expert.
So go ahead, step out of your comfort zone, and expand your growing repertoire!
FAQ
Is BC Big Bud strong?
Absolutely, with Tetrahydrocannabinol levels between 12-16%, Big Bud packs a significant punch.
How long does it take for BC Big Bud to bloom?
Expect a blooming time of 56 to 63 days for the Big Bud plants to reach harvest readiness.