Cookies Kush Feminized Seeds Information
Pause and take this in: a strain that's as indulgent as freshly baked cookies but packs a punch like a champion boxer.
Yep, that's Cookies Kush for you!
A fantastic cross between iconic parents Girl Scout Cookies and Rolex pheno of OG Kush, you're looking at the ultimate comfort bud here.
So, if you're aiming for a sublime blend of relaxation and euphoria, this strain should top your list!
Cookies Kush Strain Origin
This amazing strain was created through crossing our Girl Scout Cookies and the Rolex phenotype of powerful OG Kush, resulting in a phenomenal blend of 70%-30% Indica-to-Sativa that screams potency and flavor.
This hybrid strain has captured the best of both worlds, allowing you to experience a well-balanced high with a slight leaning toward relaxation.
A creation of Barneys Farm, this strain has soared in popularity, fast becoming a cannabis cup winner.
Cookies Kush Weed Effects
Sink into a world of relaxation and happiness with each puff.
Almost instantly, you'll find a wave of euphoria washing over you, leaving you in a state of blissful relaxation.
The 70% Indica dominance means you're in for a body high that kicks muscle tension and stress to the curb.
While the Sativa part keeps your cerebral game strong, expect your body to feel lighter and free from any physical constraints.
For medicinal weed users, this is your go-to for battling various issues.
From chronic pain and arthritis to stress and depression, it has a natural propensity for easing ailments.
It's been particularly effective for users with insomnia, lack of appetite, and nausea.
THC and CBD
Let's get down to the nitty-gritty.
With THC levels between 15% to 18%, it packs a moderate punch.
It's potent enough for experienced users but also offers a gateway for newcomers to explore weeds' effects without feeling overwhelmed.
CBD levels are relatively low, below 3%, which means while the strain is primarily recreational, it has therapeutic benefits, such as alleviating stress and minor body aches.
Speaking of therapeutic benefits, the lower Cannabidiol levels make this strain less suitable for severe medical conditions that require higher Cannabidiol content.
But if it's relaxation or mood upliftment you seek, this strain will serve you well.
Aroma and Flavor
Take a whiff and indulge in an aroma that combines earthy undertones, zesty lime, and the crispness of Granny Smith apples - topped off with subtle hints of fresh baked mint chocolate.
Cookies Kush offers a experience like no other, and it's quickly become a phenomenon within the cannabis community.
Thanks to the delightful mix of terpenes, each puff is a journey through an intriguing flavour profile, encapsulating smell and taste, that will keep you coming back for more.
Not just about good vibes, it is also about sensory delight, like a trip to your favorite coffeeshop with the aroma of sweet and earthy tones filling the air.
Regarding aroma and flavor, it's like a perfectly orchestrated symphony that hits all the right notes.
From the pungent first sniff to the fruity undertones that follow, coupled with a dash of sweet pungent aroma, it's a full sensory experience that makes you feel like you're wrapped in a blanket of flavors and scents.
Growing Cookies Kush Plants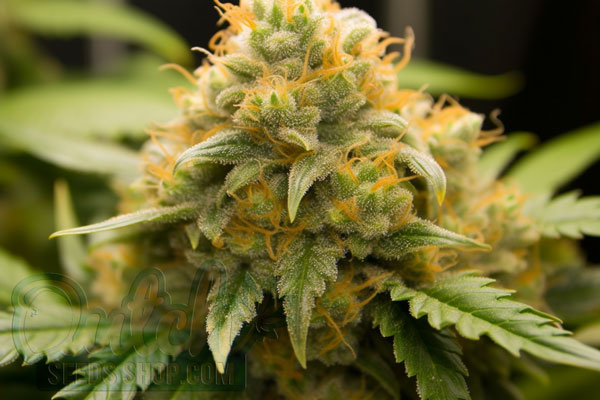 If you're excited about growing your own Cookies Kush plants, let's amp up that excitement a notch!
Known for thriving even in difficult conditions, this plant is notorious for being easy to grow and offers a good yield that makes the cannabis grow truly rewarding.
So whether you're an expert grower or someone who's just starting out, you're in for a bushy cultivation experience.
Just get those cannabis seeds to germinate, follow some basic guidelines, and voila - you'll be harvesting buds before you know it.
Preferred Climate
If you're a fan of milder climates, you're in luck!
Cookies Kush thrives in mild weather conditions.
Keep your outdoor temperature around the moderate mark, and you have a perfect environment for these plants.
Humidity should be kept in check; Cookies Kush is not a fan of excessive moisture, which can lead to mold.
Don't worry if you don't live in a mild climate, though.
This adaptable plant is robust enough to thrive indoor, where you have better control over temperature and humidity.
Whether using a grow tent or a greenhouse, Cookies Kush is flexible enough to adjust to your settings.
Indoor and Outdoor Yield
For those growing Cookies Kush inside, you can expect yields that range from 1.9 to 2.3 oz/ft².
On the other hand, if you've got your sights set on an outdoor garden, prepare to harvest a whopping 23 to 30 oz per plant.
It's hard not to get excited about numbers like these, especially when they come from a strain known for its consistent performance and potency.
Factors influencing the harvest include the growing medium, nutrients, and light conditions.
So whether you're an indoor cultivator focusing on soil, hydroponics, or an outdoor cultivator with natural sunlight, you can tweak these elements to maximize your yield.
Flowering Time
Cookies Kush is a relatively fast flowerer with a flowering time ranging between 56 to 63 days.
If you're growing indoors, this is a massive plus, as you can cycle through more batches in a year.
Outdoors, aim to harvest around late September to early October to catch those buds at their peak ripeness.
Environmental conditions can, of course, influence the blooming time.
Things like changes in light cycles or temperature can either speed up or slow down the flowering process.
But in general, if you maintain optimal conditions, expect the cookies to be ready for the jar in around 60 days.
Buy Cannabis Seeds for Sale Online
Why leave the comfort of your home when the best photoperiod cannabis seeds are a click away?
Dutch Seeds Shop, a top-notch seed bank, brings you premium feminised photoperiod Cookies Kush seeds that promise quality, vigor, and an abundant yield.
Buy Cookies Kush and turn your garden into a haven of high-quality weed.
Concerned about your personal data?
Our privacy policy ensures your details are as secure as your future harvest.
These cannabis seeds also make a great souvenir for aficionados looking to diversify their collection.
Free Shipping Worldwide - Including the USA
Shipping costs can be a bummer, but guess what?
Dutch Seeds Shop offers free shipping worldwide, and yes, that includes the USA.
What's even better?
We offer a fast delivery option ranging from 2 to 5 days.
If your order exceeds $100, we throw in some free seeds.
It's hard to find a deal sweeter than this.
Similar Marijuana Seeds
Ready for more?
Dive into this array of cannabis strains, each carrying a unique allure, and let's see how they compare without any reference points.
Pineapple Chunk: Pineapple Chunk flowers fast, with the nugs ready in about 55 days. Plus, it's heavy on the indica side, boasting an 80% indica composition.
Critical Kush: Critical Kush is a high-yield champ that's perfect for outdoor cultivation. The aroma? Think sweet blended with earthy undertones, a fragrance you'll remember.
Platinum Cookies: Not for the faint of heart, this one needs a seasoned cultivator. The reward is a captivating scent profile featuring notes from sweet berries to intriguing spice.
Orange Cookies: Citrus aroma lovers, get in line. Orange Cookies weed offers a balanced act with 60%-40% indica-to-sativa, resulting in a multifaceted high.
Purple Cookies: In the production department, especially indoors, this one's got serious cred. It carries a compelling aroma with a surprising berry twist. The blooming period is similar of around 8 weeks.
Girl Scout Cookies: This originator strain offers a slightly less sedative experience thanks to a 60% indica composition. Its standout feature? A euphoric high that brings smiles all around.
Whether you're after harvests, fragrance, or just a particular kind of buzz, each of these strains offers something unique.
Your move, green thumbs!
FAQ
Is Cookies Kush strong?
Absolutely, with THC levels ranging from 15% to 18%, it's not for the faint-hearted!
Is Cookies Kush more Sativa or Indica?
It an indica-dominant, with a 70/30 Indica-to-Sativa ratio. Expect a body-focused high!