Grandaddy X Bruce Banner Feminized Seeds Information
Don't blink, or you'll miss it!
Grandaddy X Bruce Banner feminized seeds are in stock, and they're flying off the shelves.
This is your golden ticket to a chill yet euphoric high that's straight-up addictive.
Brace yourselves for a rollercoaster ride of a lifetime, blending the best of indica relaxation and sativa cerebral buzz.
Grandaddy X Bruce Banner Strain Origin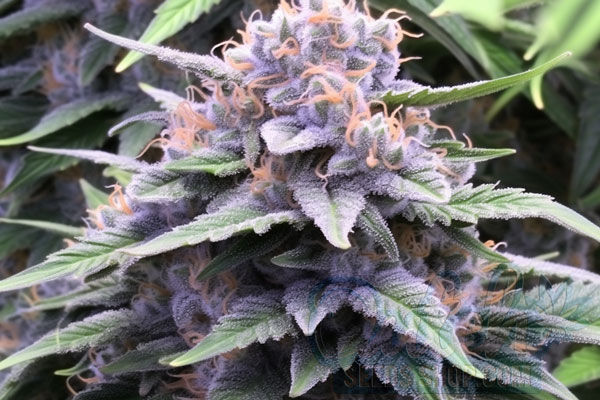 Meet the genius child of Grandaddy Purple and Bruce Banner. 
A hybrid masterpiece that has been perfected for recreational euphoria and medicinal utility.
Its genetics scream quality - 80% Indica and 20% Sativa - making it a balanced yet Indica-dominant marvel.
For those seeking both relief and recreation, this is your go-to strain.
Grandaddy X Bruce Banner Weed Effects
Hold onto your hats!
This strain delivers potent effects that cater to both medicinal and recreational users.
Want to tackle anxiety and depression?
Its anxiolytic properties and euphoric effects got you covered.
From soothing arthritis to increasing appetite, Grandaddy Bruce is the jack of all trades in the cannabis kingdom.
THC and CBD
Pay attention, folks. Grandaddy X Bruce Banner is not for the faint-hearted.
With THC levels ranging from 24% to 28%, you're looking at a high that will transport you to another dimension.
CBD levels, however, stay below 1%, so don't expect this strain to skimp on the psychoactive experience.
Aroma and Flavor
You're in for a real treat.
Picture an explosion of earthy, floral, and grape notes, completed by a subtle hint of sweetness.
Its terpene profile is equally complex, featuring Cedrene, Pinene, Terpineol, and Linalool.
Take a puff, and your taste buds will dance in delight, we promise!
Growing Grandaddy X Bruce Banner Plants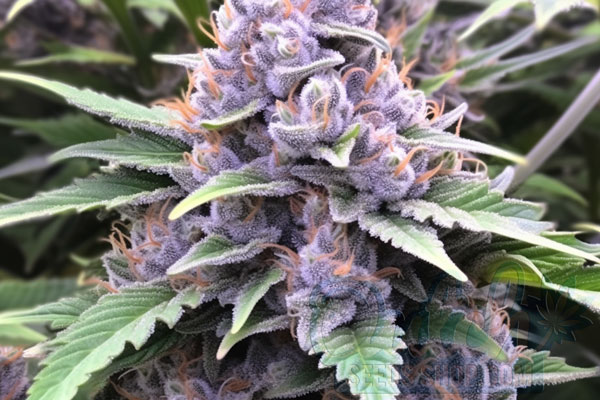 Hey, green thumbs!
Whether you're a budding beginner or a seasoned pro, cultivating Grandaddy Bruce at home can be as enjoyable as smoking it.
It's like having a VIP backstage pass to the creation of your own high-quality bud.
Preferred Climate
Ah, the weather!
This strain prefers a mild climate - keep those temperatures between 70 and 85 degrees Fahrenheit and humidity at 40-50%.
Under the sun's rays, this baby flourishes into a beautiful bud-bearing plant.
Indoor and Outdoor Yield
Let's talk yields.
You can expect around 1.8 to 2 oz/ft² indoors, while outdoor yields can range from 14 to 18 oz per plant.
Perfect for those looking to stock up!
Factors like growing technique and climate can play into these numbers, but generally, Grandaddy Bruce is a high-yielding strain.
Flowering Time
Tick-tock, tick-tock!
If you're watching the clock, you won't have to for long.
Grandaddy Bruce typically flowers in just 56 to 63 days.
Use techniques like Sea of Green (SOG), and you'll be even more handsomely rewarded.
Buy Cannabis Seeds for Sale Online
Don't miss your chance to buy Grandaddy X Bruce Banner feminized seeds from the Dutch Seeds Shop.
High-quality, easy to grow, and oh-so-effective, you're investing in the pinnacle of cannabis genetics.
Free Shipping Worldwide - Including the USA
What's the icing on the cake?
Dutch Seeds Shop offers free shipping worldwide - yes, even to the USA!
And guess what? Free seeds on all orders over $100.
We also offer a fast delivery option ranging from 2 to 5 days.
Similar Marijuana Seeds
Ready to expand your cannabis garden?
Let's explore some strains similar to Grandaddy X Bruce Banner that might pique your interest.
Black Widow: Regarding potency, Black Widow can go toe-to-toe with Grandaddy X Bruce Banner, boasting THC levels upwards of 25%. However, Black Widow leans more towards a sativa experience, making it less of a body-focused high.
5 Alive: While Grandaddy X Bruce Banner leans 80% indica, 5 Alive offers a balanced 50/50 indica-sativa blend. Flavor-wise, both provide a complex bouquet, but 5 Alive tantalizes with citrus and tropical notes rather than Grandaddy's earthy and grape undertones.
Amnesia x Grandaddy Purple: It's like a family reunion! This strain combines half of Grandaddy X Bruce Banner's genetics, offering an intriguing alternative. Similar to its relative, Amnesia x Grandaddy Purple is high in THC but leans more towards the euphoric and uplifting effects of sativa strains.
Bruce Banner x Kali Mist: The child of one of Grandaddy X Bruce Banner's parents, this strain is as dynamic as expected. Bruce Banner x Kali Mist has a longer flowering time than our star strain but rewards with remarkably high yields and a more sativa-dominant high.
Each of these strains brings something unique to the table, offering a slightly different grow and smoke experience.
Ready to take your cannabis journey to the next level?
FAQ
What is the Grandaddy Purple X Bruce Banner strain?
Grandaddy X Bruce Banner is a hybrid strain, mostly Indica, with a powerful combination of Grandaddy Purple and Bruce Banner genetics.
What is the Indica to Sativa ratio of the Grandaddy X Bruce Banner strain?
The Indica to Sativa ratio is 80:20, making it an Indica-dominant hybrid.
What does Grandaddy X Bruce Banner taste like?
The flavor profile of Grandaddy X Bruce Banner is a rich mix of earthy, floral, and grape flavors with a hint of sweetness.