Great White Shark Autoflower Seeds Information
Dive into the ocean of cannabis strains and swim with the Auto Great White Shark Seeds!
A treasure that awaits both veteran and novice cultivators, it is as powerful and majestic as its namesake.
Whether looking for an effective pain reliever or simply craving a deeply relaxed euphoria, Great White Shark is your go-to strain.
So grab your gear and get ready to embark on an exciting cultivation review!
Great White Shark Auto-Flowering Strain Origin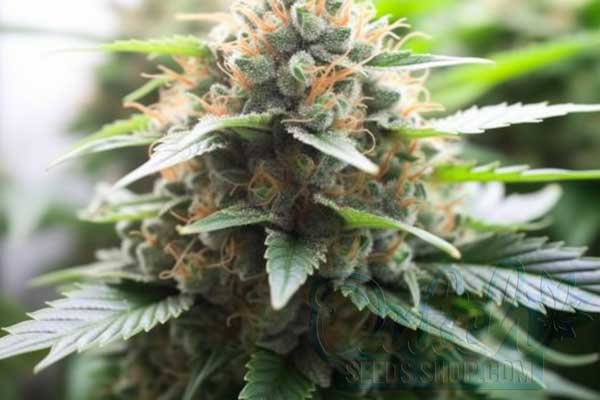 Auto Great White Shark is a shark with some serious lineage.
With parents like Super Skunk, South American, South Indian, and Ruderalis, it's a strong hybrid, boasting 80%/20% Indica-to-Sativa genetic.
The strain's signature resinous, aromatic buds, covered in crystals and orange pistils, make it an enticing catch for any cultivator.
Great White Shark Autoflowering Weed Effects
Taking a bite from this shark has some strong effects:
Relaxation: Sink into the depths of relaxation as the powerful Indica properties work their magic.
Pain Relief: It's a natural analgesic, so wave goodbye to chronic aches.
Happiness: You're bound to sport a shark-sized grin.
And there's more - It has reported medical benefits for conditions such as arthritis, insomnia, and pain relief.
THC and CBD
This strain has THC levels ranging from 10% to 16%.
Its CBD levels, however, are below 0.2%.
With this THC content, you can expect a long-lasting cerebral effect that is not overwhelming but satisfyingly potent.
Aroma and Flavor
Engulf your senses in a wave of skunk, earthy, citrus, and pine flavors.
The terpene profile, including Alpha-Pinene, Beta-Caryophyllene, Limonene, Myrcene, and Terpinolene, combines to create an aroma and taste as expansive as the ocean.
Growing Great White Shark Auto Plants
Riding the wave with Auto Great White Shark Seeds is both an art and an adventure.
Let's review what it takes to tame this beast and how to grow it.
Preferred Climate
The Great White Shark prefers swimming in a mild climate.
With its relative resistance to mold and mildew, it's as sturdy as the marine predator itself.
But don't let it drift too much into the rough seas of excessive soil humidity, as that might lead to trouble.
Maintaining climate with moderate humidity is critical.
Additionally, Great White Shark doesn't grow too tall, making it easier to manage even if you have limited space.
Indoor and Outdoor Yield
Whether you plan to grow your Great White Sharks indoors or outdoors, they will reward you generously:
Indoor yield ranges from 0.7 to 1 oz/ft². You'll have a healthy shark pack with proper nutrient management and adequate light.
Outdoor yield ranges from 1.4 to 4.2 oz per plant. Allow them to bask in nature's glory and watch them thrive.
Flowering Time
You won't have to wait long for this shark to emerge - a short 56 to 63 days of blooming time will get your fat buds ready for harvest.
Buy Cannabis Seeds for Sale Online
Ready to embark on your cultivation voyage?
Dutch Seeds Shop (DSS) is your trusted harbor to anchor and replenish your auto and feminized seed stock.
With an impressive collection of quality cannabis seeds online with high germination guarantees, including the Great White Shark Auto seeds and All Female Great White Shark Seeds, we at DSS ensure your cultivation journey is smooth sailing.
Free Shipping Worldwide - Including the USA
Moreover, with Dutch Seeds Shop, your auto and feminized seeds navigate through the waves in a discreet package, ensuring a safe voyage to your doorstep.
The shipping is free worldwide, including in the USA, and incredibly fast, typically delivered in just 2 to 5 days.
Plus, for orders over $100, we will throw in extra free seeds as a treasure trove!
You can review any additional information about shipping on our website or contact our customer support!
Similar Marijuana Seeds
While the Great White Shark is a treasure from the deep, the cannabis ocean is teeming with other exotic creatures.
Here's a review at a few close relatives and their description:
Shark Cake Seeds: A cross between Shark Breath seeds and Wedding Cake seeds, it offers a higher yield than Great White Shark seeds, around 1.1-1.8 oz/ft². Blooming in 9 to 10 weeks, Shark Cake is known for its earthy and sweet flavor profile and cerebral uplift. With a 75/25 Indica/Sativa ratio, it is somewhat similar to Great White Shark but a tad sweeter.
OG Shark Seeds: A mysterious hybrid with undisclosed genetics, OG Shark is known for its skunky and earthy smell and delivers an intense euphoric experience. With harvest ranging from 1-1.4 oz/ft² and a blooming time of 60-65 days, it's pretty comparable to Great White Shark seeds. The Indica-dominance is also similar at 80/20.
White Rhino Seeds: A child of White Widow and an unknown North American Indica, White Rhino is the beast you grow when looking for a hard-hitting high. It boasts a high THC content and produces significantly more at 1.6-2.2 oz/ft². Blooming within 63-70 days, this is 90% Indica, making it a more heavy-bodied experience.
White Widow Seeds: White Widow is a cross between a Brazilian Sativa landrace and a resin-heavy South Indian Indica. Known for its burst of euphoria and energy, it blooms in about 56 days. With a 60/40 Indica/Sativa ratio, it's not as Indica-dominant as Great White Shark, but it's just as legendary.
Purple Haze Marijuana Seeds: Named after the Jimi Hendrix classic, this is a Sativa-dominant dream (85% Sativa). It takes a bit longer to flower (65-70 days) but is well worth the wait for its creative high.
Sharklato Seeds: Known for its relaxing effects and spicy and earthy flavors, Sharklato is a perfectly balanced hybrid. That could be your catch if you want something different from the heavily Indica-dominant Great White Shark.
Devils Lettuce Seeds: With a sinister name, this is an Indica-dominant marijuana known for its long lasting mental effects. If you enjoy the analgesic properties of Great White Shark but want a more intense uplifting experience, this is your go-to strain.
Lowryder Seeds: A harmonious blend of Northern Lights and Willy's Wonder, offering THC levels of 14% to 20%, easy cultivation and and low height requirement. Lowryder strain grows in 56-63 days, pretty comparable to Great White Shark. Flavors are ranging from earthy to fruity citrus, and it produces a diverse experience of relaxation, creativity, and talkativeness.
So, fellow growers, whether you choose to navigate the cannabis seas with the Great White Shark seeds or with one of its mighty brethren, rest assured that Dutch Seeds Shop will satisfy your needs.
Sail forth and harvest the bounties of your toils! 🌊🍁
FAQ
How long does it take for Great White Shark strain to flower?
The Great White Shark seeds typically take around 56 to 63 days to flower.
How much does a Great White Shark strain yield?
Indoors around 0.7 to 1 oz/ft², and outdoors about 1.4 to 4.2 oz per plant.