Pink Panther Feminized Seeds Information
Step right up!
Imagine a cannabis so mysteriously alluring you'd think it had been plucked straight from a secret garden.
With a name that's already a legend, marijuana strain is choice for growers hunting for that euphoric kick mixed with heavy relaxation.
Let's not forget: the clock is ticking.
These seeds are in hot demand. So sit tight because you're about to unravel all its secrets.
Pink Panther Strain Origin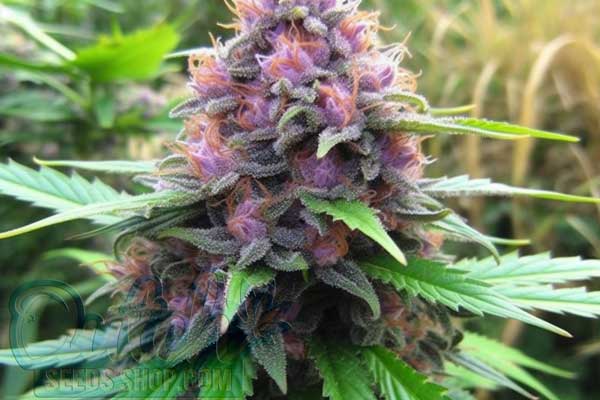 Ah, the enigma!
The parents remain unknown, shrouded in a mist of intrigue genetics.
But let's not dwell on the mystery. This pink plant has carved out its own identity.
While 85% sativa, it still carries a 15% indica lineage that adds a depth of balance to its high-energy vibe.
Pink Panther is an in-house favorite.
It seems like the James Bond of weed - charming, mysterious, and always leaves a lasting impression.
Pink Panther Weed Effects
Looking for a cocktail of sensations?
it brings euphoria to the table and serves it with a side of happiness.
Users often rave about feeling both relaxed and energetic.
It's like your body and mind decided to throw a little party, and everyone's invited!
This strain isn't just about good times; anecdotal accounts suggest therapeutic benefits like pain relief, making it a versatile choice for both casual and medical users.
THC and CBD
Hold onto your seats!
With THC levels ranging from 22 to 24 %, this MJ packs a punch.
On the other hand, CBD content stays below the 1% mark.
What does this mean for you?
Expect a robust high with therapeutic benefits but less focus on CBD-specific influence like anti-inflammation.
Aroma and Flavor
Smelling this MJ is like stepping into a fruit market that sells diesel.
Confused? You won't be.
The terpenes are reminiscent of fruit striped bubblegum which includes myrcene, camphene, terpineol, and phellandrene.
The first whiff is pungent and sweet delight, but stick around, and you'll notice undertones of diesel and blueberry.
Take a hit, and it's a burst of flavors, leaving you with a lingering taste that's hard to forget.
In its exceptional variations, purple and pink hairs burst from bright green buds barely visible under a blanket of sugar-like trichomes, with traces of a sweet vanilla and candy perfume.
Growing Pink Panther Plants
If you're not already rubbing your hands together in anticipation, you should be.
Growing these seeds is not just an agricultural pursuit; it's a ride!
Let's break down the crucial facts that make this one of the most sought-after seeds from the Dutch Seeds Shop.
Preferred Climate
So, where does it love to chill? Think warm and welcoming.
While the strain exhibits commendable mite and mold resistance, keeping an eye on humidity levels is essential.
Let your marijuana bask in the sunlight, and you'll be handsomely rewarded.
Indoor and Outdoor Yield
Your efforts won't be in vain.
Indoors, expect yields ranging from 0.9 to 1.1 oz/ft².
Choose an outdoors setting, and you can harvest anywhere from 10 to 12 oz per plant.
Flowering Time
From the moment you spot that first nug, mark your calendar.
On average, flowering takes about 56 to 70 days.
While not the quickest, it's worth the wait.
Buy Cannabis Seeds for Sale Online
Ready to make Pink Panther seeds part of your grow op?
Then hop on over to DSS. Quality and variety, all under one roof!
Free Shipping Worldwide - Including the USA
Good news, growers!
At DSS, we're not just about delivering top-notch quality and best prices; we're about getting it to you free of price and fast.
We offer free shipping worldwide, USA included.
You heard that right: coast-to-coast, our products make the journey to your doorstep without costing you an extra price.
And with our fast delivery option - orders zoom out within 2 to 5 days!
Oh, and did we mention that if you rack up an order over $100, you'll also score some free seeds?
Yeah, it's that awesome.
So why wait? Get your products in the cart, and let the growing games begin!
Similar Marijuana Seeds
Feeling like a kid in a candy store?
The world of MJ varieties is endless, but some stand out as being closely related to Pink Panther, either in terms of impact, growing conditions, or harvest production.
Here you can review how they measure up:
Shaolin Gleaux: This MJ also has a similar potent smoke. However, Shaolin Gleaux could be your golden ticket if you're after quicker flowering times.
Peach Panther: Sharing a fruity lineage, Peach Panther bursts with peachy and pine nugs and similar sativa dominant influence. For cultivators wanting a more fruity aroma, this is your pick.
Pink Mango: Pink Mango is also a joy to grow, with moderate difficulty levels. It has a lower tetrahydrocannabinol level but brings in a higher harvest, making it perfect for cultivators who prioritize quantity without compromising quality.
Black Panther: This hybrid offers a more balanced indica to sativa ratio. If you're seeking a strain with a more complex mix of influences, Black Panther should be on your radar.
FAQ
What are Pink Panther seeds?
These are a special type of cannabis seed that ensures the plant will be female, ideal for cultivators looking to produce dense buds without males.
What are the effects of Pink Panther?
It is famous for its euphoric, happy, and relaxed impact, making it suitable for both recreational and therapeutic use.