Sour Diesel Feminized Seeds Information
Hello, fellow cannabis enthusiasts!
Today, we're closely examining one of the most iconic and beloved strains in the marijuana community – feminized Sour Diesel seeds.
This high-quality strain is notorious for its pine scent and invigorating effects.
If you plan to elevate your garden with top-notch genetics from expert breeders, you're in the right place!
Sour Diesel Strain Origin
Sour Diesel is a sativa-dominant hybrid with its roots deeply planted in the early 90s.
It's the fantastic child of Chemdog 91 and Super Skunk, boasting an impressive 70% sativa and 30% indica ratio.
The strain is cherished for its uplifting effects, making it an all-time favorite among the cannabis community, especially in New York and the West Coast.
Sour Diesel Weed Effects
Imagine waking up to a burst of energy that keeps you going all day. That's what Sour Diesel brings to the table.
Users report experiencing a wave of euphoria, feeling more focused, happy, and sociable.
It's like the morning coffee of cannabis:
Energetic
Focused
Euphoric
Social
But wait, there's more!
It is also known for its therapeutic benefits. It's widely used as a natural painkiller and mood booster.
Patients with depression, anxiety, chronic pain, and stress often turn to Sour Diesel for relief.
However, always remember that marijuana does not cure depression or anxiety.
THC and CBD
Sour Diesel boasts an impressive THC range of 20% to 24%, placing it among the more potent cannabis strains available.
This high THC levels translates into the uplifting effects that it's renowned for.
It's the sort of strain that can give you a burst of creative energy or make a gathering with friends much more lively.
On the other hand, CBD levels are typically below 2%.
While cannabidiol is known for its therapeutic benefits without the psychoactive effects, its low content in feminized Sour Diesel means that this strain is more geared towards recreational and medical use that capitalizes on tetrahydrocannabinol.
It's worth noting that the combination of tetrahydrocannabinol and CBD, even in smaller proportions, can have an entourage effect, where the compounds work together to enhance each other's positive effects.
The high THC levels makes Sour Diesel a tremendous natural painkiller.
People who suffer from chronic pain, depression, or stress might find relief in this strain.
However, it's always wise to consult a medical professional if you're looking to use cannabis for therapeutic purposes.
Aroma and Flavor
One of the standout features of this plant is its distinctive scent and flavor profile.
The name 'Diesel' isn't just for show – this strain packs a powerful diesel smell with a hint of lemon zest, which is as refreshing as it is unique.
Here's a breakdown of its flavor profile:
Diesel: The signature diesel scent is what gives this strain its name. It's pine and stays with you.
Sour: Accompanying the diesel is a tangy, sour note reminiscent of citrus fruits.
Earthy: Underlying the bold diesel smell, you'll find comforting earthy tones that add depth to the scent.
Pungent: This is not a subtle strain by any means; the smell is strong and fills the room.
The taste follows suit with the scent.
When smoked, the sourness takes on a more lemony taste, with the diesel flavor staying strong.
It's an experience that can be an acquired taste for some, but most find it incredibly pleasant and unique.
Growing Sour Diesel Plants
For those who take pleasure in nurturing cannabis from seed to full-grown feminized plant, growing it is an adventurous journey.
With its high yields and captivating scent, this is one addition to your garden that you won't regret.
However, it's essential to understand that it can be a bit of a diva in the garden, so it demands your attention and care.
Preferred Climate
This feminized plant adores the great outdoors, but only if it's basking in warm and sunny conditions.
If you're in a region where the climate feels like a perpetual summer day, you're in luck!
But be vigilant as this strain is somewhat susceptible to powdery mildew, and prevention is vital.
A good tip for growing outdoors is to use a marijuana protector set available at DSS for added protection against diseases, molds, and pests.
Bringing the operation indoors is highly recommended for those in less-than-ideal weather conditions.
It responds well to high-intensity lights, and using a hydroponic system can give you more control over the nutrients your plant is receiving.
Indoor and Outdoor Yield
Whether growing this beauty indoors or in your backyard, expect to be rewarded handsomely for your efforts.
Indoor Yield: With the proper lighting and nutrients, you can achieve yields ranging from 1.5 to 1.6 oz/ft². Trying techniques like SCROG (Screen of Green) can be beneficial if you're looking to maximize your yield indoors.
Outdoor Yield: Growing it in its preferred sunny environment? Well, this is where it shines. You can harvest an excellent 25 to 30 oz per plant!
Flowering Time
From the vegetative stage to harvesting those glistening buds, it takes about 63 to 70 days to flower.
While it might seem like a long wait, the quality of the nugs produced is well worth it.
Keeping a watchful eye for the trichomes to turn milky white will give you the perfect cue to harvest.
Buy Cannabis Seeds for Sale Online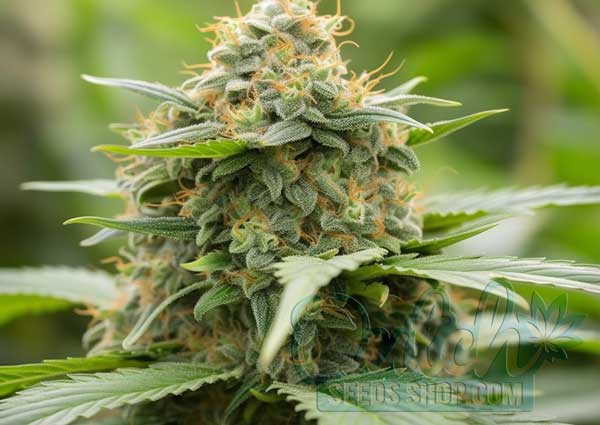 For aspiring growers looking to get their hands on high-quality seeds, look no further than the Dutch Seeds Shop (DSS).
With our extensive collection of the finest cannabis seeds, including feminized Sour Diesel cannabis seeds, we have become a mecca for growers and enthusiasts.
Why should you buy seeds from DSS? Here's why:
Selection and Quality: We at DSS offer a carefully curated selection of cannabis seeds. The seeds you'll find here are exceptional, ensuring a healthy and fruitful grow.
Germination Guarantee: We stand behind the quality of our seeds with a germinating guarantee, which is a testament to our confidence in the products we sell. All our seeds germinates well and grows to epic proportions.
Stealth and Speed: Worried about discretion? We have got you covered. We offer discreet shipping, so your seeds arrive privately and securely. Plus, with fast delivery, your seeds will be in your hands before you know it.
It's evident that DSS is the premier choice to buy Sour Diesel seeds online.
Don't miss out on cultivating this iconic strain; your garden deserves the best.
Buy your seeds now and start your journey! 🌱💨
Free Shipping Worldwide – Including the USA
What's better than high-quality seeds?
Getting them shipped for free!
We at Dutch Seeds Shop offers free worldwide shipping, including to the USA.
Plus, you'll receive free seeds if you spend over $100!
We also promise fast delivery within 2 to 5 days.
Similar Marijuana Seeds
Diversifying your cannabis garden?
Here's a line-up of strains similar:
Purple Sour Diesel: Imagine combining the best of Purple Kush and Sour Diesel. The result is an indica-dominant weed with a shorter flowering time and a perfect balance between cerebral stimulation and physical relaxation.
Blue Dream: High yields are a hallmark of this sativa-dominant strain. Blue Dream is slightly easier to grow, and its berry flavors make it a favorite among smokers.
Lemon Diesel: It gained its reputation thanks to its lemony flavor profile. It's well-suited for medical use, with slightly higher cannabidiol content.
Platinum Sour Diesel: This is a more potent version. This is your go-to choice if you're a fan of tetrahydrocannabinol content and intense cerebral effects.
Blueberry Diesel: This indica dominant hybrid combines the sweet taste of blueberries with the pungent scent. It's a balanced hybrid that's relatively easier to grow.
Green Crack: If you're looking for sativa dominant energizing effects similar to Sour Diesel, Green Crack is a contender. It has a shorter flowering time, and its fruity flavor makes it a crowd favorite.
Chemdawg Sour Diesel: Thissativa dominant hybrid combines the powerful genetics. With tetrahydrocannabinol levels, expect potent effects. Its pungent scent is complemented by a slightly faster flowering phase.
Strawberry Diesel: Strawberry Diesel is 50% Indica 50 % Sativa strain. It combines the sweet strawberry scent with the potency. Its yields are slightly higher, and it is known for its well-rounded effects.
Experiment with these alternatives to add variety to your cannabis garden.
Each offers unique flavors, scents, and effects, catering to a diverse range of preferences.
Ready to embark on your journey?
May your garden be bountiful and your buds potent!
Happy growing! 🌿💚
FAQ
Where to get the best Sour Diesel seeds?
You can purchase top-quality feminized and autoflower seeds at Dutch Seeds Shop, an online cannabis seed bank known for its superior genetics and excellent customer service.
Is Sour Diesel hard to grow?
It is considered a difficult weed to grow due to its susceptibility to powdery mildew and preference for a warm climate.
How much does Sour Diesel yield per plant?
This is a high-yielding weed, with outdoor yields reaching 25 to 30 ounces.
Why is Sour Diesel so good?
It is revered for its energizing and uplifting effects, large THC content, and distinctive diesel aroma. It's also known for its medicinal properties.