Super Ice Feminized Seeds Information
Hey growers and smokers, let's get hyped about a chill strain that can melt your worries away - Super Ice Feminized Seeds.
Imagine a plant so resilient it's like the Bruce Willis of cannabis strains and so soothing it's like a bedtime lullaby in plant form.
You won't want to miss this.
Super Ice Strain Origin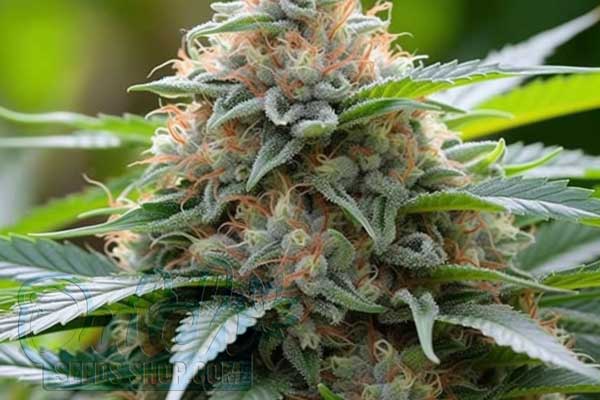 Super Ice comes from an exquisite blend of genetics featuring Ice 2000 and Supergirl.
This strain sports an 80% Indica and 20% Sativa composition.
With such roots, it's like the superhero of relaxation.
Its indica dominance means you're in for a calming experience, while the sprinkling of sativa keeps things a tad invigorating.
Super Ice Weed Effects
Prepare for the ultimate calm.
Super Ice leads with effects that are deeply relaxing, happy, calming, and even a tad sleepy.
While it's not marketed as a medical go-to, the soothing vibe might just work wonders for your anxiety and minor pains.
So, ready to wind down after a hustle-bustle day? Light up some Super Ice!
THC and CBD
With THC levels oscillating between 13% and 18%, this isn't the most potent strain out there, but don't underestimate it.
The experience is like a gentle yet persisting hug for your senses.
On the other hand, CBD content rests below 1%, making this more of a recreational than a medicinal gem.
Aroma and Flavor
Take a whiff and let the spicy, diesel, and earthy aromas tantalize your senses.
Its rich terpene profile - Caryophyllene, Limonene, and Myrcene - creates a symphony of scents.
Each puff is like taking a sensory walk through an exotic spice market.
Growing Super Ice Plants
If you're in the business of growing, listen up!
Super Ice is not just a joy to smoke; it's an absolute breeze to grow.
Whether you're a newbie testing the waters or a seasoned grower looking for a laid-back experience, this is it.
Preferred Climate
Super Ice is happiest in a mild climate.
That means you won't have to play weather God all that much.
Its resilience to mold and pests is fantastic, allowing you to channel your inner zen gardener.
Indoor and Outdoor Yield
Here's the deal - expect yields ranging from 0.7 to 1 oz/ft² indoors.
Outdoor growers? Prepare for a bountiful harvest of 8 to 13 oz per plant.
The yield isn't just decent; it's the type of yield that makes both beginner and veteran growers do a happy dance.
Flowering Time
Ah, the anticipation of waiting for those gorgeous buds to bloom- it's like waiting for the climax of a great movie!
But hey, Super Ice isn't going to make you sit on the edge of your seat for too long.
With a quick flowering cycle ranging from 55 to 60 days, this strain is a dream for those who are all about instant gratification.
Buy Cannabis Seeds for Sale Online
Listen up, green thumbs and cannabis enthusiasts!
Whether you're a seasoned grower or someone just stepping into the game, Dutch Seeds Shop is your go-to hub for high-quality Super Ice feminized seeds.
Why trudge through countless websites when the goldmine is right here?
You can trust the seeds we offer; they're all about sprouting into robust, happy plants that'll pay you back in some seriously chill vibes.
Free Shipping Worldwide - Including the USA
Hold onto your gardening hats, folks!
First off, we offer free shipping that spans the globe.
That's right, we've got you covered from Amsterdam to Alabama.
Second, can't stand the suspense of waiting for your Super Ice seeds? You're in luck.
We offer a fast delivery option ranging from 2 to 5 days.
And because we like you so much, we sprinkle in a little extra magic: free seeds for orders over $100.
It's like the cherry on top of your cannabis sundae!
Similar Marijuana Seeds
Hey, thrill-seekers and chill-seekers alike!
If Super Ice got you buzzing with excitement, don't chain yourself to just one option.
Expand your green horizons with these strains that have similar attributes but bring their own unique flair to the table.
Crystal: Like Super Ice, Crystal is an Indica-dominant strain, but it dials up the THC potency to a whopping 25%. If you thought Super Ice was calming, wait till you meet Crystal - it's tranquility on steroids. While Super Ice excels in ease of growing, Crystal might require a bit more attention due to its sensitivity to mold.
Sharklato: An intriguing hybrid like Super Ice, but leans more on the Sativa side. Both strains are excellent for relaxation, but Sharklato adds a creative buzz that Super Ice doesn't prominently feature. In terms of yields, Sharklato is generally on par with Super Ice, making it another fantastic option for growers of all levels.
Northern Lights: The granddaddy of Indica strains, Northern Lights is even more relaxing than Super Ice, if you can believe that! It's like comparing a warm blanket to a hot tub. Both have short flowering times, but Northern Lights leans more towards indoor growing and may produce slightly less yield outdoors.
Ice Ice Berry: Think of this as Super Ice's fruity cousin. While Super Ice brings in earthy and spicy notes, Ice Ice Berry offers a berry twist to the aroma profile. It has a slightly longer flowering time than Super Ice, but the fruity yield is often worth the wait.
Lemon Ice: A more balanced hybrid, offering a 50/50 indica-to-sativa ratio. Like Super Ice, Lemon Ice is pretty straightforward to grow. However, while Super Ice soothes you into relaxation, Lemon Ice has a zestier kick that energizes as it relaxes, thanks to its citrus undertones.
FAQ
Is Super Ice easy to grow?
Absolutely, even novices will find it a breeze.
Is Super Ice strong?
Moderately, with THC levels up to 18%, it offers a balanced kick.
Is Super Ice a sativa or indica?
It's predominantly an Indica strain, with 80% Indica and 20% Sativa genetics.