Vanilla Kush Marijuana Strain Information and Review
Hello, green thumbs and connoisseurs! Do you want to dip your toes into cannabis cultivation and dance with a weed as sweet as a vanilla cream pie? Or are you looking to try a weed that will kiss your stress goodbye and replace it with a relaxed body high? Either way, let me introduce you to Vanilla Kush…
Written by John Kees
Date: 2023-07-11 11:54:50
Type: 70% Indica / 30% Sativa
Genetic: Afghan Indica x South Asian Indica
Terpenes: Caryophyllene, Limonene, Myrcene
Flowering Time: 56 – 63 days
Indoor Yield: 1.3 – 1.5 oz/ft²
Outdoor Yield: 18 – 21 oz/plant
Effects: Euphoric, Happy, Relaxed, Sleepy
Flavors/Taste: Lavender, Spicy, Sweet, Vanilla
Vanilla Kush Strain Genetics
So, where does our fair lady Vanilla Kush hail from? A glance at her family tree reveals a rich heritage that would put any royal lineage to shame.
Origins and Lineage
Vanilla Kush, an exquisite Indica-dominant hybrid, is a Dutch strain born from a love affair between the Afghani Kush and South Asian Indica.
This strain's proud parents blessed it with stunning looks and a soothing demeanor.
It also has a highly reputable godfather – the renowned Barney's Farm in Amsterdam.
History
Born and bred in the city of canals and tulips, it quickly rose to fame.
It took second place in the 2009 High Times Cannabis Cup, becoming among the top 10 Best Kush Strains.
To this day, it is a star, particularly adored in Colorado and Oregon.
The Appearance
Much like the sunset painting the Dutch sky, Vanilla Kush boasts large, soft flowers adorned in light green hues and accented with orange splashes.
These pointy nuggets, generously coated with golden-tan trichomes, will make you feel like you've struck green gold!
Is Vanilla Kush Indica or Sativa?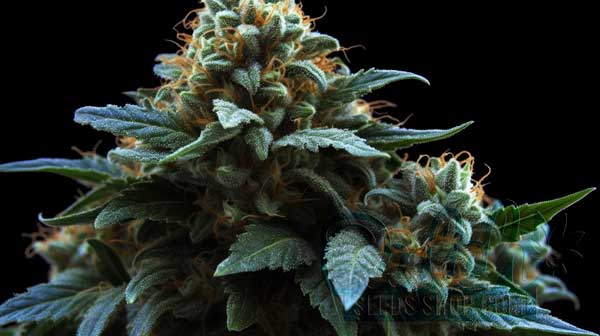 It is mostly indica hybrid, with 70/30 Indica-to-Sativa ratio offering the best of both worlds.
It provides a soothing body high and lends clear-headed energy, giving a perfectly balanced experience.
Cannabinoids and Terpenes
In the wonderful world of cannabis, this strain is no ordinary damsel!
Terpenes Profile
It is rich in caryophyllene, limonene, and myrcene, a flavorful and aromatic terpene trio responsible for its unique taste and aroma.
THC and CBD levels
This is not for the faint-hearted, boasting a THC content ranging from 19% to 20%.
While its CBD content is around 1%, the THC dominance guarantees a potent, lasting high.
Aroma and Flavor
A one whiff and it will instantly teleport you to the sweet-smelling bakery in Amsterdam!
It graces your senses with its vanilla and floral aroma and subtle lavender undertones.
The taste is a creamy delight with a notes of vanilla, refreshing citrus, and soft floral aftertaste.
This is, indeed, dessert in the form of cannabis!
Vanilla Kush Weed Strain Effects and Medical Benefits
This plant isn't just about pleasant flavors and high potency; it also brings therapeutic benefits.
Feelings
While smoking, you can expect a soothing body high accompanied by happiness and a clear-headed euphoria.
It provides a wave of relaxation, perfect for an evening on the couch with your favorite movie or book.
However, newcomers should tread lightly, as the high potency can lead to dizziness or deep sleep.
Negatives
Much like any other potent strain, it may lead to a dry mouth and dry eyes – nothing a glass of water and some eye drops can't fix!
Strain Helps With
This is a champ at battling stress, anxiety, and insomnia.
It's a popular choice for pain relief, especially for those suffering from arthritis and fibromyalgia.
It may also help combat depression, loss of appetite, migraines, and PMS symptoms.
But remember, your mileage may vary, and it's essential to know your body and needs.
Growing Vanilla Kush
Keen to grow your own plants? Let's dive into what it takes to cultivate this beautiful dame.
Vanilla Kush Seeds
These seeds produce short, sturdy plants, ideal for the Sea of Green (SOG) or Screen of Green (SCROG) growing methods.
Novice growers worry not – this strain is a moderately easy lady to cultivate!
Growing Guide
It thrives indoors and outdoors, reaching a petite height of 90-100cm.
It'll bloom into a beautiful plant with the proper care and environment in just 8 to 9 weeks.
Indoor and Outdoor Growing Info
Whether you want to grow this beauty indoors or outdoors, she'll gift you a bounty of buds.
This plant likes a warm and dry outdoor climate in which it can flourish in, and is uniquely low-maintenance while also being a high-yielding plant.
Feeding Vanilla Kush Plants
This plant has a hearty appetite for nutrients.
Ensure to maintain a balanced pH level and provide her with the proper nutrients for optimal growth.
Flowering Time and Yield of Vanilla Kush Seeds
It takes about 56 to 63 days to flower.
You'll have a harvest ready by late September or early October, brimming with potent, vanilla-scented buds.
You can expect an high yield with indoor range from 1.3 to 1.5 oz/ft², and an outdoor yield range from 18 to 21 oz per plant.
Comparison of Alternative Strains to Vanilla Kush
Considering Vanilla Kush's splendid attributes, finding a worthy contender is challenging.
However, Vanilla Shake, Vanilla Cake, Vanilla Funk Fuel, Vanilla Sky, and Vanilla Frosting share similarities.
Their potency, genetics, flavors, and effects vary, so it's all about finding what tickles your fancy the most.
Comparison Table
| Name | Parent Strains | Effects | Flavors |
| --- | --- | --- | --- |
| Vanilla Shake | Wedding Cake x Kashmir Hash Plant | Uplifting, Euphoric | Sweet, Earthy, Vanilla |
| Vanilla Cake | East Coast Sour Diesel X Sundae Brunch | Relaxed, Creative | Sweet, Creamy, Vanilla |
| Vanilla Funk Fuel | Jet Fuel Gelato, White Flow | Happy, Uplifted | Vanilla, Diesel, Sweet |
| Vanilla Sky | Vanilluna x G13 Haze | Sedative, Happy | Vanilla, Citrus, Kushy |
| Vanilla Frosting | Frost OG X Humboldt Gelato BX3 | Happy, Relaxed | Sweet, Creamy, Vanilla |
In conclusion, whether you're looking to cultivate your cannabis or want a high-quality strain to help you relax and unwind, this is a ideal choice.
She's a versatile and resilient cannabis strain that caters to newbies and experienced growers, guaranteeing a unique, flavorful, and potent cannabis experience.
FAQ
Is Vanilla Kush a sativa or indica?
It is an Indica-dominant hybrid, with 70%/30% Indica-to-Sativa ratio.
Is Vanilla Kush a good strain?
Yes, it is highly regarded for its potent effects and medicinal benefits, making it an excellent choice for recreational and medicinal users.
What does Vanilla Kush taste like?
It provides a creamy delight with a combination of vanilla, refreshing citrus, and subtle floral notes, resembling a cannabis-infused dessert.
Written by John Kees
Date: 2023-07-11 11:54:50