Strawberry Banana Marijuana Strain Information and Review
Ahoy there, my green-fingered comrades! 🌿 Today, we're sailing through the intoxicating world of weed strains, with our compass set on a fruity wonder – Strawnana, as she's affectionately known in the canna community. This luscious strain is a veritable fruit salad of flavors that promises deep relaxation and profound joy. So, hop aboard; let's…
Written by Nenad Nikolic
Date: 2023-07-11 13:56:50
Type: 70% Indica / 30% Sativa
Genetic: Banana Kush x Bubble Gum
Terpenes: Caryophyllene, Limonene, Myrcene
Flowering Time: 56 – 63 days
Indoor Yield: 1.3 – 1.6 oz/ft²
Outdoor Yield: 21 – 25 oz/plant
Effects: Creative, Energetic, Euphoric, Relaxed
Flavors/Taste: Earthy, Strawberry, Sweet, Tropical
Strawberry Banana Strain Genetics
Whether you're a cannabis connoisseur, an eager novice, or somewhere in between, Strawberry Banana's lineage is an irresistible treat you won't want to miss.
Origins and Lineage
Created by DNA Genetics in collaboration with Serious Seeds and Reserva Privada, this weed is a stellar combination of two heavy hitters: Crockett 's Banana Kush and the Strawberry phenotype of Bubble Gum strain.
You're not far off if you're getting visions of tropical beaches and fruity cocktails!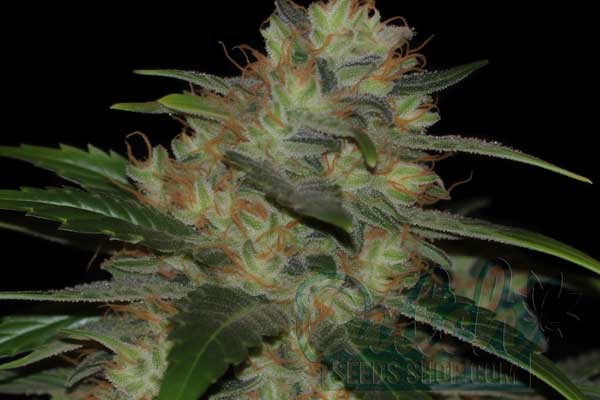 History
Since the sweet union of the Banana Kush and BubbleGum, this marijuana has been sweeping the awards at marijuana competitions.
She bagged the 1st Sativa Flower at the 2015 High Times Cannabis Cup and wowed the judges at Cannabis Cup Brazil in 2016. She's not just a pretty nugs.
The Appearance
One look at this plant, and you're caught in her web.
With oversized fluffy popcorn-shaped light green resinous nugs, this is a sight to behold.
But the real icing on the cake is her covering of bright orange pistils and crystal white trichomes.
Is Strawberry Banana Indica or Sativa?
It is an indica-dominant hybrid.
If you're seeking a deep, body-melting relaxation that sets you adrift in a sea of tranquility, she's your captain.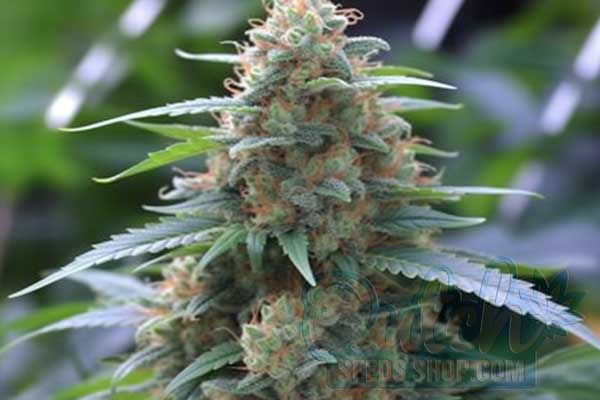 Cannabinoids and Terpenes
This is not just about stunning good looks and fantastic awards; she's also a true heavyweight regarding cannabinoids and terpenoids.
Terpenes Profile
It packs a punch like a tropical cocktail with a terpenoids profile dominated by limonene, myrcene, and caryophyllene.
Each terpenoid adds its flavor and therapeutic potential, making every puff a trip to paradise.
THC and CBD Levels
It has quite the kick, with high THC content that can reach up to a staggering 26%.
Her CBD levels might be on the lower side, but don't underestimate her; she's got a high that can rock even the most seasoned smokers.
Aroma and Flavor
Her name says it all.
Aroma and flavor profile is a delightful blend of sweet strawberries, ripe bananas and bubblegum.
This strain is like having a smoke dessert – just light up, inhale, and let taste embark you on a sweet, fruity adventure.
This strain's high resin production and high levels of THC also makes it particularly useful in producing hash and other THC concentrates and edibles.
Strawberry Banana Strain Effects and Medical Benefits
The journey gets even more exciting when it comes to Strawnana's effects and potential medical benefits.
Feelings
Once you set sail with Strawnana, you'll feel happiness, peace, and enhanced creativity.
But beware – she might also lead to a case of the munchies and some dry eyes and mouth.
Remember, every great adventure has its challenges. 😉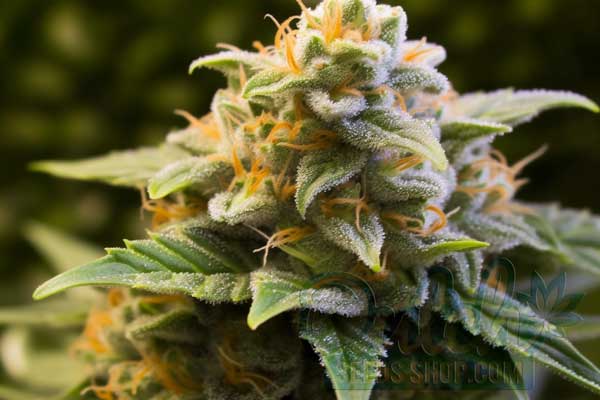 Negatives
Overindulging in this strain might result in anxiety and dry mouth.
So, don't let your voyage become a shipwreck; take it slow, especially if you're new to the high seas of weed.
Strain Helps With
Thanks to her impressive genetic profile, it has shown the potential in helping with chronic pain, stress, depression, appetite loss, and conditions like arthritis and Crohn's disease.
Truly, a lifeboat in a sea of discomfort.
Growing Strawberry Banana
This plant is a joy to grow, whether you're a novice sailor or a seasoned sea dog.
Strawberry Banana Seeds
These seeds grow into plants that are as enticing as the buds they produce.
Novice growers will find them forgiving, and all cultivators will appreciate their robustness.
Growing Guide
This plant is known for her versatility; she thrives indoors and outdoors.
It requires vigilant monitoring for plant's pests like spider mites and aphids and diseases like powdery mildew and root rot.
Implementing preventive measures such as maintaining proper airflow and employing organic pesticides can safeguard the plants' health and ensure thriving growth.
Indoor and Outdoor Growing Info
This plant enjoys a bit of room to stretch her stems, so give her enough space.
She's an adaptable strain that can withstand various climates, but she does appreciate a temperate to warm outdoor environment.
Feeding Plants
Feeding your plants is as essential as remembering to bring snacks on a voyage.
A well-balanced diet of nutrients will keep her happy and productive.
Flowering Time and Yield
Patience, dear sailor, is a virtue.
After a flowering time of about 56 to 63 days, you'll be rewarded with a big yields and bountiful harvest.
Indoor cultivators can expect a yield range of 1.3 to 1.6 oz/ft², while outdoor cultivators can expect a range of 21 to 25 oz per plant.
Comparison of Alternative Strains to Strawberry Banana
In the vast sea of cannabis strains, you might want to consider other options.
Here are some alternatives including Strawberry, Strawnana Gold, Lemonade OG, Purple Punch cannabis strain and Sour Strawberry.
| Strain | Parents | Effects | Flavors |
| --- | --- | --- | --- |
| Strawberry | Unknown | Creative, Euphoric | Strawberry, Sweet |
| Strawnana Gold | Strawberry x Unknown | Relaxed, Happy | Strawberry, Banana |
| Lemonade OG | Lemon Skunk x OG #18 | Energizing, Uplifted | Lemon, Sweet |
| Purple Punch | Larry OG x Granddaddy Purple | Relaxing, Sleepy | Grape, Sweet |
| Sour Strawberry | Strawberry Diesel x Razzberry | Uplifted, Creative | Strawberry, Sour |
So there you have it, folks!
A comprehensive tour of the luscious, fruity, indica-dominant hybrid.
This sweet lady is more than just a pretty bud.
So, are you ready to set sail on the high seas of weed?
Prepare your taste buds and embark on a fruity adventure.
Bon voyage! 🌿🍓🍌🚢
FAQ
Is Strawberry Banana indica or sativa?
It is an indica dominant hybrid with sweet and fruity flavor and high potency.
Who is the original breeder of Strawberry Banana?
The original breeders are DNA Genetics in collaboration with Serious Seeds.
What does Strawberry Banana cannabis strain taste like?
The taste is an enticing blend of sweet strawberries and ripe bananas.
Written by Nenad Nikolic
Date: 2023-07-11 13:56:50