How To Get Free Cannabis Seeds
If you love free stuff, then you'll love Dutch Seeds Shop. For every $100 spent on our website, we'll throw in 5 free marijuana seeds. That's right – five of our high-quality cannabis seeds, absolutely free!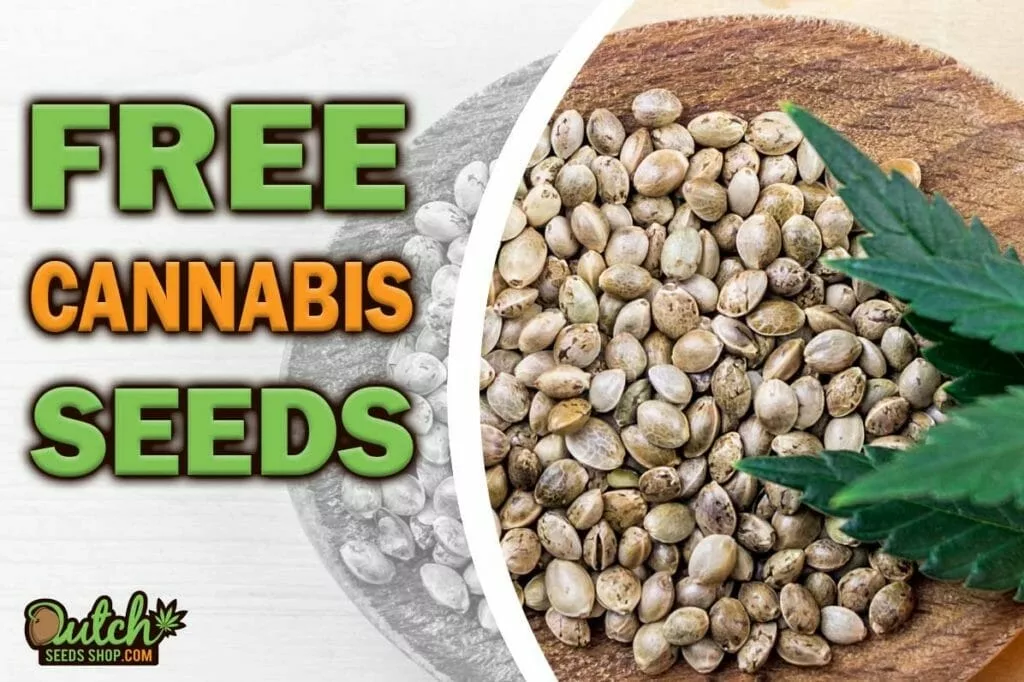 Written by John Kees
Date: 2023-07-18 14:14:08
| | |
| --- | --- |
| Price | Number of free seeds |
| $100 – $199 | 5 |
| $200 – $299 | 10 |
| $300 – $399 | 15 |
| $400 – $499 | 20 |
| $500 – $599 | 25 |
| $600 – $699 | 30 |
| $700 – $799 | 35 |
| $800 – $899 | 40 |
If you're looking for how to get cheap marijuana seeds and want to order online, Dutch Seeds Shop is perfect place for you.
We have wide selection of indoor and outdoor marijuana seeds for very low prices.
I always order couple of packs of cheap marijuana seeds to get more freebie seeds as gifts.
To get free cannabis seeds, you either have to know person who grows them or order seeds from the seed bank.
Seed banks are online stores that sell hemp seeds to customers over internet.
They range from small start-ups to large corporations. They can offer wide range of discount products and services, including plantable seed, medical cannabis, growing supplies, clothing, and hemp oil.
Many seed banks, like DSS, also host online communities where growers can share tips, talk about latest news, and get support from knowledgeable moderators. If you're new to growing and just starting out as hobbyist seedsman, 420 seed banks are good place to begin your journey.
There are several ways to get freebie seeds online with no purchase. However, not all of them are legitimate. Knowing where to look can be challenging, so we have compiled this guide for you.
Here you'll find information about different seed giveaway and promotional offers, as well as tips for staying safe and legal when ordering online.
If you are passionate about cannabis, then attending marijuana events is great way to meet and connect with other growers, learn tips and tricks from industry professionals, and sample varieties of different seeds.
Many marijuana festivals also feature live music performances, local food stalls, and other fun activities. These events were popular among cannabis enthusiasts in 2022 and are often free of charge or carry nominal entrance fee.
If you visit local marijuana events in your area, you can expect giveaways of bag marijuana seeds, prize draws, and various promotional deals on freebie seeds.
Some festivals even host "seeds swap" or "seed bank open houses" where visitors can trade or receive freebie seeds.
You can also win seeds on Facebook, Twitter, or Instagram by posting selfies with your favorite weed gear.
When it comes to weed gear and equipment for growing, you can buy necessary equipment at DSS and get free seeds with every order:
| | |
| --- | --- |
| Stealth grows box | 10 free seeds |
| Grow box for autoflowers | 10 free seeds |
| Stealth cabinet | 15 free seeds |
| Small grow tent | 10 free seeds |
| Micro pots for seedlings | 5 free seeds |
| Hydroponics system | 30 free seeds |
| Ghost cabinet | 25 free seeds |
| Incubator | 20 free seeds |
It's worth joining groups that giveaway seeds freebies because they are often organized by 420 seed bank.
Shopping online can be convenient but raises legal and safety concerns. When ordering online, you are entering sensitive territory and opening yourself up to scrutiny by law enforcement. Here are some steps to consider:
Never order anything that is illegal in your state or country.
Never share your personal information with untrusted websites.
Always use secure payment methods when ordering online on websites.
Choose seeds from trustworthy 420 seed bank with good reputation and solid history for customer satisfaction.
If you are growing marijuana plant for personal use, it is important to understand laws in your area. Getting free seeds from seed bank does not give you legal right to grow them.
Growing your marijuana plant can be fun and exciting, but it can also put you at risk of legal trouble if you don't follow the law.
If you are growing for personal use in the US, for example, you must grow your plants in discrete gardens that are allowed legally.
You may possess up to 6 plants, but no more than 12 ounces of harvested dried bud of marijuana plant. In some countries, it is illegal even to buy or sell seeds.
If you grow seeds that aren't legal in your area, there is high chance of being arrested and getting in trouble with law.
Where to get free sample feminized marijuana seeds in the USA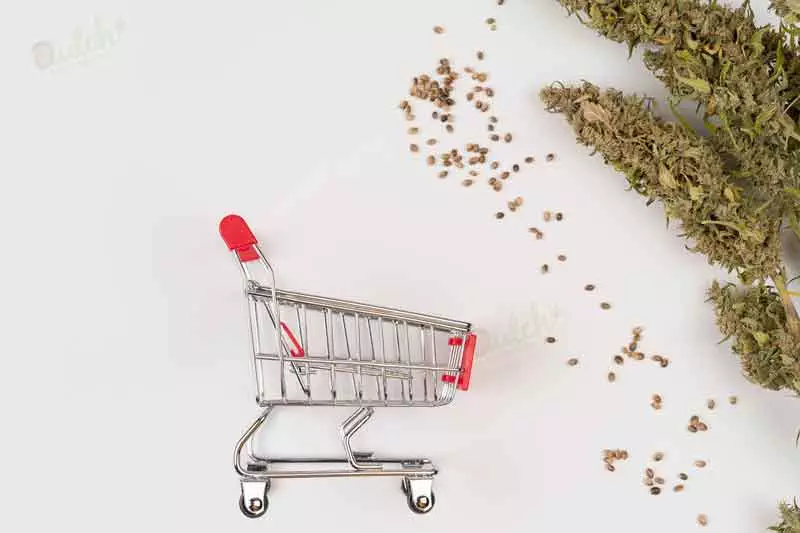 It's always nice to get free sample of something, especially when it comes to free seeds.
I know many of you grow enthusiasts in the USA can't order online because some seed banks don't offer shipping worldwide or charge a lot for shipping.
It's quite difficult to find place to buy cannabis seed online that ships to your location, even though it's technically legal.
So if you live in one of those states where use of medical marijuana is permitted, or if you just can't wait another minute before getting your hands on some high-quality seeds, then I have excellent news for you:
DSS is giving away sample packs with five feminized freebies for every order above 100 $ and shipping worldwide.
If you live in Richmond, Virginia, DC, or any other state in the USA, these are excelent discount deals for you.
While getting free seeds is exciting, it can also be risky. When you don't pay for freebies, you don't have guarantee that they will grow into something usable.
Many companies have spent years and millions of dollars developing new strains.
This means that they are likely to perform well in terms of growth and yield no matter where they are grown or what conditions they're exposed to.
Freebies, on other hand, may have been grown by individual growers who weren't under same pressure to produce consistent results.
This means that you might be at risk of growing sub-par marijuana if your freebies fail to thrive under best possible conditions.
For this reason, if you choose to use freebies for your first growth, it might be best to plant only a small number of baby plants and keep your expectations realistic.
That way, if crop fails, it won't be such big deal or waste of your time and money. If baby plant does grow successfully, however, you can expand your operation knowing that you have access to some free seeds!
At DSS, we offer a wide range of feminised seeds. We guarantee freshness and authenticity of all our seeds, discreet packaging, and secure delivery.
If you are new to growing or simply want to try out some new strains, we offer extra seeds with every order over 100 $. You can also find extra seeds on our page.
Additionally, if you are looking for specific strains or have any questions about growing marijuana, our team of experts is available 7 days a week via online chat or email.
Cheap marijuana seeds for sale at online 420 seed bank: Dutch Seeds Shop
We offer wide variety of hemp seeds at semi di prices. We are specialized in cheap autoflower seeds, feminised seeds and, regular dro seeds, CBD seeds, with many awards to our name.
If you order from us, you will get cheapest cannabis seeds delivered by mail, discreetly packaged in protective bubble wrap envelope.
We even provide free shipping on all seeds orders and 5 free seeds for orders above $ 100.
You can view what we have to offer at DSS:
Top-quality cannabis feminized seeds for sale
Discreet seeds packaging and shipping by mail
Secure online seeds order
Quick and cheap cannabis seeds delivery
30-day return policy
Best cannabis strains genetic for cheap prices
For 5 extra seeds spend 100 $
Best CBD seeds that you can get online
We sell top feminized seeds, top auto-flowering cannabis for indoor, outdoor growing hybrid, indoor growing seeds, CBD seeds, lots of top indica sativa varieties seeds, seed of sativa hybrid strains, and top indica hybrid strains because these are best strains for growers.
There are three categories of marijuana plants: Indicas, Sativas, and Hybrids. Indica plants originated from regions such as Hindu Kush and Afghani Valley.
Sativa plants originated from South America, Jamaica, and Thailand. Hybrids contain traits from both Indicas and Sativas.
All three types have different characteristics that will suit them for different applications.
Growers can use this knowledge to their advantage when choosing wich seeds to plant based on their needs. Knowing this information will also help you understand what each marijuana strains need to grow into its full potential.
Where you choose to germinate your dro seeds is key to their survival. Exposure to too much or too little light or heat can seriously affect their ability to root and grow.
Selecting right spot for germination can be difficult, but there are some basics you should know about.
Seeds need darkness to germinate. This is because they rely on internal cues for timing their development.
Light exposure will not prematurely activate underdeveloped seedlings before they are ready to sprout.
For this reason, you should not expose your underdeveloped seeds to direct sunlight. Instead, find darker place with low-level light exposure such as on top of refrigerator or in closet.
Seeds also require ideal temperature range during germination process. Just like light exposure, this is controlled by seeds themselves from information at bottom of seeds shells.
Too much warmth can lead to "heat shock" and damage young baby plant cells and membranes; not enough warmth can prevent seeds from developing at all.
For this reason, you should keep your seeds in relatively cool location (around 65 degrees F) during first three days of initial sprouting process (when root emerges).
Ideally, you want higher humidity during first week after seeding, so put them in closed box with moist paper towels or coffee grounds around them.
Once roots have come out and entire baby plant has emerged from its shell, switch them into a brighter spot with more airflow and humidity levels around 50%.
Get OG Kush Auto Strains At DSS With Free Shipping By Mail
If you order seeds of cannabis from DSS, you get your choice of OG Kush autoflower and feminized strains and 5 freebies with every 100 $ seeds order.
But there is also that you don't have to pay for shipping when ordering cannabis seeds online at DSS.
So this is perfect opportunity to get your hands on some cheap wholesale and high-quality OG Kush autos hemp seeds and still get some freebies.
With DSS, you can order cheap hemp seeds cannabis by paying with Bitcoin, PayPal, and credit card.
Order will be shipped by regular mail to any USA state and worldwide.
This is perfect way to get top freebie seeds of cannabis.
We offer wide range of authentic OG Kush genetic. If you prefer feminized seeds, we have variety of both regular and high-yielding Auto OG varieties. Alternatively, we have selection of potent photoperiod OG Kush strains to choose from.
You can check category and label if you wonder how to identify a female seed. Also, pictures of male and female seeds you can check out at depositphotos.
When it comes to female vs male, female is preffered choice because male are useless and only produce pollen, and females produce all of buds.
Feminized seeds are bred exclusively to produce only female marijuana plants, which is why feminized seeds are an excellent option if you don't want to deal with any males in your growing garden.
OG Kush is heavy indica strain that can deliver large yields of dense, resinous buds. Autoflower strain originated in California from OG Kush and Haze 2.0 Auto genetics.
While feminized version originated from Chem Dawg and Hindu Kush strain.
Our version of OG Kush has been expertly crafted with our own special recipe to ensure highest quality product for our customers.
Growers will be impressed by its ability to handle various climate conditions and produce healthy plants with thick stems and wide leaves.
Its dense flowers are coated in thick layers of THC-rich resin, making it highly popular among connoisseurs and experienced smokers.
This strain boasts rich and earthy flavor that lingers on palette.
OG Kush's strong sedative effects have made it popular choice among medical marijuana patients. It can also be used during evening to help you relax and wind down at end of day.
Share the Love:
Written by John Kees
Date: 2023-07-18 14:14:08