AK 47 XTRM Feminized Seeds Information
Ladies and gentlemen, gather 'round!
It's time to explore a marijuana strain that's beyond the ordinary - AK-47 XTRM seeds!
A powerhouse with killer genetics that'll blow your growing game sky-high!
Buckle up; it's gonna be a wild cannabis ride!
AK 47 XTRM Strain Origin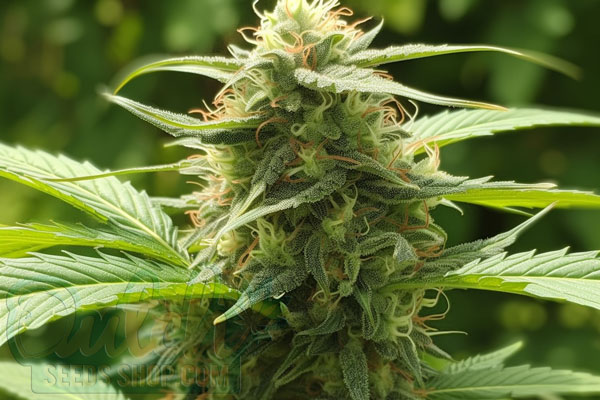 Tired of the same old genetics? Break the monotony with this weed.
This award-winning cannabis strain is a majestic cross between Lowrider and AK-47, making it a unique blend of 25% Indica and 75% Sativa.
If you thought AK-47 was potent, meet its jazzed-up cousin!
This weed has all the characteristics inherited from her mother.
It was breed by Amsterdam Marijuana Seeds (AMS) breeders.
AK 47 XTRM Weed Effects
Smoking it isn't just an experience; it's a ticket to cloud nine!
With effects ranging from focused to euphoric, this strain kicks in like a well-tuned orchestra.
Your mind stays sharp, yet your body sinks into an ocean of relaxation.
Not just for kicks, the high potency levels hint at medicinal applications, such as reducing stress and alleviating depression.
THC and CBD
Ever wondered about the fuel behind this rocket?
Well, it's the sky-high THC levels, ranging from 21% to 24%.
The CBD levels are notably low, below 0.4%, so don't count on it for your CBD fix.
But do count on a potent and cerebral ride that could help with stress and depression.
Aroma and Flavor
Imagine walking through a forest after a rainstorm. Now add a twist of citrus and a hint of pine.
The earthy, woody, and pine notes give you a sense of being in nature.
The added citrus zing makes every hit a symphony of flavors!
Growing AK 47 XTRM Plants
Got the green thumb itch? Look no further than this growing guide!
Growing AK47 XTRM feminized cannabis seeds is the challenge you didn't know you needed.
With moderate difficulty, steady growth and huge yields, it's time to get your gloves on!
Preferred Climate
These plants love a mild climate with plenty of sunlight.
They are resistant to pests and mold, but don't get too comfy!
Make sure they have enough space and a favorable environment.
Otherwise, you're missing out on maximizing its potential.
Indoor and Outdoor Yield
Let's talk numbers.
For indoor growers, expect a bountiful yield range of 1.6 to 1.8 oz/ft².
Outdoor cannabis growers, you're looking at a hefty 15 to 18 oz per plant.
The more attention you give, the more love you get back from this feminized marijuana!
Flowering Time
Got 49 to 56 days to spare? That's all it needs to flower and be harvest-ready.
Environmental conditions and growing techniques might sway the numbers a bit, but generally, it's a fairly completely stabilized and straightforward grow.
Buy Cannabis Seeds for Sale Online
Hail, growers, and tokers!
Ready to get your hands on some premium seeds?
Dutch Seeds Shop is your go-to source for feminized seeds.
With top-tier yield and quality, buying AK 47 XTRM seeds from DSS is a no-brainer!
Free Shipping Worldwide - Including the USA
Score a deal that's sweeter than your favorite strain!
Dutch Seeds Shop isn't just about quality; we're also about convenience.
Get your feminized seeds shipped right to your doorstep, no matter where you are in the world.
Yep, that includes the United States!
Kick back, light up, and relax while waiting for your premium seeds to arrive.
We also offer a fast delivery option ranging from 2 to 5 days.
Oh, and did we mention? Orders over $100 come with free seeds.
It's like a dank little bonus from us to you. No stress, no fuss, just top-notch seeds coming your way.
Similar Marijuana Seeds
Dive into a world of exotic strains, but before you make up your mind on AK 47 XTRM feminized strain, consider these fascinating alternatives.
Each comes with its own unique attributes, whether it's yield, blooming time, or the indica-to-sativa ratio.
Maharaja Haze: If you're seeking a similar cerebral high but with a touch more mystery, Maharaja Haze is your go-to. However, these regular seeds require a bit more attention during cultivation, especially in managing humidity.
Afghan Big Bud: Known for its big crystallized buds, this strain offers higher yields. However, it leans more on the indica side, so expect a different kind of buzz that's more body-centered.
Northern Lights EXTREME: Northern Lights XTRM offers a quicker blooming time but yields slightly less. This could be an excellent choice if you're looking for a more indica-dominant experience.
Light of Jah: Light of Jah is also sativa dominant but tends to offer a more euphoric feeling and sweet flavor. When it comes to growing, Light of Jah requires a bit more patience, offering a longer blooming period.
Borderliner EXTREME: Borderliner XTRM is a strain with similar THC content. While both strains are pest-resistant, It has a shorter flowering time and an indica-leaning profile.
Limoncello: This strain has a refreshing citrus flavor contrasting earthy tones. While yields can be similar, Limoncello prefers a slightly cooler climate for optimum growth.
White Widow XTRM: White Widow XTRM, known for its high THC content, delivers a balanced and long-lasting relaxing effects that strikes a chord between cerebral and physical effects giving you best of both worlds.
These cannabis strains offer a variety of experiences and cultivation requirements that could either meet or challenge your growing skills.
Choose wisely!
FAQ
How much does AK-47 XTRM yield?
Expect indoor yields ranging from 1.6 to 1.8 oz/ft² and outdoor yields of 15 to 18 oz per plant.
Is AK47 XTRM indica or sativa?
It is a sativa-dominant hybrid featuring a blend of 25/75% indica-to-sativa ratio.
What is AK47 XTRM good for?
It is notable for its high THC content, which makes it potentially useful for stress relief and easing depression.