Alaskan Ice Feminized Seeds Information
Ah, the gem you've been waiting for.
Buckle up if you're seeking that extraordinary fusion of mind-blowing effects and intricate spicy and hazy flavor!
This strain whispers to your soul, urging you to dive into its complex web of genetics and psychoactive wonders.
What's the rush?
Every moment you're not growing this old best seller strain, you miss out on some serious green goodness.
Alaskan Ice Strain Origin
When it comes to pedigree, this is no slouch.
A high-caliber hybrid, it's the lovechild of White Widow and Pure Haze.
Created by Green House Seed Company, this sativa-dominant beauty features a compelling 30% indica and 70% sativa ratio.
Offering a combination of Haze's cerebral uplift and White Widow's intoxicating effects, this strain is a marvel to behold.
Alaskan Ice Weed Effects
Euphoric, happy, uplifted - that's what it promises, and boy, does it deliver.
Whether battling stress or anxiety or just trying to get through the day, a puff or two sets you on a gentle cloud that won't cause jitteriness.
Its indicas side ensures you're relaxed and in tune with your surroundings, allowing for both daytime and nighttime enjoyment.
THC and CBD
Strap in for a rollercoaster ride!
It comes packed with a THC level ranging from 18% to 22%, giving it title to be one of the strongest cannabis plants around.
Conversely, CBD levels are below 0.1%, making it less suitable for those seeking a CBD-rich experience.
The high THC content can relieve pain, nausea, and psychiatric symptoms - making this strain as therapeutic as recreational.
Aroma and Flavor
The olfactory joys are a whirlwind affair. Imagine a pungent earthiness intertwined with spicy, skunk and haze undertones.
It's not just an aroma; it's a narrative of its lineage, highlighted by terpenes like Limonene, Myrcene, and Valencene.
Taste-wise, it's akin to a spicy kick followed by a sweet aftertaste.
Growing Alaskan Ice Plants
Dreaming of a green world where you're the proud parent of some weed buds?
The future is now, but there's a catch - this weed is not for the faint-hearted grower.
Preferred Climate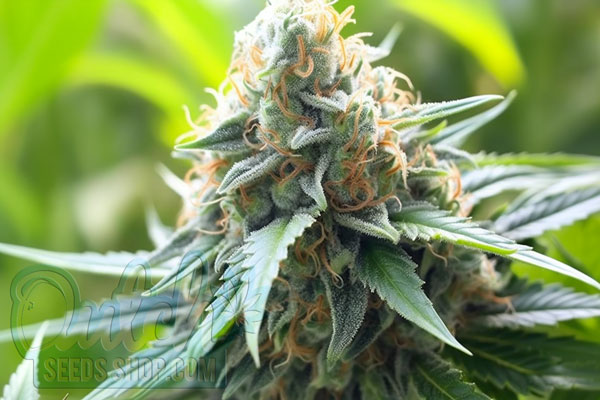 This tall and branchy plant craves a cold climate, which mimics its name and origin.
The strain can be pretty demanding regarding humidity levels and will thrive best when these are accurately managed.
It is well-equipped to resist pests and quite resistant to botrytis, easing some of the worries for less experienced cultivators.
It can be grown both indoors and outdoors or in greenhouse.
Indoor and Outdoor Yield
Prepare to be floored by the yields!
Indoors, you're looking at a generous 2 to 2.6 oz/ft², and if you're an outdoor enthusiast, hold your breath - 25 to 30 oz per plant.
That's a lot of green!
The grower's skill level and growing conditions influence the yield size, so expert hands can expect even more.
The buds are impressively large and riddled with tons of orange to rust-colored pistils.
The resin production is extraordinary, making her a highly sought after variety by hash and BHO producers.
And not only the yield is awe-inspiring, the potency is remarkable.
Flowering Time
Ready to put your patience to the test?
It typically flowers between 9 weeks to 10 weeks.
Factors such as growing techniques, like SCROG and LST, could potentially alter the flowering period, so don't be too surprised if things shake up a bit.
Buy Cannabis Seeds for Sale Online
Listen up, green thumbs and aspiring horticulturalists!
If you've been dazzled by this weed and are ready to start your growing expedition, the Dutch Seeds Shop is your go-to seed bank.
It's not just about buying seeds; it's about buying quality.
You get the highest caliber seeds that are primed for a stellar growing season.
Don't let your garden settle for anything less!
Free Shipping Worldwide - Including the USA
Hey, if you're in the U.S. or anywhere else on this big blue marble, guess what?
You're riding the free shipping wave when you buy Alaskan Ice seeds online from the Dutch Seeds Shop!
Yup, that's right, it's not just a benefit for domestic orders; this gift goes out globally!
We're talking free worldwide shipping from the icy plains of Alaska to the bustling streets of New York.
But hold on, there's more!
Your patience won't be tested because we offer a fast delivery option ranging from just 2 to 5 days.
That means you can go from clicking the "Buy" button online to planting these cannabis seeds in your garden in less than a week!
And let's sprinkle some more fairy dust on this deal.
If your order tops $100, we throw in free seeds as an extra treat.
So, you get top-notch seeds, rapid delivery, and bonus seeds for a larger order, all without that pesky shipping cost.
Don't let this opportunity slip; with such speedy and cost-saving options, the time to upgrade your cannabis garden is now!
Similar Marijuana Seeds
If you're intrigued by Alaskan Ice but want to explore others that offer a similar kick, take a seat!
Here's a breakdown of some alternatives that are similar in yield, flowering, and other factors.
The ones in focus are Pacific Blue, Allen Wrench, and Alpha Blue.
Now, let's dive into the nitty-gritty details!
Pacific Blue: This weed boasts 60% Indica and 40% Sativa ratio. Pacific Blue's flowering is quite similar, ranging from 60 to 68 days. However, Pacific Blue is much more forgiving regarding growing difficulty, making it ideal for new growers.
Allen Wrench: Here's another Sativa dominant beauty with an invigorating and similar cerebral high. The blooming time is a bit shorter, around 60 to 65 days, and it is moderately easy to grow. Its slightly lower yield, particularly in outdoor settings, sets Allen Wrench apart.
Alpha Blue: This is a high-flying Sativa-dominant with a similar staggering THC content. The flowering is pretty much on par, hovering around 63 to 68 days. Alpha Blue requires a similar cold climate for optimal growth but excels with a slightly higher resistance to pests.
Exploring these varieties will give you a broad palette of flavors, effects, and growing experiences to complement your adventure.
Happy growing!
FAQ
How much does Alaskan Ice yield?
Expect indoor yields between 2 to 2.6 oz/ft² and outdoor yields ranging from 25 to 30 oz per plant.
What does Alaskan Ice taste like?
It boasts a pungent, earthy flavor with spicy undertones, topped off with a sweet aftertaste.
What is Alaskan Ice strain?
Alaskan Ice is a sativa dominant hybrid strain bred by the Greenhouse Seed Company, it is a cross of original Green House White Widow and pure Haze.