Banana Kush Autoflower Seeds Information
The enchanting Autoflower Banana Kush is the epitome of elegance in the world of cannabis, tantalizing both seasoned growers and beginners alike.
Its distinctive blend of indica and sativa strains promises a euphoric experience characterized by tropical sensations.
Its 60% indica and 40% sativa mix offer the best of both worlds, a indica body high paired with mental clarity.
Ghost, Skunk Haze, and Ruderalis form the core of Banana Kush Autoflowering Seeds, each contributing to its unique profile.
The THC content varies from 16% to 18%, making it a robust yet approachable autoflower weed.
With its effortless cultivation and an irresistible blend of banana, sweet, tropical, and earthy flavors, Autoflowering Banana Kush stands out as a must-try strain for all cannabis enthusiasts.
Whether you seek relaxation, an energizing experience, or medicinal relief, this strain caters to a broad spectrum of needs.
Banana Kush Autoflower Strain Origin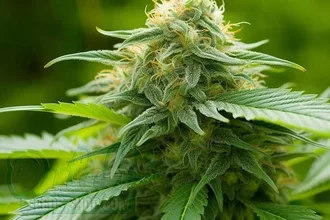 This strain is a fascinating blend with parents like Ghost OG, Skunk Haze, and Ruderalis.
This combination results in a 60% indica and 40% sativa mix that's both intriguing and soothing.
Known as a gentler version of its relatives, it's become a favored strain among those seeking calming effects or managing stress.
Its origin traces back to a clever mix of popular strains, creating a unique profile.
The Ghost offers an incredible body effects, Skunk Haze adds a hint of cerebral stimulation, and Ruderalis ensures easy cultivation.
Together, they form a strain that's not just flavorful but also therapeutic and recreational, suitable for different needs and preferences.
Banana Kush Auto Weed Effects
This weed offers a well-balanced blend of euphoric, relaxed, cerebral, and happy effects.
Imagine a wave of joy washing over you as the stress and depression fade away.
The uplifting cannabis effect soothes the body without compromising the clarity of mind.
The joy doesn't end there; its euphoric boost is perfect for relieving symptoms of stress or depression.
The relaxeing body effects comes in handy for muscle tension, aches, and general pain.
THC and CBD
With THC levels ranging from 16% to 18%, it offers a substantial kick that's ideal for both medicinal and recreational use.
The THC's psychoactive effects contribute to the euphoria sensations, enhancing mood and providing a sense of calmness.
The CBD content is less than 0.7%, which might seem minimal but still contributes to the overall effects.
It plays a role in reducing anxiety and easing physical discomfort, adding to the balanced profile that makes this autoflower weed a favorite among various users.
Aroma and Flavor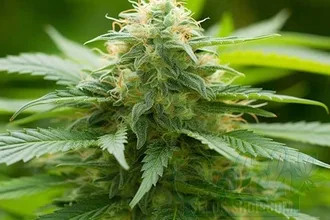 Indulge in the delightful flavors of banana, sweet, tropical, and earthy notes that make Banana Kush a sensory treasure.
The intense banana aroma fills the room from the moment you open the package, promising an unforgettable experience.
When smoked, the fruity Banana Kush auto strain unleashes its tropical charm, reminiscent of a beach vacation.
The unique combination of flavors and scents makes it an appealing choice for those looking to explore something new and exciting.
Growing Banana Kush Autoflower Plants
Unleash the gardener within you with these auto plants.
Whether you're an OG Kush lover or a beginner looking to grow weed, cultivating this high-THC hybrid autoflower cannabis seeds is both rewarding and exhilarating.
Its ability to flower quickly adds to its charm, making it an attractive option for those eager to enjoy their harvest soon.
Preferred Climate
It prefers a mild climate, thriving in temperate or continental regions.
Sunny or Mediterranean climates also suit this autoflower plant well, providing the right balance of warmth and moisture.
For the best results, keep humidity levels at about 40% and maintain stable airflow.
Indoor growers should ensure a controlled environment with lots of light and regular trimming.
Despite its adaptability, this autoflowering plant can be susceptible to mold and mildew, so carefully monitoring humidity levels and proper air circulation is essential for optimal seedling growth.
Indoor and Outdoor Yield
The indoor yield ranges from 1.4 to 1.7 oz/ft², providing a generous harvest for those growing inside.
For outdoor cultivation, you can expect anywhere from 4 to 7 oz per plant, making it a fruitful option for gardeners of all skill levels.
Factors like proper pruning, controlled humidity, and using a Sea of Green growing strategy can significantly impact the yield.
Since these plants are compact and bushy, ensuring optimal conditions will help you get the most out of your harvest, whether you grow indoors or outdoors.
Flowering Time
The flowering period of these autoflower plants is relatively quick, ranging from 49 to 56 days.
This quick turnaround from germinating seeds to producing buds covered in resin, makes it a desirable weed for those looking to enjoy their harvest sooner.
It's essential to note that these autoflowering plants should not be pruned as you can't extend their growing phase.
Instead, employing a proper growing strategy and ensuring plenty of light will help these plants thrive.
Their fast and reliable flowering stage and their resistance to changes in light cycles make them a great introduction to the Banana Kush strain.
Buy Cannabis Seeds for Sale Online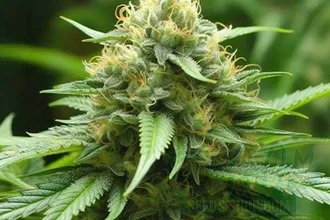 When it comes to growing your very own Banana Kush auto seeds, choosing the right source for your seeds is paramount.
With Dutch Seeds Shop, you're in good hands.
Renowned for offering premium quality seeds with high germination rates that are genetically stable and ready for cultivation, Dutch Seeds Shop is a trusted companion on your journey to an incredible weed garden.
Free Shipping Worldwide - Including the USA
We at Dutch Seeds Shop seed bank offer free shipping worldwide, including the USA, providing a cost-saving option for growers from all corners of the globe.
With a delivery time of just 2 to 5 days, your premium weed seeds are almost at your doorstep before you know it.
Furthermore, free seeds are available on orders over $100, adding an extra layer of excitement to your shopping experience.
Purchasing from us at Dutch Seeds Shop ensures you get access to well-crafted genetics, safe transactions, and the support of a knowledgeable team ready to guide you in your cultivation adventure.
Explore the vast selection and find the perfect seeds that fit your needs, preferences, and skill level, all with the assurance of quality, high germination rates and commitment to excellence that we at Dutch Seeds Shop provide.
Similar Marijuana Seeds
Explore the world of flavors with similar marijuana seeds to Banana Kush seeds, such as Blue Dream fem seeds, Kush Cake and Banana Cake.
Compare and find the right seeds for your unique needs and preferences.
Blue Dream shares a tropical allure, like Banana, but swings towards a more sativa-dominant experience. While buds from both plants offer uplifting effects, Blue Dream's high is known for an invigorating cerebral sensation, compared to the more balanced and gentle body-mind harmony of Banana Kush.
Kush Cake buds caters to those who crave the sweet, fruity, dessert-like flavors, but its heavier indica dominant cannabis strain and adds a more pronounced physical calmness. While Banana Kush is easy to grow, Kush Cake can be slightly more demanding but rewards with a rich, complex flavor profile of buds.
Banana Cake is another tropical-flavored weed that shares the banana essence with Banana Kush. However, its effects are more on the sedative side, offering deep relaxation. It contrasts more balanced, energizing effects that can energize without overwhelming.
Banana OG boasts the similar banana aroma of buds, but its high THC levels make for an intense high that can be more overpowering. Banana Kush, on the other hand, is appreciated for its mild, balanced effects that soothe without clouding the mind.
FAQ
How much does Banana Kush auto yield?
The indoor yield ranges from 1.4 to 1.7 oz/ft², and the outdoor yield varies from 4 to 7 oz per plant.
How long does it take for Banana Kush auto to flower?
The flowering time ranges from 49 to 56 days.