Black Cherry Soda Feminized Seeds Information
Imagine your life with a sprinkle of euphoria, a dash of relaxation, and a burst of flavors that dance on your taste buds.
That's Black Cherry Soda for you.
This cannabis strain is the genie in the lamp, offering you the bliss you crave.
No kidding, this is a game-changer!
Black Cherry Soda Strain Origin
Born from the majestic lineage of Black Dahlia and Ace of Spades, Black Cherry Soda is a hybrid with equal portions of Indica and Sativa.
That makes it the Jack-of-all-trades in the cannabis world - giving you the best of both worlds.
A 50/50 hybrid, it's like that sweet spot in a see-saw where everything just balances out!
Black Cherry Soda Weed Effects
Lighting up Black Cherry Soda is like opening a treasure chest of feels.
Initially, you're washed over by a euphoric wave that surges through your mind, erasing worries and heightening your senses.
But wait, there's more.
As you settle into the high, a wave of relaxation courses through you, rounding off the edges and offering a tranquil contrast to the initial energy spike.
What really sets Black Cherry Soda apart is its dual nature.
It effortlessly marries an energetic outlook with a relaxed demeanor.
You're both the life of the party and the zen master, a seamless blend that allows for an invigorating yet calming experience.
THC and CBD
Black Cherry Soda is potent but not overwhelming, with THC levels ranging from 15% to 20%.
That provides enough kick for a high that feels substantial but not overpowering.
On the CBD side, levels are less than 1%, making this strain more suited for those seeking a psychoactive experience rather than medical relief.
Given the THC potency, this strain offers potential benefits like stress relief, mood elevation, and even some creative sparks. It's not a 'couch-lock' strain; instead, it energizes you while keeping a calming balance, creating a harmonious effect that's both recreational and therapeutic.
This THC and CBD profile makes Black Cherry Soda versatile and capable of enhancing both fun outings and quiet evenings.
Aroma and Flavor
Ah, the aroma - it's like walking into a tropical fruit orchard while holding a basket of cherries and strawberries.
The initial whiff is a flirtatious tease of sweet and tangy notes underpinned by a subtle earthiness.
It's as complex as it is inviting, setting the stage for the taste that follows.
And the taste doesn't disappoint.
Imagine sipping a soda where cherries and exotic fruits do the tango on your palate.
There's a sweetness that's counterbalanced by the effervescent soda-like sparkle.
In every inhale and exhale, you'll notice intricate layers of flavor - sweet, tart, and refreshingly earthy.
Growing Black Cherry Soda Plants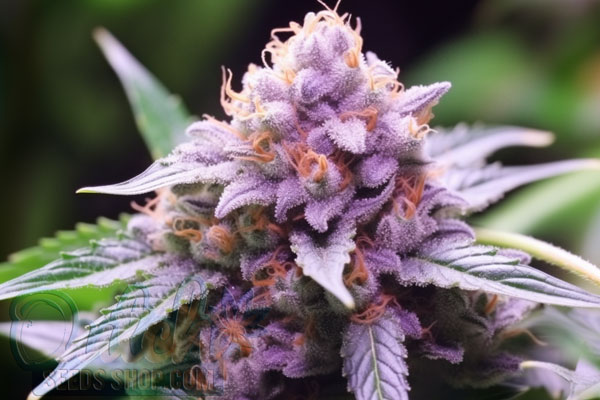 Alright, green thumbs and aspiring gardeners, gather around!
If you want to add a high-yield, easy-to-grow strain to your cannabis garden, then Black Cherry Soda should be at the top of your list.
With robust plants that promise a bountiful harvest, it's like a VIP ticket to the grower's paradise.
The best part? You don't have to be a cannabis-growing guru to reap the rewards.
This strain is forgiving and will tolerate minor mistakes, making it a brilliant choice for novices.
That said, experienced growers will appreciate the high yields and potent buds, making it a win-win situation for all involved.
Preferred Climate
Black Cherry Soda thrives in mild climates, where the thermometer doesn't swing to extremes.
While it's not overly picky, it does enjoy some pampering.
When it comes to humidity, think of a gradual descent.
Start with a relative humidity of 55% to 60% during the vegetative phase and slowly taper it down to around 40% as you transition into the flowering stage.
By harvest time, you'll want to hover around the 30% mark.
A stable environment is this strain's best friend.
But worry not; it's not demanding.
Just keep the basics in check - steady temperature, consistent light, and well-regulated humidity - and Black Cherry Soda will reward you with a cornucopia of lush, resinous buds.
Indoor and Outdoor Yield
When growing indoors, you're looking at an impressive yield of 1.3 to 1.6 oz/ft².
It's a modest space requirement for a rewarding output.
If you have the luxury of an outdoor setup, prepare to be wowed.
Black Cherry Soda can yield from 17 to 21 oz per plant when bathed in natural sunlight.
The secret to these numbers isn't a complicated formula or a proprietary blend of nutrients.
It's as simple as maintaining a loving, attentive relationship with your plants.
Regular feeding, adequate light, and preventive pest control measures ensure that your Black Cherry Soda plants yield their full potential.
Flowering Time
The flowering phase of Black Cherry Soda is a sight to behold.
Throughout 56 to 63 days, watch your plants mature, producing buds that are a visual treat, adorned with hues of purple and trichomes that shimmer like morning dew.
It's like witnessing a masterpiece in the making.
But let's be real; it's not just about the looks.
The flowering phase is when your plants develop the magical compounds - THC, CBD, terpenes - that contribute to the strain's unique effects and flavors.
And guess what? Your patience is rewarded with a stunning visual spectacle and buds bursting with potency and aroma.
Buy Cannabis Seeds for Sale Online
Dutch Seeds Shop is the go-to hub for seed enthusiasts and beginners alike.
When you buy your Black Cherry Soda feminized seeds from us, you're not just making a purchase - you're investing in quality.
The seed quality is top-notch, and customer service is responsive, making your buying journey as smooth as silk.
Free Shipping Worldwide - Including the USA
Want more? How about free shipping worldwide?
Yes, you heard it right, and that includes the USA.
For orders over $100, we even throw in some free seeds.
Also, we offer a fast delivery option ranging from 2 to 5 days.
Similar Marijuana Seeds
When it comes to the world of cannabis, diversity is the spice of life.
If Black Cherry Soda has piqued your interest, you might want to take a look at these similar strains.
Each offers something unique, but how do they stack up against the balanced charisma of Black Cherry Soda?
Let's find out!
Black Diamond: This strain is a potent indica that leans more on the relaxing side, making it less balanced than Black Cherry Soda. While the yield is comparable, Black Diamond doesn't quite match the aromatic complexity of its cherry-soda counterpart.
Cherry AK-47: This sativa-dominant hybrid offers an energetic kick but lacks the relaxing qualities you'd get from Black Cherry Soda. Yield-wise, the Cherry AK-47 is pretty generous, but its flavors lean heavily on the cherry and lack tropical undertones.
Blood Diamond OG: An indica-dominant strain, Blood Diamond OG brings about profound relaxation and calmness. Although it's excellent for relaxation, it doesn't offer the euphoric balance of Black Cherry Soda.
Bluniverse: A more balanced hybrid like Black Cherry Soda, Bluniverse could be a close contender. However, its yield is generally lower, and while its flavors are fruity, they don't reach the same symphony of taste.
Black Cherry Pie: Ah, the name sounds similar, but don't get it twisted! Black Cherry Pie is more of an indica-leaning hybrid. It has a delicious berry flavor, but when it comes to a balanced high and diverse aromatic profile, it's still a step behind Black Cherry Soda.
There you go!
A little trip through the cannabis cosmos, showing you what's out there and how it measures up to the stellar Black Cherry Soda.
FAQ
What is the effect of the Black Cherry Soda strain?
Expect a balanced high that relaxes the body and uplifts the mind.
How much do Black Cherry Soda plants yield?
Indoors, expect 1.3 to 1.6 oz/ft², and outdoors, a remarkable 17 to 21 oz per plant.
How long does Black Cherry Soda take to flower?
The flowering time ranges from 56 to 63 days.