Blue Magoo Feminized Seeds Information
Dreaming of a strain that's equal parts enchanting and effective?
The moment has arrived - meet Blue Magoo feminized seeds.
From the nostalgia-inducing aroma to the potent effects, this strain is the epitome of cannabis sophistication.
Trust me, you won't want to miss out on this gem!
Blue Magoo Strain Origin
Blue Magoo's parentage combines the legendary DJ Short Blueberry with William's Wonder F2.
Yes, you heard that right!
This lineage grants the strain an overwhelming 70% Indica dominance, with just enough Sativa to keep things balanced.
Originating from such a renowned background, Blue Magoo offers a myriad of tastes, aromas, and, most importantly, top-notch effects that make it a cannabis connoisseur's dream.
Blue Magoo Weed Effects
Inhale, exhale, and voila! You'll soon be floating on cloud nine.
Blue Magoo is known for offering a symphony of effects: relaxed, euphoric, sleepy, and happy.
Expect a smooth transition from a buzzing mental high to an enveloping bodily relaxation.
This is the strain you stash for those me-time evenings when all you need is Netflix and a cozy blanket.
THC and CBD
Your go-to strain for a high-impact session, Blue Magoo's THC levels range from 16% to 22%, making it ideal for both medicinal and recreational use.
On the flip side, CBD levels stay below 1%.
While the THC levels can help alleviate an array of ailments from anxiety to insomnia, the lower CBD ensures the psychoactive effects take the front seat.
Aroma and Flavor
Prepare for a journey for your senses.
One whiff and you're met with a complex aroma profile: sweet berries, earthy undertones, and hints of lavender and star anise.
On the palate, the flavors mirror the aroma, offering a delightful blend of blueberries and grapes.
This strain truly honors its Blueberry roots.
Growing Blue Magoo Plants
Hey, all you cultivators out there!
Wanna try your hand at something legendary?
Blue Magoo is your golden ticket to a grow room full of aromatic bliss and bumper yields.
But fair warning, it's not for the faint-hearted.
Preferred Climate
Blue Magoo thrives in mild climates, favoring moderate temperatures and a fair amount of humidity.
If you've got these conditions down, you're in for a pretty straightforward grow.
However, too much humidity or temperature fluctuations can be a challenge, so keep your wits about you.
Indoor and Outdoor Yield
This medium-sized plant offers an indoor yield ranging from 1.1 to 1.3 oz/ft², while outdoor cultivation promises a generous 15 to 17 oz per plant.
What influences these yields? Soil quality, growing techniques, and a little bit of luck!
Flowering Time
Impatient growers, rejoice!
With a flowering time of 49 to 56 days, Blue Magoo is perfect for those who can't wait to savor their bud.
But keep an eye out - the branches will need support, especially during flowering, to hold up those heavy, resin-coated buds.
Buy Cannabis Seeds for Sale Online
Feeling pumped?
Dutch Seeds Shop is your ultimate destination for premium Blue Magoo feminized seeds.
Elevate your grow game with seeds that promise unparalleled quality and potency.
Free Shipping Worldwide - Including the USA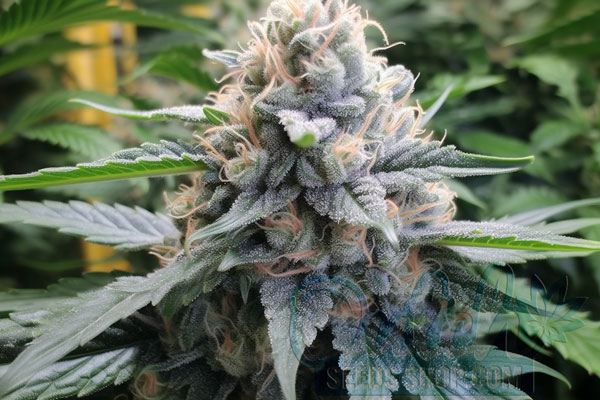 And get this - Dutch Seeds Shop offers free worldwide shipping, yes, even to the USA!
And with our fast delivery option, expect your premium seeds to be at your doorstep in just 2 to 5 days.
Oh, and don't forget, any purchase over $100 also comes with free seeds.
Similar Marijuana Seeds
Ready to explore the expansive universe that is cannabis strains?
Let's dive into some similar seeds that share certain traits with the renowned Blue Magoo.
Whether it's the flavor profile, the indica-to-sativa ratio, or the overall experience, these strains offer something intriguing.
Blue Heron: This strain shares the rich berry aroma that Blue Magoo is famous for but leans more towards the sativa side of the spectrum. While Blue Magoo offers a medium indoor yield ranging from 1.1 to 1.3 oz/ft², Blue Heron can produce slightly more, depending on your growing conditions.
Blue Magoo Cookies: If you're after the sweet, berry flavors of Blue Magoo, this strain won't disappoint. Although both strains are moderate in terms of grow difficulty, Blue Magoo Cookies often require a bit more attention to detail to reach its full potential.
Super Silver Blue Magoo: Known for its unique blend of earthy and berry flavors, Super Silver Blue Magoo offers a more balanced indica-to-sativa ratio. While Blue Magoo takes around 49 to 56 days to flower, Super Silver Blue Magoo usually needs a few more days for the buds to develop fully.
Blue Gelato: This strain is the go-to for those who love Blue Magoo but crave a more intense fruitiness. Blue Gelato has a similar THC range but has a more straightforward grow cycle, making it a good choice for those who want flavor without the fuss.
Each of these strains brings its own twist to the characteristics that make Blue Magoo so sought-after.
Whether you're a seasoned grower or just starting out, you will find a new favorite among these gems.
FAQ
How does Blue Magoo compare to other strains in terms of THC content?
Blue Magoo falls within the higher range of THC content, making it ideal for experienced users or those seeking strong medicinal effects.
What's the ideal climate for growing Blue Magoo?
A mild climate with moderate temperature and humidity is perfect for Blue Magoo.
Is Blue Magoo suitable for medical use?
Yes, its higher THC content and low CBD levels make it effective for various medical conditions, including pain, anxiety, and insomnia.