Blueberry Feminized Seeds Information
Calling all cannabis enthusiasts!
If you're keen on diving into the world of vibrant flavors and potent effects, then the Blueberry blueberry is a legendary ticket to a euphoric ride.
This iconic strain is no wallflower; it takes center stage, captivating your senses and elevating your mood.
Trust us, it's an experience you don't want to miss.
Blueberry Strain Origin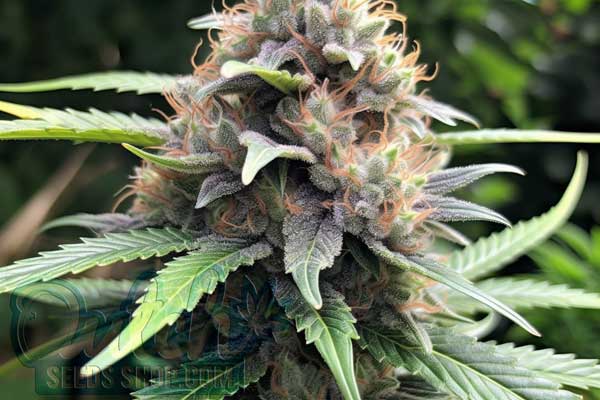 Born from a three-way cross that includes Afghani, Thai, and Purple Thai genetics, the Blueberry is one Indica-dominant marvel.
Bred by DJ Short, this strain has a potent ancestral background that lends it a unique blend of characteristics.
What sets it apart is its stunning ability to exhibit blue hues when exposed to cooler temperatures, making it as pleasing to the eye as it is to the senses.
It also won "Best indica of the Year" in the High Times Cannabis Cup.
Blueberry Weed Effects
Oh man, let's talk about that euphoric ride it takes you on!
You take a hit, and almost instantly, you're swaddled in a blanket of relaxation.
The 80% indica dominance makes itself known by calming your muscles and quieting that busy mind of yours.
But hey, it doesn't stop there! The 20% sativa genetics pop in to sprinkle some happy dust over your cerebral activity.
It's like a yin-yang of physical tranquility and mental jubilation.
That makes it not just another indica dominant strain but a multifaceted powerhouse.
This one is especially recommended for those looking to alleviate stress, depression, and various forms of discomfort.
Even chronic migraine sufferers have reported relief after indulging in this berry delight.
THC and CBD
Are you a THC fan? Well, this could be your next crush.
With THC levels ranging around 20 and 24%, it packs quite the punch.
This is the strain you turn to when you want to feel the effects and feel them hard.
Don't expect much from CBD, though; its levels are below 0.2%.
Now, you might think that's a drawback, but the higher THC content means it's superb for those wanting a long-lasting high or for medical users seeking relief from things like muscle spasms or insomnia.
However, even with this much tetrahydrocannabinol, it's a well-rounded high.
You get the best indica has to offer, with just the right amount of sativa genes to keep things interesting.
Aroma and Flavor
Hold onto your taste buds, folks! This is a feast for the senses.
On the nose, it's a fruity bonanza with noticeable sweet and blueberry aroma, but there's also a hint of piney freshness that rounds it out.
It's like taking a stroll through a forest filled with berry bushes.
When you inhale, the sweetness takes the forefront, only to be complemented by that earthy, piney flavour on the exhale, thanks to terpenes like myrcene and pinene.
It's the kind of strain that, even when sealed in a bag, emits an scent so potent it could be its own air freshener.
And let's not forget, if you grow this beauty in cooler temps, the buds may develop a stunning purple/blue hue, adding to its bag appeal.
Growing Blueberry Plants
Think you're ready to cultivate excellence?
Growing these plants promises a journey filled with sweet scents, vivid colors, and bountiful yields.
Whether you're a newbie or an experienced grower, this is a forgiving partner that rewards attentiveness with abundant harvests.
Preferred Climate
So you're eager to grow your very own cannabis jungle? Cool, let's talk climate.
The good news first: this plant isn't too picky.
This plant's best friend is a mild climate, so think Mediterranean vibes - plenty of sun and moderate humidity.
Growers should not go tropical or desert on this one; it prefers temperatures that are just right.
Also you will need to give your plants plenty of room for the best results.
It has a trick up its sleeve, though.
As temperatures dip, you might see the leaves turning shades of purple and blue, boosting that bag appeal and compact growth!
She can yield very well when grown in optimum conditions. She has a favourable calyx-to-leaf ratio which makes her easy to trim.
Just remember that it's preferred climate isn't just about maximizing yield; it's also about unlocking its full potential in color and scent.
Indoor and Outdoor Yield
Blueberry can also be pretty generous when it comes to yield.
Indoors, you're looking at a range of 1.4 to 1.6 oz/ft².
In layman's terms, you won't run out of stash anytime soon.
Outdoors, oh boy, get ready to be amazed.
A well-tended plant can produce anywhere from 20 to 25 oz per plant.
Talk about a bounty!
And it's not just about the quantity; the quality of Blueberry buds is top-tier, especially when grown in optimum conditions.
Harvest can vary based on factors like soil quality, nutrient management, and topping techniques, so don't skimp on the TLC for your plants.
Flowering Time
Timing is everything, right? For Blueberry cannabis seeds you might expect a blooming time of 8-9 weeks indoors.
Yep, that's it! You could practically watch the calendar days fly off while waiting for these beauties to bloom.
This relatively short flowering period means they can get ready to harvest quicker than many strains.
But don't rush it; good things take time.
The flowering takes on an interesting twist: elongated internodal spacing during bloom.
That might mean a little extra attention to ensure your buds form just the way you want them - long-lasting high, here we come!
Whether you're an experienced grower or a newbie, keeping an eye on your plants during this critical period can significantly impact the final product.
Buy Cannabis Seeds for Sale Online
Hey growers, ready to make your dreams a reality? Look no further than the Dutch Seeds Shop to buy Blueberry seeds!
Not only do we have top-quality Blueberry feminized marijuana seeds in stock, but we're also your go-to spot for all things regarding cannabis seeds.
Trust us; this isn't our first rodeo.
We've been around the block a few times, perfecting the art of selling the finest quality cannabis seeds.
Experience the ease of online shopping, knowing you're getting some of the most premium cannabis seeds on the market.
Whether you're a beginner or a seasoned pro, we've got something for everyone!
Free Shipping Worldwide - Including the USA
Alright, let's talk logistics.
We know shipping costs can be a bummer, but here's the kicker - Dutch Seeds Shop offers free worldwide shipping, and yes, that includes the USA!
Wait, there's more. We also have a fast delivery option of 2 to 5 days, so you won't be waiting long to get your hands dirty.
Think that's it? Nope!
Spend over $100, and we throw in free seeds to sweeten the deal.
So why wait? Buy Blueberry feminized seeds for sale and get them on their way to your doorstep ASAP!
Similar Marijuana Seeds
When you've got your eye on Blueberry seeds, it's easy to forget there are other stars in the cannabis universe.
So, let's pit this blue gem against some others you might find intriguing.
How does Blueberry stack up against the competition with members of the blue family regarding yield, blooming time, and that ever-crucial indica-to-sativa ratio?
Let's find out.
White Widow: Ah, the iconic strain that has made waves since the '90s. Unlike Blueberry's indica-heavy genetics, it leans towards indica side with a 60/40 split. When it comes to yield, both strains offer a neck-and-neck race. As for blooming time, these two are close rivals, with White Widow strain potentially requiring just a week or so longer to reach full bloom.
Blueberry Cruffin: This hybrid leans more towards the indica-side but not as much as the original Blueberry. In terms of yield, it could outperform the classic in an outdoor setting. Flowering time is about the same, allowing you to revel in the anticipation for a similar duration.
Blueberry Headband: This is a little like Blueberry's cool older sibling of Blue family. With a similar indica to sativa ratio, the Headband part of the equation introduces a cerebral high that complements Blueberry's laid-back vibes. Yield-wise, it is a beast and could deliver more per plant than its relative. However, you might have to wait a tad longer during the flowering phase for this strain.
Blueberry Kush: Talk about keeping it in the family! This weed leans even more into the indica-dominant genetics than our spotlight weed. Both offer a similar type of relaxation, but this one could be more intense in its effects. End of flowering is marginally longer, but it's worth the wait. When it comes to yield, Blueberry still holds the trophy.
Purple Blueberry: If you thought Blueberry's potential for purple hues was impressive, this plant takes it up a notch. This premium potency indica plant doesn't stray far in terms of effects. Yield can be a toss-up between the two, dependent on your cultivation skills. You'll need patience for this one, as its blooming time typically extends beyond that of Blueberry marijuana seeds.
Blue Dream Purple, aka Blurple: Blue Dream Purple, or Blurple for short, is a sativa dominant strain, a stark contrast to Blueberry's indica-heavy genetics. This could be your go-to if you're looking for a mental uplift along with Blueberry's relaxation. When it comes to yield, both can offer bountiful harvests, particularly when grown outdoors. The blooming time for Blurple is slightly longer but promises a multifaceted high.
FAQ
What makes the Blueberry cannabis strain?
It is an Indica dominant hybrid cross from Afghani Indica, Thai Sativa, and Purple Thai genetics.
Is Blueberry cannabis strong?
Absolutely, with THC levels between 19% and 24%, it's a powerhouse.
What is the original strain of Blueberry?
Original Blueberry was originally bred by DJ Short.
Is Blueberry cannabis a Kush?
No, despite its potent and relaxing indica effects, it's not a Kush strain.