Chocolope Kush Feminized Seeds Information
Chocolope Kush, with its intriguing lineage and palette of effects, stands as a testament to what top-tier cannabis should feel like.
A balanced combination of relaxation and cerebral buzz, it's designed to cater to the diverse needs of its lovers.
Its genetics make it a perfect fit for those craving an immersive cannabis experience that's both flavorful and potent.
Chocolope Kush Strain Origin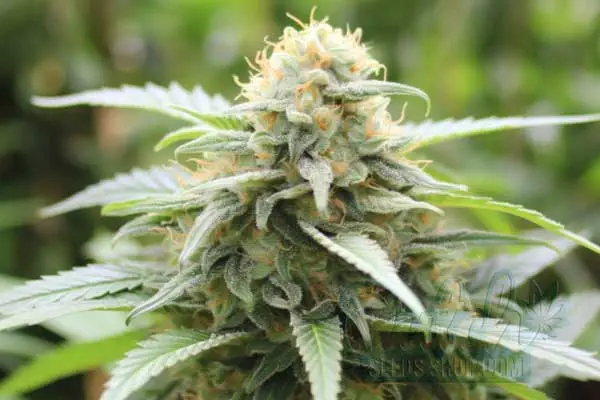 Chocolope Kush is the fascinating result of blending Choco Candy and the unparalleled OG Kush.
This concoction by DNA Genetics strikes a balance with 30% indica and 70% sativa, offering a harmonious combination of calm and excitement.
Its unique genetic makeup ensures a distinctive place in the pantheon of popular strains, making it a must-try for any serious cannabis enthusiast.
The strain boasts of an impressive lineage and showcases traits that make it a standout.
Whether it's the balanced effects it offers or its unique aroma and flavor profile, every aspect of Chocolope Kush echoes the expertise and care that went into its breeding.
Chocolope Kush Weed Effects
When it comes to the effects, Chocolope Kush ensures a harmonious balance.
Consuming it catapults you into a realm where the mind experiences heightened clarity while the body sinks into relaxation.
This balance makes it perfect for those seeking solace from conditions like anxiety, depression, PTSD, and more.
Moreover, its anti-inflammatory properties have garnered attention in the medical cannabis community.
It's hailed as a go-to for chronic stress relief and pain management.
Whether you want to unwind after a long day or seek therapeutic relief, Chocolope Kush doesn't disappoint.
THC and CBD
In the realm of cannabinoids, Chocolope Kush packs a potent punch.
With THC levels oscillating between 15% and 20%, it ensures a rich, exhilarating experience every time.
While CBD remains below 1%, the dominance of THC promises therapeutic benefits along with the classic high.
The high THC content ensures every puff is a ticket to euphoria, while the subtle CBD ensures you remain grounded.
This composition delivers an intense yet controlled experience, perfect for recreational and medicinal users.
Aroma and Flavor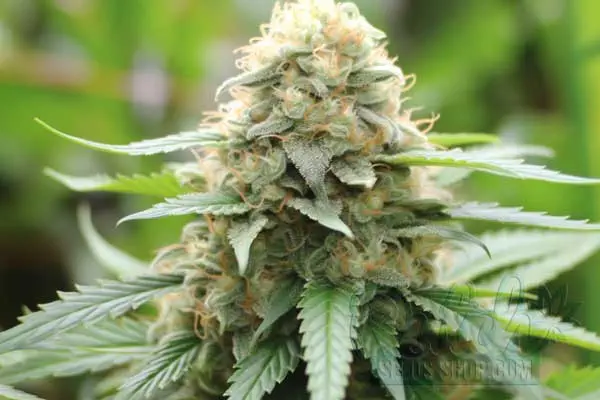 The scent and flavor of Chocolope Kush are nothing short of a sensory celebration.
Immerse yourself in the tantalizing flavors of kush, hashish, and the sweet notes of candy.
The aroma is a harmonious blend of these flavors, promising an olfactory delight that lingers long after.
This strain doesn't just stop at impressing with its effects but ensures that the journey there is equally delightful.
With every inhale and exhale, the distinct flavors unfurl, ensuring a session that's as tasty as it is therapeutic.
Growing Chocolope Kush Plants
For all the green enthusiasts, growing Chocolope Kush is like nurturing a piece of art.
Its unique growth characteristics and rewarding yields promise an enriching cultivation journey.
Each stage of its growth offers a new learning experience, making the process as rewarding as the end result.
Preferred Climate
Chocolope Kush has a penchant for mild climates.
Imagine sunbathing in warm sunlight with a gentle breeze that carries just the right amount of humidity.
However, consistent monitoring is critical.
While it yearns for warmth and light, maintaining these conditions at optimal levels ensures a thriving plant.
Consistency is vital when cultivating this strain.
Though it thrives in mild climates, any abrupt environmental changes can hinder its growth.
The key is to recreate its natural habitat, ensuring the temperature, humidity, and light remain stable throughout its lifecycle.
Indoor and Outdoor Yield
Within the cocoon of an indoor setup, anticipate yields in the ballpark of 1.3 to 1.6 oz/ft².
When allowed to spread its wings outdoors, it generously offers a bounty between 14 to 23 oz per plant.
Your choice between indoor and outdoor cultivation should pivot on your space, time, and experience.
The bountiful yields are a testament to its robust genetics.
While the indoor setting offers controlled conditions that can be tweaked for optimal results, the outdoor environment lets it flourish in its natural glory.
Either way, with the proper care, Chocolope Kush rewards handsomely.
Flowering Time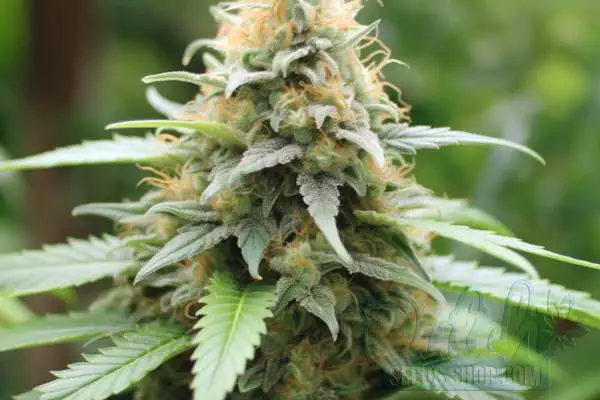 A patient gardener's dream, Chocolope Kush sports a flowering time of 65 days.
This period sees it metamorphose from a mere sapling to a plant bursting with buds.
The time frame, though average, is a crucial window where the plant needs utmost care and attention.
While the flowering phase is neither too short nor too long, the anticipation of watching it bloom is worth every moment.
Each day unveils a new facet of its beauty, making the wait leading up to the harvest truly rewarding.
Buy Cannabis Seeds for Sale Online
Are you looking to cultivate a strain that promises an unparalleled cannabis experience?
Dutch Seeds Shop is where your search culminates.
Offering premium Chocolope Kush feminized seeds; it's your gateway to a world of potent, flavorful, and therapeutic cannabis.
Free Shipping Worldwide - Including the USA
Say goodbye to exorbitant shipping fees.
Dutch Seeds Shop promises free shipping worldwide, ensuring that fans in the USA aren't left behind.
We also offer a fast delivery option ranging from 2 to 5 days.
And for those looking to stock up? Splurge over $100 and bask in the delight of free seeds.
Similar Marijuana Seeds
Dive deeper into the cannabis world, and you'll find strains that are cousins, siblings, or doppelgängers of Chocolope Kush.
How do they compare? Let's dive in and find out!
Banana Kush: A tropical delight, Banana Kush offers a burst of fruity freshness. While its indica dominance contrasts Chocolope Kush's sativa lean, both promise a euphoric experience sure to tickle the senses.
Sour Chocolate: Mingling tangy with sweet, Sour Chocolate is an intriguing blend for the palate. Just like Chocolope Kush, it brings a balanced high but with a slightly zestier punch.
Kosher Kush: Award-winning and power-packed, Kosher Kush steps into the spotlight with its potent effects. Both strains share a deep Kush lineage, but Kosher tends to offer a heavier, more relaxing stone.
Chocolope: Almost a twin, Chocolope is the other half of the duo that birthed Chocolope Kush. While they share many traits, Chocolope leans more towards its sativa genetics, offering an even more uplifting experience.
Purple Chocolope: Marrying the best of color and flavor, Purple Chocolope is a feast for the senses. It mirrors Chocolope Kush in taste but adds a visually stunning purple hue to its buds.
Darkside OG: Deep, mysterious, and intense, Darkside OG takes you on a different journey. While Chocolope Kush offers balanced effects, Darkside leans heavily toward indica, ensuring a more body-focused relaxation.
Chocolate Mint OG: A gourmet's delight, this strain tantalizes with its dessert-like flavors. While Chocolope Kush offers a candy touch, Chocolate Mint OG brings a refreshing, minty aftertaste with a rich chocolate base.
FAQ
What does Chocolope Kush taste like?
Chocolope Kush has a rich palette, with flavors of kush, hashish, and candy making it irresistibly delightful.
Is Chocolope Kush strong?
Absolutely! With THC levels ranging from 15% to 20%, it's a potent strain promising an exhilarating high.
What strain is Chocolope Kush?
Chocolope Kush is a hybrid, born from the union of Choco candy and OG Kush, offering a balanced blend of 30% indica and 70% sativa.