Chronic Autoflower Seeds Information
Chronic Autoflower seeds, a harmonious blend of distinct genetics, present a unique experience for cannabis connoisseurs and growers alike.
With the ease of cultivation and multifaceted effects, the lure of Chronic seeds becomes irresistible.
Now's your time to explore this extraordinary strain that has left an indelible mark on the cannabis landscape.
Chronic Autoflower Strain Origin
Chronic Autoflower strain has an intriguing lineage, including the Northern Lights, Skunk, AK-47, and Ruderalis.
The strain, a creation of 70% indica and 30% sativa, has been trademarked since 1995.
Chronic has a rich history of accolades, clinching 1st, 2nd, and 3rd prizes in various cannabis cups over different years.
The hybrid nature of this strain, which combines the best of both indica and sativa worlds, makes it a truly unique variety in the cannabis market.
Chronic Autoflower Weed Effects
Smoking Chronic Autoflower weed is an exciting journey that begins with an uplifting sensation, leaving users feeling happy and talkative.
Originating from the parent strains Skunk, Northern Lights, AK-47, and Ruderalis, this combination creates a unique flavor and effect profile.
Gradually, the effects evolve into a creative spur, making it an excellent choice for artistic minds.
Notably, the strain's combination of energizing sativa and relaxing indica effects positions it as an ideal option for managing symptoms such as insomnia, chronic pain, and anxiety.
THC and CBD
Chronic Autoflower strain showcases THC levels ranging from 15% to 20% and CBD below 1.1%.
The balanced combination of these cannabinoids offers users the best of both worlds.
THC provides psychoactive effects, while CBD offers potential pain relief and inflammation benefits.
This combo is widely praised for its potential in managing conditions like insomnia and after-effects related to chemotherapy.
Aroma and Flavor
Chronic Autoflower weed offers an exquisite blend of flavors and aromas.
The peppery and spicy notes meet a hint of lemon and sweetness, creating a tantalizing taste experience.
This blend owes its unique flavor to its parent strains AK-47, Northern Lights, Skunk, and Ruderalis, each contributing distinctive characteristics.
This unique flavor profile is one of the standout features of the Chronic strain, adding to its widespread popularity.
Growing Chronic Autoflower Plants
Venturing into the cultivation of Chronic Autoflower plants is like unlocking a world of gardening simplicity and success.
Whether you're a seasoned grower or taking your first step into the cannabis growing arena, this strain's easy nature welcomes you with open arms.
Preferred Climate
Chronic Autoflower thrives in mild climates and adapts well to Mediterranean, temperate, and warm, dry climates.
Growing these seeds requires attention to climate control, but they are generally forgiving, making them suitable for beginners and experts.
Indoor and Outdoor Yield
Indoors, you can expect a yield ranging from 0.9 to 1.3 oz/ft²; outdoors, the range is 1.5 to 3.5 oz per plant.
Growing Chronic autoflower seeds is a breeze, mainly due to their compact size.
Indoor cultivation is recommended for better control over the growing environment, but outdoor cultivation is possible with careful attention to climate and odor control.
Flowering Time
The flowering time for Chronic Autoflower plants ranges from 49 to 56 days.
This relatively short period allows for fast harvesting, making it a preferred choice among growers.
Environmental conditions and growing techniques may influence the flowering time, but this strain is generally known for its predictability.
Buy Cannabis Seeds for Sale Online
Choosing to buy Chronic Autoflower seeds from Dutch Seeds Shop is a decision imbued with assurance of quality and satisfaction.
These seeds are part of an extensive collection that exemplifies the best in cannabis cultivation.
Free Shipping Worldwide - Including the USA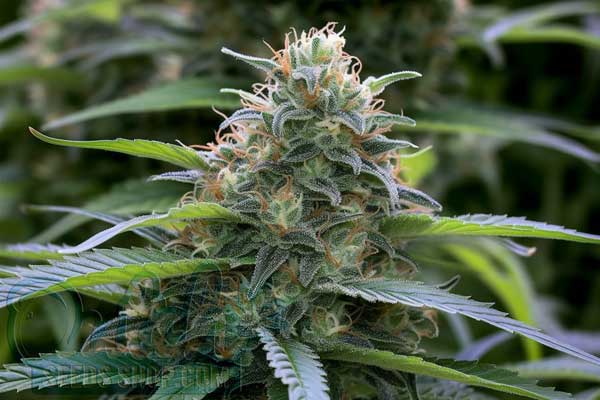 At Dutch Seeds Shop, we take pride in offering free shipping worldwide, reaching customers in the USA.
Also, we provide fast delivery option ranging from 2 to 5 days.
If you place an order over $100, the delight of free seeds is yours to enjoy.
This convenience, coupled with cost-saving, makes Dutch Seeds Shop a preferred destination for many cannabis enthusiasts.
Similar Marijuana Seeds
Exploring the world of cannabis strains akin to Chronic Autoflower reveals an exciting spectrum of characteristics.
Each of these strains has its own unique attributes and quirks, making them stand out in different ways.
Here's a look at how these strains compare to Chronic Autoflower:
Super Nova: This strain shares some genetic similarities with Chronic Autoflower but offers a more robust body effect. With a slightly higher indica dominance, Super Nova provides a more profound relaxing sensation. It may have a slightly lower yield than Chronic Autoflower but is equally admired for its medicinal properties.
Chronic Widow: Known for its intense potency, Chronic Widow has a higher THC level than Chronic Autoflower. Though it shares the ease of cultivation, Chronic Widow's flowering time might be a bit longer, and its aroma is more earthy. Both strains are considered excellent choices for pain relief and relaxation.
Super Chronic: A relative of Chronic Autoflower, Super Chronic tends to have a more citrusy flavor profile. Its yield is similar to Chronic Autoflower, and the growing difficulty is on par. Its ability to induce a more uplifting and energetic mood sets it apart, contrasting the balanced effects of Chronic Autoflower.
OG Kush: A well-known name in the cannabis world, OG Kush offers a more complex growing experience compared to Chronic Autoflower. The THC levels are comparable, but OG Kush's yield might be slightly less. However, its unique piney aroma and intense body high make it a distinctive choice for those seeking an alternative to Chronic Autoflower.
FAQ
What is the most potent autoflower seed?
The most potent autoflower seed available on the market is Girl Scout Cookies.
What is Chronic Autoflower good for?
Chronic Autoflower is well-suited for pain relief, inflammation, and insomnia and as a potential aid for chemotherapy-related symptoms.
Is Chronic Autoflower a sativa or indica?
Chronic Autoflower is a hybrid strain comprising 70% indica and 30% sativa, making it an ideal blend of both.