Jack Herer Feminized Seeds Information
Hello there fellow growers!
If you are looking for a classic strain that combines an uplifting high with medicinal benefits, you've struck gold with Jack Herer cannabis seeds.
Don't miss out on adding this champion to your garden!
Jack Herer Strain Origin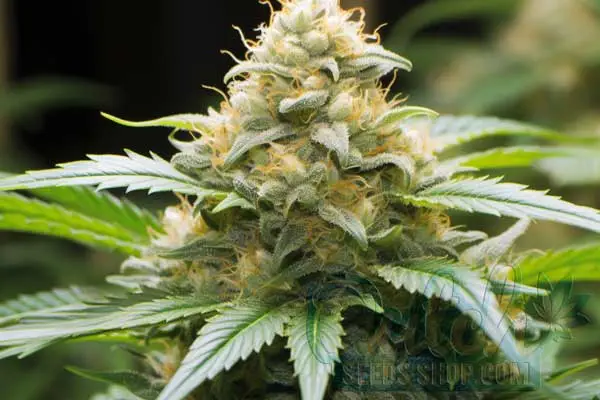 Jack Herer has a royal lineage, with parents like Shiva Skunk, Haze, and Northern Lights #5 weed seeds.
Named after the renowned cannabis activist Jack Herer, it was developed bySensi Seedsto encapsulate the best of both the indica and sativa worlds.
It's 45% indica and 55% sativa, making it a well-balanced hybrid.
Notably, Jack Herer Feminized is officially recognized as one of the few medicinal strains in the Netherlands, which speaks volumes about its quality.
Jack Herer Weed Effects
One of the reasons feminized Jack Herer has garnered a nearly cult-like following is due to its incredibly balanced high.
With 55% sativa and 45% indica, it offers the best of both worlds.
Here's a breakdown:
Happy & Euphoric: First off, Jack Herer typically brings about a state of bliss. The sativa heritage makes sure of that. You'll find yourself wearing a grin and appreciating the finer details of life.
Uplifted: Alongside happiness, there's an uplifting sensation. It's like someone turned on the lights. If you're feeling down, Jack Herer is a friend that picks you up.
Creative: Need to brainstorm or get through a creative block? Jack Herer sparks creativity. Writers, artists, and even problem solvers may find this plant a valuable ally.
Medicinal Benefits: Beyond the recreational aspects, Jack Herer is cherished by many for its medicinal properties. It's especially effective for those dealing with depression, stress, anxiety, and pain. Notably, it is often promoted for its effectiveness in relieving arthritis and fibromyalgia.
Jack Herer is a daytime strain; its effects are most beneficial throughout the day as it may keep you too stimulated if consumed late at night.
THC and CBD
Jack Herer, derived from parent strains Shiva Skunk, the Haze weed seeds, and Northern Lights, brings impressive THC content ranging from 15% to 19%, striking a perfect balance for both new and seasoned weed enthusiasts.
With such THC levels, expect a cerebral high that can inspire creativity and provide a sense of euphoria.
While Jack Herer is one rich in tetrahydrocannabinol, it's important to note that the CBD levels are pretty low, usually falling below 1%.
Although not a high CBD strain, the combination of tetrahydrocannabinol and terpenes make feminized Jack Herer incredibly effective in relieving various ailments like depression, stress, anxiety, and pain.
This plant is a great smoke and has significant therapeutic properties.
Plus, the relatively low CBD content means you get a much cleaner, more concentrated high which is great for those looking to smoke this hybrid cannabis strain for recreational purposes.
Aroma and Flavor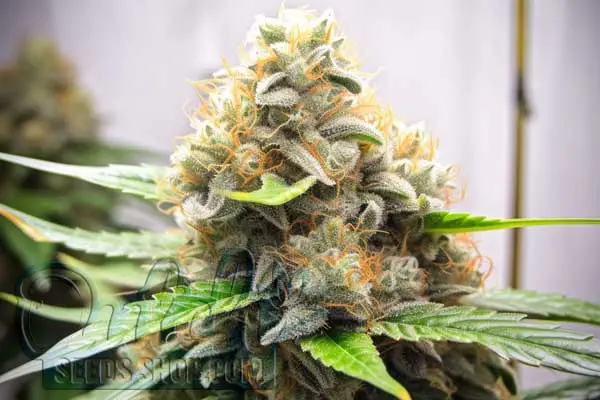 There's nothing like the fragrance and taste of well-cured Jack Herer buds.
That is partly thanks to the combination of terpenes in this weed.
Earthy: The first thing you'll notice is an earthy base. It's like a walk through a lush forest in the morning. It grounds you.
Citrus: After the earthiness, you're hit with a citrus wave. It's refreshingly zesty, which compliments the uplifting effects of the strain.
Woody: Underneath the dominant flavors, there's a subtle woody taste, like a hint of pine or cedar.
Sweet: To round it all out, there's a lingering sweetness. It's not overpowering but adds a pleasant finish.
The primary terpenes in Jack Herer are caryophyllene, humulene, trans-nerolidol, pinene, and myrcene.
These terpenes are responsible for its distinct fragrance and flavor profile and contribute to the entourage effect, which enhances the therapeutic properties of the cannabinoids.
Growing Jack Herer Plants
If you're ready to delve into the rewarding world of cultivating feminized Jack Herer cannabis strain, let me tell you, this is a ride you'll thoroughly enjoy.
Being particularly bountiful and resilient, this weed makes it an attractive option for both rookies and veterans.
Preferred Climate
When it comes to growing Jack Herer strain, climate plays a significant role.
This strain is best suited to a warm climate with plenty of sunshine.
While it was initially developed for indoor cultivation, it's versatile enough to thrive outdoors as well.
However, outdoor cultivation requires ample sunlight and can be tricky if you don't have the right conditions.
Inside the grow room, maintaining a temperature of around 70-85°F (21-29°C) with moderate humidity levels will keep your weed plants happy.
It's also important to note that this strain can show different growth characteristics depending on the phenotype.
Indoor and Outdoor Yield
Indoor yield: 1.6 to 2 oz/ft²
Outdoor yield: 20 to 25 oz per plant
With the right conditions, this plant can be quite the high-yielder.
Employing growing techniques like SOG (Sea of Green) and SCROG (Screen of Green) can help maximize yields, especially indoors.
These methods involve creating an even canopy for light distribution (SCROG) and switching to the flowering phase earlier (SOG), ensuring the feminized plants grow vigorously and efficiently.
Flowering Time
For those eager to see those gorgeous buds, the wait is relatively short.
Typically, flowering time for this strain is between 60 to 70 days.
But let me tell you; those days will be packed with action!
These feminized plants tend to shoot up during flowering, and you can expect a lot of stretching.
That is particularly true for the sativa dominant phenotypes.
It's essential to manage their height and growth, especially if you're growing indoors.
You may want to consider pruning or employing low-stress training methods to control their growth.
As harvest approaches, keep an eye on the trichomes; they should be a milky white with just a hint of amber.
That is when the tetrahydrocannabinol content is at its peak.
Harvesting at the right time is essential to capture the full potency and flavor of the Jack Herer strain.
Once harvested, proper drying and curing will ensure that the earthy, citrus, and sweet flavors come through when it's finally time to enjoy your buds.
Buy Cannabis Seeds for Sale Online
If you're looking to get your green thumbs on feminized Jack Herer seeds for sale, there's no place like Dutch Seeds Shop (DSS) to make your purchase.
Renowned as one of the best seed banks in the business, we offer a fantastic selection of seeds, including our hero, Jack Herer Feminized Cannabis Seeds.
The meticulous care in breeding ensures that you're getting the cream of the crop – literally!
One might think that buying online could be a hassle, but with us at DSS, it's a breeze.
Our website is user-friendly, and the seeds are categorized meticulously, making it super easy to find precisely what you're looking for.
It's worth mentioning that our customer service is top-notch, always ready to assist you in making informed choices.
When it comes to pricing, we offer excellent value.
The seed packs are reasonably priced, and there's often a promotion or discount that could score you an even sweeter deal.
Moreover, the ordering process is secure, and your privacy is respected, which is paramount in the cannabis business.
Free Shipping Worldwide – Including the USA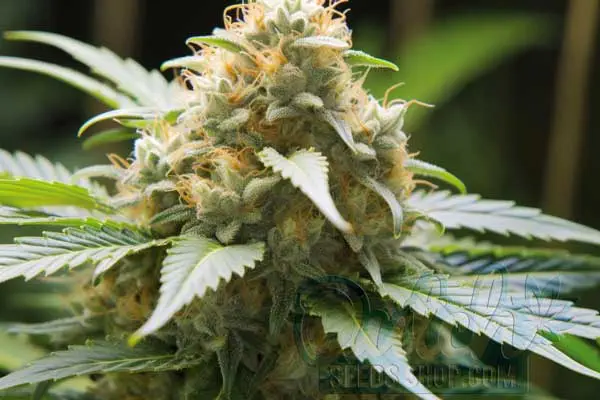 And let's not forget about the shipping.
One of the hassles of ordering seeds online is often the waiting game, but not with us at DSS.
We offer free worldwide shipping, including the USA, ensuring your seeds are delivered without any extra costs.
The best part is the quick delivery times, with most orders reaching you within 2 to 5 days.
But wait, there's more!
We have a fantastic offer – any order over $100 will be complemented with free seeds.
Yes, that's right, you get quality seeds delivered to your doorstep, and you can also score some freebies!
So, whether you're a seasoned grower looking to add Jack Herer to your garden or a newbie eager to get started with an easy-to-grow weed, DSS is the seed bank you can trust for quality, variety, and excellent service.
You can confidently buy Jack Herer seeds online, knowing you're getting them from a reputable source. Happy growing! 🌱
Similar Marijuana Seeds
While Jack Herer is the perfect weed, you might also want to consider Critical Jack Herer and Blueberry Jack.
Critical Jack Herer is a combination of Critical Mass and Jack Herer's genetics. It offers slightly higher yields, similar flowering time, and a more Indica-dominant effect. It's easy to cultivate.
Blueberry Jack, on the other hand, is a blend of Blueberry and Jack Herer marijuana strain genetics. It has comparable yields, a slightly shorter flowering time, and balanced effects with a fruity twist. It's also easy to grow.
Critical Jack Herer and Blueberry Jack are exceptional strains, offering a rich experience.
FAQ
Why is Jack Herer so popular?
It is popular because of its balanced effects, high yield, and rich flavor. It's also recognized for its medicinal properties.
Is Jack Herer a good strain for beginners?
Absolutely! It's relatively easy to grow weed strain.
Does Jack Herer smell when growing?
Yes, it has a noticeable earthy and citrus smell during its growing phase.