Northstar Feminized Seeds Information
You're not just buying seeds; you're investing in your happiness and health.
Northstar seeds are a golden ticket to a world brimming with potency and taste.
Sit tight as we unravel the property of this extraordinary cannabis strain, available at DSS.
Your senses will thank you.
Northstar Strain Origin
A celestial alignment of cannabis giants, this is an offspring of breeding Skunk #1, Haze, and Northern Lights genetics.
The strain displays 90/10 Sativa-to-Indica ratio, promising an invigorating experience.
With a stable genetic lineage like that, it's no surprise it bursts with dynamic flavor profile and invincible resistance against diseases and pests.
Northstar Weed Effects
A puff of this bud propels you into a realm of creativity, euphoria, and undeniable happiness.
Its effects are particularly favorable for those looking to alleviate symptoms of depression, anxiety, and even sleeplessness.
It's not just a recreational delight; it's medical magic wrapped in green leaves.
THC and CBD
THC levels hover between 17% and 20%, making it a mighty force of nature.
Crafted from legendary parent strains Haze, Skunk #1, and Northern Lights, this blend guarantees potency.
CBD levels? Virtually negligible, at below 1%.
For anyone seeking a high THC content, low CBD experience, this is your gem.
It's especially useful for chronic pain, migraines, and muscle spasms.
Aroma and Flavor
Your senses are in for a treat, especially if you're a fan of its parent strains Northern Lights, Skunk #1, and Haze.
It boasts a delightful spectrum of frost, citrus, earthy, and sweet aromas, thanks to its dominant terpene, Myrcene, and buddies - Caryophyllene, Limonene, and Pinene.
The grapefruit notes add an unforgettable kick, making each puff an aromatic journey.
Growing Northstar Plants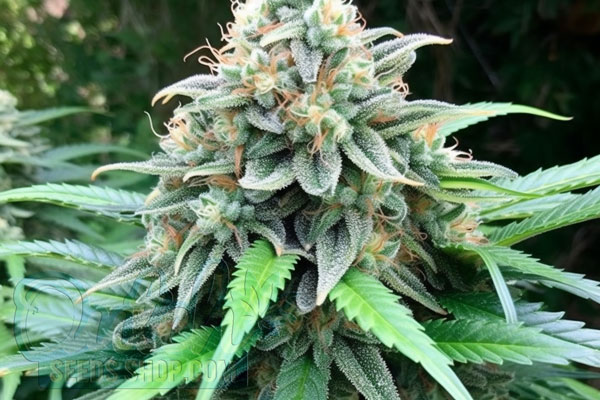 Ready to be the maestro of your symphony?
Growing isn't just farming; it's crafting a masterpiece in your personal green sanctuary.
But hey, you've got to know the rules to break them, right?
Preferred Climate
Favoring a mild climate, it demand a careful balance of temperature and humidity environment.
Its impressive resistance to mold, diseases, and parasites makes it a robust option for cultivators ready to face the elements.
Indoor and Outdoor Yield
You can expect a lavish 1.3 to 1.7 oz/ft² indoors and 14 to 18 oz per plant outdoors.
Production optimization is within reach, but factors like soil quality and light exposure must be considered.
Flowering Time
Set your calendars; it takes 63 to 77 days to bloom.
The cultivation reward? Fluffy, dense, round buds with a dreamy blue-green hue and a frosty coat of white trichomes.
Timing is everything, and this MJ is worth every second.
Buy Cannabis Seeds for Sale Online
Get your weed seeds from DSS seed bank, a treasure trove for top-quality cannabis seeds.
Dive into a diverse range, all a click away.
Free Shipping Worldwide - Including the USA
And guess what?
DSS offers free shipping worldwide. Even for our friends in the USA!
We also offer a fast delivery option ranging from 2 to 5 days.
On top of all that, we offer free seeds on all orders above $100.
Similar Marijuana Seeds
You've delved into the world of NS, but the ganja universe is rich and varied.
What if you're craving something a little different but still want some of those vibes?
Here is some info about modern marijuana strains that can offer a unique twist.
Planet Purple: This is more indica-heavy MJ. While NS thrives in a mild climate, Planet Purple prefers cooler temperatures.
Ninja Fruit: A fairly balanced hybrid. It has a shorter flowering time than NS, making it a quicker alternative for those eager to harvest. It offers citrusy and herb scent mixed with spice taste.
Ocean Fruit: Primarily an indica, Ocean Fruit offers an entirely different experience compared to the sativa-driven euphoric high. Ocean Fruit provides a generous indoors harvest, giving you a high-quantity option for confined spaces.
Afghani: This is a classic known for its robust and resistant growth. It's a favorite among seasoned growers for its hardiness and heavy, relaxing effects. With a relatively short flowering time, Afghan is a reliable choice for beginners looking for a low-maintenance yet potent MJ.
Feel like mixing it up? These varieties offer intriguing characteristic while still capturing some of the qualities that make this MJ shine.
FAQ
How much does North star yield?
You can expect an indoor range of 1.3 to 1.7 oz/ft² and an outdoor range of 14 to 18 oz.
Is North star indica or sativa?
It is predominantly a Sativa strain, boasting a 90/10 Sativa-to-Indica ratio.
What is North star good for?
It is beneficial for both recreational and medicinal use. It's particularly effective for chronic pain, migraines, depression, and anxiety.