Super Skunk Autoflower Seeds Information
Ever felt like the universe is constantly throwing curveballs at you?
In the whirlwind of life, you deserve a moment of Zen.
That's where Super Skunk auto seeds step into the spotlight!
This strain is not just another cannabis variety; it's your ticket to a tranquil universe.
Buckle up for a ride through its rich lineage, sensational effects, and effortless growing process.
Super Skunk Autoflower Strain Origin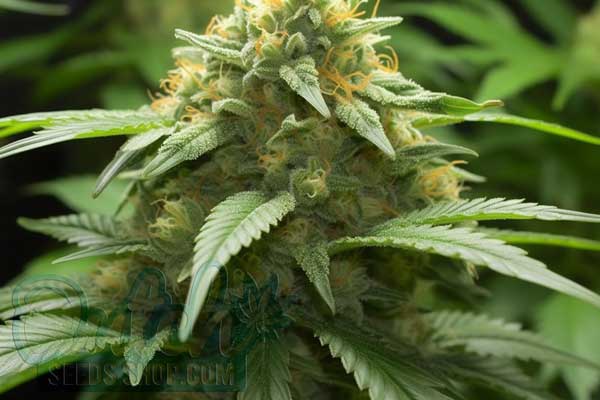 Ready to take a stroll down memory lane?
Let's dive into the epic origin of this legendary strain.
This is a pot of gold that brings together the best of Super Skunk, Northern Lights, and Ruderalis.
This impressive indica dominance lineage grants it an 80% indica and 20% sativa ratio - a combo that spells tranquility and good vibes.
What sets it apart? It's resilient as a warrior practically bulletproof against pathogens and pests.
Super Skunk Auto Weed Effects
After your first puff, you'll get why strain has gotten this name.
The effects are like an exhilarating wave that sweeps you into a realm of euphoria.
Initial moments of elation soon melt into a soothing, body-buzzing relaxation.
With effects ranging from happy and calming to flat-out chill, this indica hybrid strain turns your ordinary evenings into cozy, dream-like experiences.
A word of caution: Go easy on the dosage.
Too much of this good thing can lead to dry eyes, dry mouth, or even paranoia.
THC and CBD
When it comes to cannabinoid content, it isn't playing around.
THC levels in this bad indica hybrid range from 14% to 19%, offering the potential for potent relaxation.
And let's not dismiss the CBD content, albeit below 1%.
The THC and low CBD medley make it an effective choice for easing ailments like arthritis, insomnia, and chronic pain.
However, if you're new to the weed universe, tread lightly, as higher THC can make your mouth as dry as the Sahara.
Aroma and Flavor
The Super Skunk strain doesn't hold back regarding scents and flavor.
Imagine walking through a forest where the air is a blend of earthy richness, subtly sweet undertones, and that notorious skunky smell.
This strain owes its complex aroma and flavor profile to its parent strains Northern Lights, Super Skunk, and Ruderalis.
Yeah, this strain is a treat for the nose and tongue!
Bursting with a skunk smell, this strain's olfactory profile is a hearty nod to its legendary skunk heritage.
But that's not all. It serves up an array of flavors: earthy, sweet, and cheese, making every puff an exotic journey.
So what's the big deal?
Well, thanks to the impressive terpene profile, you'll encounter scents and flavors that are delicious and potentially therapeutic.
Terpenes like Myrcene offer that pungent scent, while Linalool adds a subtle touch of sweetness.
These aren't just pleasant sensations; they're the plant's way of communicating its rich genetic lineage and complexity.
Growing Super Skunk Autoflower Plants
Dreaming of your own cannabis plants garden but bogged down by the thought of constant upkeep?
Well, the universe heard you!
Growing these seeds is as easy as pie, a golden opportunity for first-timers and seasoned cultivators alike.
Preferred Climate
Ah, climate! The first thing to know about auto Super Skunk is its remarkable flexibility.
This strain is like the all-weather tire of the weed world.
A real warrior, it shows incredibly high resilience to both heat stress and colder climates.
Whether you're a cultivator in sunny California or facing more unpredictable weather in the Pacific Northwest, Super Skunk Auto's got your back.
So, what's the ideal climate for this wonder plant? Aim for mild weather.
Mild conditions and humidity are like a comfy blanket for Super Skunk weed seeds, making it a hardy choice for outdoor cultivators dealing with varying weather conditions.
The seed's robust genetics also make it resistant to various pests and diseases, adding another layer of protection.
These natural defenses contribute to the plant's ability to fend off potential threats, making it easier to grow and an excellent choice for newbies in the growing cannabis seeds world.
Indoor and Outdoor Yield
Let's talk yields, shall we?
This strain is more than just a pretty plant; it's a genuine powerhouse.
For those growing Super Skunk seeds indoors, you can expect a yield ranging from 0.5 to 0.7 oz/ft².
That might sound modest, but wait until you hear about the outdoor yield.
Get ready to have your socks knocked off because you could rake in a whopping 1 to 3.5 oz per plant when you grow outdoors!
Why the difference in yields?
Indoors growing environments are generally more controlled but limited in space, affecting the yield per plant.
Outdoor growing, on the other hand, lets this autoflowering cannabis strain spread its roots and soak up natural sunlight, boosting the yield considerably.
It's all about the grower's skill level and the care you provide.
But remember, this strain is easy to grow, making it a favorable choice for both rookies and veteran cultivators.
Flowering Time
In the world of cannabis seeds growing, patience is not just a virtue; it's a lifestyle.
But Super Skunk laughs in the face of long waits!
With a rapid flowering time ranging from 49 to 56 days, you'll barely have time to blink before these buds are ripe for picking!
Factors like optimal light hours per day and growing techniques like low-stress training can even nudge that flowering period to a faster end.
Buy Cannabis Seeds for Sale Online
Hey growers, whether you're a rookie or a seasoned pro, you don't want to miss out on this!
When it comes to auto and feminized seeds online, Dutch Seeds Shop is where high germination rates and quality meets variety.
Feel like venturing into the weed world?
We've got you covered with seeds that will make your grow journey a blast!
You don't have to comb through many online seed banks worrying about seed quality.
Choose Dutch Seeds Shop, and you're picking a trusted source that other cannabis growers swear by.
The benefits? Oh, there are plenty!
Buy Super Skunk autoflowering seeds and witness their resilient nature, simple germinating process, and abundant yield.
Quality seeds lead to quality seedlings, so don't settle for less.
Free Shipping Worldwide - Including the USA
Now, hold on a second. Shipping costs can be a deal-breaker; we get it!
That's why Dutch Seeds Shop throws in free worldwide shipping. Yep, you heard that right.
Even our friends in the USA can enjoy this perk.
No hidden fees or extra charges that pop up at the last minute.
Just a smooth, cost-effective way to get your seeds from our shop to your home.
And guess what?
We also offer a fast delivery option, aiming to get those seeds in your hands between 2 to 5 days.
So, if you're impatient to start your new growing project, we've got your back!
Still on the fence?
Let this tip you over: free seeds on orders over $100.
Seriously, could this get any better?
This is like happy hour, but for seeds. A deal too good to pass up if you ask us.
Dutch Seeds Shop is all about making your growing journey a fruitful (or should we say, bud-ful) one! 🌱🌿
Similar Marijuana Seeds
Looking for alternatives to Super Skunk that still offer robust yields, fast flowering, and unique effects?
Let's dive into some strains that might catch your interest.
Whether new to the growing game or a seasoned pro, these strains offer something for everyone.
Red Skunk Auto: A vibrant autoflowering choice, Red Skunk Auto packs a punch with its high tetrahydrocannabinol levels. Compared to Super Skunk, Red Skunk takes a bit longer to flower but rewards you with a higher yield. It's another easy-to-grow option but tends to favor slightly warmer climates.
Skunk Automatic: If you're a fan of the classic skunk aroma, Skunk Automatic offers that familiar scent with the benefit of automatic flowering. This strain has a similar indica to sativa ratio as Super Skunk but has slightly lower tetrahydrocannabinol levels. It's an excellent fit for those who love the skunk lineage but want a more laid-back effect.
Purple Skunk: This vibrant bud has beautiful purple hues and a more balanced indica and sativa profile. While it's not an autoflowering strain, it boasts a faster flowering than Super Skunk. Purple Skunk also has a more complex flavor profile, blending pungent, berry-like notes into the traditional skunk aroma.
White Super Skunk: A creamy and potent twist to the traditional skunk buds, White Super Skunk is a high-yielding choice for any grower. Compared to Super Skunk Auto, this buds offer higher THC content and a more intense body high. The grow difficulty is moderate, so it's ideal for growers with a bit more experience under their belt.
Auto Skunk XXL: The name says it all - this weed offers yields that are XXL compared to Super Skunk. Auto Skunk XXL should be on your radar if you're looking to maximize your harvest. However, it's worth noting that it has a slightly longer flowering, but the increased yield justifies the wait.
There you have it, folks!
Five buds that bring something different to the table while staying true to the skunky roots we all know and love.
Feel free to dig deeper and pick one that best suits your growing ambitions and flavor preferences!
FAQ
How long does Super Skunk Autoflower take to grow?
You're looking at a quick 49 to 56 days from the flowering phase to harvest.
What is the most potent super autoflower?
Super Skunk Auto is among the top contenders, with THC levels ranging from 14% to 19%.