Tangerine Haze Feminized Seeds Information
Imagine cracking open a fresh tangerine - now imagine that scent infused with a euphoric high that sends your spirits soaring.
Say hello to Tangerine Haze Feminized Seeds, the ticket to a tropical getaway right in your living room.
It's not just a strain; it's an experience you don't want to miss out on.
Tangerine Haze Strain Origin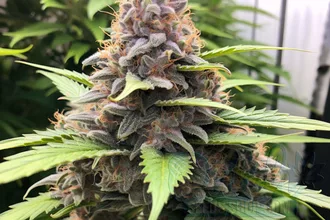 The lineage of Tangerine Haze traces back to the fabulous CH9 Aroma strain.
This gem is a sativa-dominant hybrid, featuring a 65% sativa and 35% indica ratio.
What makes it unique?
It's one of those rare strains that lives up to its name.
With a scent that can instantly boost your mood, Tangerine Haze truly stands apart in the cannabis world.
Tangerine Haze Weed Effects
Take a puff and brace yourself - the initial rush of euphoria kicks in fast, soon followed by a wave of calmness.
With happy, uplifted, relaxed, and energetic effects, Tangerine Haze strain offers a delightful spectrum of sensations. 
Got stress, depression, or PTSD? This strain could be your ticket to relief.
THC and CBD
Tangerine Haze isn't a slacker in the cannabinoid department.
It comes packing a THC level ranging from 15% to 18% while keeping CBD levels below 2%.
With THC levels like these, you're in for a cerebral high that's both uplifting and powerful - perfect for both recreational fun and potential medical benefits.
Aroma and Flavor
Regarding aroma and flavor, Tangerine Haze is a feast for the senses.
Its rich terpene profile includes Myrcene, Caryophyllene, Pinene, Linalool, and Terpineol.
Think of it as a tropical cocktail - pineapple, citrus, and especially orange dominate the flavor profile.
As soon as you open the bag, a burst of tangerine goodness hits you - it's like a morning mimosa for your nose!
Growing Tangerine Haze Plants
Dreaming of growing your own little tropical paradise?
Tangerine Haze plants are your best bet, but be warned, this isn't for the faint-hearted or absolute beginners.
You need some green thumb prowess to make these beauties flourish truly.
Preferred Climate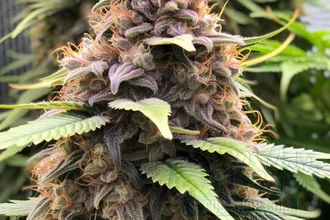 Tangerine Haze plants prefer a mild climate - think Mediterranean vibes.
Growing Tangerine Haze strain outdoor is cool as long as you're not battling extreme temperatures. 
The strain does well in balanced humidity and loves plenty of sunlight.
Keep your climate checklist ready because this one's a bit finicky!
Indoor and Outdoor Yield
Indoor yields range from a generous 1.6 to 2.1 oz/ft², while outdoor yields can climb up to 13 to 15 oz per plant.
Factors like proper feeding and light schedules can significantly influence your yield, so stay sharp!
Flowering Time
You're looking at a flowering time that ranges between 49 and 56 days.
Whether you're using soil or hydroponics, early topping is advised to let the plant grow bushier, thereby increasing yield.
Just remember, those heavy buds need support, so be prepared to do a little weightlifting!
Buy Cannabis Seeds for Sale Online
Why wait when you can buy Tangerine Haze feminized seeds from the Dutch Seeds Shop right now?
We offer top-notch quality that you can count on.
Free Shipping Worldwide - Including the USA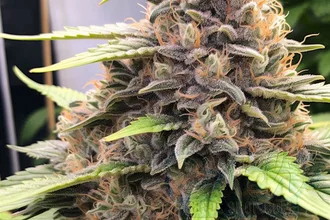 Why make your quest for top-notch cannabis seeds more complicated than it needs to be?
When you shop with Dutch Seeds Shop, you're in for a treat - and we're not just talking about our premium seeds.
Get this: we offer free shipping worldwide, and yes, that includes all you fine folks in the USA!
But wait, there's more.
We also offer a fast delivery option where your precious seeds will arrive at your doorstep in a snappy 2 to 5 days.
Oh, and did we mention? Orders over $100 get free seeds.
That's right, a little surprise to get you growing.
So, why shop anywhere else?
Dutch Seeds Shop has got your back, and your front, and everything in between!
Similar Marijuana Seeds
If you're all about that citrus and the euphoric highs of Tangerine Haze, you're in luck.
There are a few other strains that might just tickle your fancy.
Here's how they measure up:
Purple Tangerine: This strain is like Tangerine Haze's mysterious cousin. While Tangerine Haze is more on the sativa-dominant side, Purple Tangerine is a more balanced hybrid with a vibrant purple hue to its buds. In terms of flavor, expect less citrus and more berry undertones.
Tangerine Dream: Imagine Tangerine Haze went on a tropical vacation; that's Tangerine Dream for you. It has a slightly lower THC content but shares the sativa-dominance and citrus vibes. However, it's known for a quicker flowering time, making it a bit more grower-friendly.
Blue Dream: If you love the uplifting effects of Tangerine Haze but want to venture into a more berry-like flavor profile, Blue Dream marijuana feminized seeds are your go-to. It's another sativa-dominant hybrid but leans more toward blueberry notes. Growers will find that it tends to yield a bit more than Tangerine Haze, mainly when grown outdoors.
Tangerine Kush: Picture Tangerine Haze but with a stronger Indica footprint. Tangerine Kush offers similar citrus flavors but gives you a more soothing experience. Its Indica properties make it a prime choice for those looking to wind down, as opposed to the energetic uplift of Tangerine Haze.
Each of these strains offers something a bit different, so depending on what you're after, you may find a new favorite or reaffirm that Tangerine Haze is your one true cannabis love.
FAQ
Is Tangerine Haze an indica or sativa?
Tangerine Haze is a sativa-dominant hybrid with a 65% sativa and 35% indica ratio.
What is Tangerine Haze?
Tangerine Haze is a cannabis strain known for its uplifting effects and deliciously citrusy aroma.