THC Bomb Feminized Seeds Information
Look no further, weed connoisseurs and green-thumb growers!
This unique mixture of giant, rock-hard buds with explosive THC levels make it one for commercial growers and connoisseurs alike.
Welcome to the explosive universe of THC Bomb cannabis seeds.
Time is of the essence; this powerhouse won't stay on shelves for long!
THC Bomb Strain Origin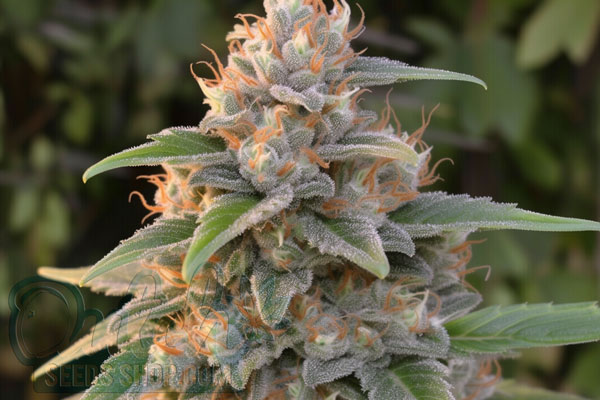 Ah, the mysterious origins!
While the parents and breeder of this strain remain unknown, it's potency and exceptional traits speak volumes about its incredible genetics.
This wonder of the strains world is a balanced hybrid with 65% Indica and 35% Sativa.
Get this: It's like a blend of mythical heroes rolled into one enigmatic yet awe-inspiring package.
THC Bomb is the original signature strain of Bomb Seeds.
It has created rave reviews around the world.
This strain has it all a mixture of giant, rock-hard buds and explosively high potency levels.
THC Bomb Weed Effects
Dive into a serene landscape as you light up this bomb bud.
The effects? Think calming, analgesic, happy, and sleepy.
The strain gives you an initial rush of euphoria, progressively transitioning into a comfy, sleep-inducing state.
If you're stressed, depressed, or simply need some quality sleep, you've found your go-to strain.
THC and CBD
Hold onto your seats!
This strain packs a punch, with levels of THC ranging well over 20 to 25% while keeping the CBD levels below 1%.
What does it mean for you?
A powerful, almost transcendent experience primarily designed for stress relief, depression mitigation, and insomnia alleviation.
Aroma and Flavor
Enchant your senses with an intriguing mix of woody, pine, citrus, and lemon aromas.
The terpene profile - limonene, caryophyllene, myrcene, and more - creates a complex and inviting bouquet.
Light it up and take a hit; it's like a forest party in your mouth.
Growing THC Bomb Plants
If you've been looking for an easy-to-grow strain with mind-blowing yields, get ready for a wild ride!
With THC Bomb strain, it's not just growing; it's an adventure in cultivation.
This plant was developed to be something special delivering on every level: harvest, strength, taste and speed!
Preferred Climate
Love growing in a warm climate? Perfect!
It prefers a balmy environment.
With moderate height ranges between 100cm-180cm, this strain can adapt to various settings without causing a climate problem.
The plant grows with extreme vigour and strength while staying relatively short and finishing very fast for such a large yielder.
Indoor and Outdoor Yield
Indoor growers expect a yield ranging from 1.7 to 2 oz/ft².
Outdoor enthusiasts, you're looking at a staggering 30 to 35 oz per plant.
Outdoors THC Bomb can produce well over 1kg per plant.
That's right, massive!
These seeds are also highly resistant to molds and mildew, giving you a better shot at that perfect harvest.
When ready to harvest the plant will literally be covered in frosty white trichromes.
Flowering Time
Tick-tock, it's almost harvest o'clock!
Flowering time for this speedster ranges between 49 to 63 days.
Whether using the Sea of Green (SOG) method indoors or letting it blossom under the natural sunlight, you're in for a quick and rewarding grow cycle.
Buy Cannabis Seeds for Sale Online
Why hesitate when you can buy top-quality THC Bomb seeds from the Dutch Seeds Shop?
Choose the best, and forget the rest!
Our seeds are bred for quality, stability, and mind-blowing potency.
Free Shipping Worldwide - Including the USA
Who says quality should come with hefty shipping fees? Not Dutch Seeds Shop!
When you snag seeds, we've got you covered with free shipping worldwide, including the USA.
Yup, you read that right - zero shipping costs.
We also offer a fast delivery option, ensuring your seeds arrive between 2 and 5 days.
And let's sweeten the pot a bit more: Orders over $100 come with extra free seeds.
It's like your garden's birthday, but you get the presents!
Similar Marijuana Seeds
Craving more bombastic experiences?
Let's explore how THC Bomb stacks up against other explosive strains, comparing their yield, flowering time, growing difficulty, and Indica-Sativa blend. Buckle up!
Atomic Bomb seeds: Regarding THC levels, the Atomic Bomb seeds doesn't lag far behind. However, Atomic Bomb tends to lean more on the Sativa side, offering a more energizing experience compared to the calming effects.
Cherry Bomb seeds: Cherry Bomb offers a more skunk and fruit-infused flavor palette, contrasting THC Bomb's woody and piney notes. Yield-wise, Cherry Bomb generally offers less bountiful harvests.
Gorilla Bomb seeds: This strain is a terpene treasure trove, with complex aromas and flavors that slightly edge out THC Bomb's profile. However, when it comes to growing and flowering, THC Bomb is more easy to grow and it takes the cake, making it more suitable for novice growers.
Big Bomb seeds: This strain can outperform THC Bomb in terms of yield but falls a bit short regarding THC, making it less potent but more fruitful. Just like big bomb, the harvest will be massive coupled with the power and strength of white strains.
Ready to explore these strains further?
Whether you're in it for the THC or the harvest, there's a "Bomb" for everyone!
FAQ
How much THC is in a THC bomb?
The THC content range from 20% to 25%.
What is a THC bomb?
It is a hybrid cannabis strain known for its high THC content and robust yields.