Triple XL Autoflower Seeds Information
Ah, the allure of Triple XL auto seeds!
A name Triple XL doesn't just promise big things; it delivers a sensory experience that elevates your expectations.
With its powerful genetic lineage and tantalizing effects, this marijuana strain beckons both novices and seasoned cannabis enthusiasts.
Whether you're enticed by its therapeutic potential or spellbound by its unique flavor profile, this has something for every connoisseur.
Triple XL Autoflower Strain Origin
Bearing the strong lineage of its parents Northern Lights 5 x Big Bud x Green Crack x Ruderalis, Triple XL strain takes the best from each, forming an 80% indica and 20% sativa blend.
A child of diverse and powerful parent strains, it offers unique characteristics that stand out.
Mold-resistant and easy to grow, it provides robust indica effects along with an exciting splash of sativa.
Its name, reflects it's genetics that have been meticulously cultivated, creating a strain that promises something extraordinary.
Triple XL Autoflower Weed Effects
Indulging in this strain is a symphony of euphoric, energetic, relaxed, and uplifting effects.
As a indica dominant hybrid strain, the relaxation and calming sensation is like a warm embrace that gradually gives way to an uplifting and energizing experience.
Its balanced effects make it suitable for those seeking relief from stress, migraines, insomnia, and more.
Whether you're looking to unwind after a long day or seeking inspiration for a creative project, it is a versatile companion.
THC and CBD
With THC levels ranging from 17% to 21%, Auto Triple XL offers a significant punch.
Its power translates to pronounced euphoric sensations, making it a favorite among recreational users.
Its CBD levels below 1% suggest that it leans more towards offering psychoactive effects rather than medical ones.
The strain's THC content offers potential therapeutic benefits as well.
For those seeking relief from ailments like anxiety, depression, or migraines, it might become a valuable ally.
Its combination of cannabinoids illustrates the diverse appeal that keeps cannabis enthusiasts returning for more.
Aroma and Flavor
This strain is a carnival of flavors.
Its citric, earthy, skunk, and spice flavors are a feast for the senses.
Every puff is an exploration into an intricate world of tastes, enriched with a diverse terpene profile, including Limonene, Myrcene, and Caryophyllene.
In addition to its outstanding flavor, Triple XL's aroma is captivating.
The distinct scents, reminiscent of fresh earth and citrus groves, create a sensory experience that makes it stand out from the crowd.
It's more than just a smoke; it's an olfactory adventure.
Growing Triple XL Autoflower Plants
Welcome to the world of growing Triple XL auto plants, where even the novice can achieve outstanding results.
This strain is a grower's delight with its 75 cm height, mold-resistant traits, and easy cultivation indoors or outdoors.
Preferred Climate
It thrives best in a mild climate.
While its mold resistance adds reliability, proper care regarding temperature, humidity, and sunlight requirements can make all the difference.
Understanding these climatic preferences ensures a healthier plant and a more bountiful yield.
However, the strain's adaptability means that it's not overly fussy.
Whether growing cannabis plants in a Mediterranean climate or a cooler northern region, it can flourish with proper attention and care.
This versatility is part of what makes it a sought-after choice for various growers.
Indoor and Outdoor Yield
When grown indoors, it yields range from a generous 2.6 to 3.2 oz/ft².
Implementing hydro and aqua setups or utilizing high-nutrient organic soil can further enhance these results.
Even light pruning and training methods may lead to larger yields.
Outdoors, you can expect anywhere from 3 to 7 oz per plant.
It's mold resistance and adaptability make it a dependable option, allowing growers to avoid common pitfalls related to moisture and humidity.
This ease of growth, both inside and out, adds to its appeal.
Flowering Time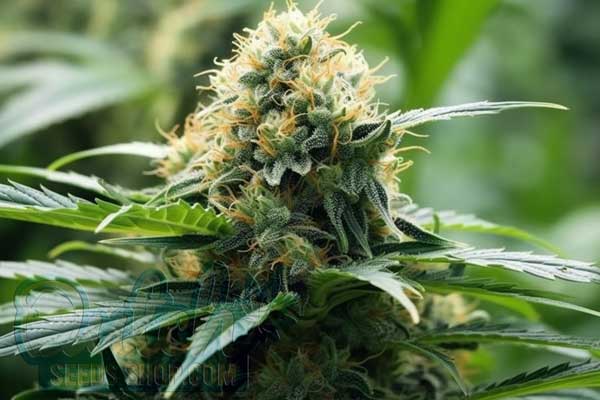 It's flowering time ranges from 49 to 65 days.
The onset of flowering to harvest can be influenced by factors such as growing techniques and environmental conditions.
Timely care and attention can ensure that the plants flower beautifully.
Being an autoflowering cannabis strain, it doesn't depend on the light cycle to bloom.
It will flower automatically after a set time, adding convenience to the growing process.
This characteristic makes it an appealing option for those looking to harvest quickly.
Buy Cannabis Seeds for Sale Online
Buying Triple XL autoflower cannabis seeds from Dutch Seeds Shop opens doors to quality and authenticity, catering to both novice and experienced growers.
Dutch Seeds Shop ensures genetically stable autoflowering seeds with an excellent germination rate, offering extensive educational support and diverse autoflower weed seed selection.
From the unmatched quality of seeds to an expansive range of auto and feminized cannabis seeds, every seed is handled with care.
The commitment to customer education, along with various tastes and preferences, solidifies Dutch Seeds Shop's position as a vendor and a trustworthy partner in the cultivation journey.
Free Shipping Worldwide - Including the USA
Buying seeds online from Dutch Seeds Shop seed bank comes with the added benefit of free shipping on orders worldwide, including in the USA.
Also, the fast delivery option from 2 to 5 days ensures you can start growing autoflower and feminized seeds without delay.
Plus, don't forget that Dutch Seeds Shop offers free seeds on all orders over $100, adding even more value to your purchase.
Similar Marijuana Seeds
Looking for a strain that suits your specific needs or just curious about how other strains measure up to Triple XL autoflower marijuana seeds?
Here's a comparison with some other prominent strains.
Each of these has unique characteristics, but how do they stand against the mighty Triple XL?
Let's dive into the details.
Big Bud: Known for its enormous buds and hefty harvest time, it offers a slightly shorter blooming time. While Triple XL holds an edge in potency, Big Bud's gentle effects and ease of growth make it a favorite among many cultivators.
Glookies: A dynamic blend of taste and aroma, Glookies is renowned for its cookie flavor. Although its potency may be on par with Triple XL's, Glookies offers a more complex terpene profile. However, the indoor yield of Triple XL tends to be higher, making it an attractive option for those focusing on productivity.
Gorilla Glue: Famous for its sticky buds and potent effects, Gorilla Glue shares the energetic and uplifting effects. While the THC levels might be higher in Gorilla Glue, Triple XL's easy cultivation and mold resistance may sway growers in its direction.
Critical XL: Critical XL stands out with its incredible harvest of buds and quick blooming time, rivaling that of Triple XL's. The citrusy notes might be less prominent than in Triple XL, but its high-indica content ensures a profoundly relaxing experience. Cultivators seeking larger production might gravitate towards Critical XL, though Triple XL's rich citrus flavor profile remains unmatched.
Green Crack: Offering an invigorating mental buzz, Green Crack has a sativa dominance that contrasts with Triple XL's indica-lean. While its outdoor harvest is comparable, Triple XL's earthy and spicy flavors offer a more diverse taste experience. Green Crack's shorter height might appeal to indoor cannabis growers, but Triple XL's resilience and effects make it a versatile option.
Northern Lights: A classic strain known for its relaxing effects, Northern Lights shares the indica-richness. Although the potency is slightly lower, Northern Lights' shorter blooming time and famed soothing experience make it a strong contender. Triple XL, however, offers a wider array of flavors and robust growth, reinforcing its place as a desirable choice.
FAQ
What is the most potent autoflower seed?
The potency of autoflower can vary widely, but strains like Girl Scout Cookies Autoflower with high THC content are considered highly potent.
What is the highest yielding autoflower strain?
Strains like Triple XL Auto and Big Bud Autoflower are well-known for their high yields, making them top choices for growers looking to maximize their harvest.