Wonder Woman Feminized Seeds Information
Hey, growers and cannabis aficionados!
Ready for something legendary?
Meet Wonder Woman, the strain that's making waves in the cannabis world.
Wonder Woman bears rock hard buds that are easy to trim, saving you time and hassle in the cultivation process.
Its dreamy effects are causing a stir, and we're diving deep into this wonder of a strain.
Plus, get this: these fabulous new high-volume marijuana plants make it possible to achieve over half a kilo of weed per square meter!
That's not just hype; that's an average yield you can count on.
The clock's ticking - don't miss out!
Wonder Woman Strain Origin
It is a dazzling cocktail of genetics, created by mingling the best traits of Ice and Top 44.
This beauty has a balanced composition, 40% indica, and 60% sativa, giving it an edge in versatility.
The strain hails from Nirvana Seeds, a trusted name in cannabis breeding.
With parents like these, it's easy to see how she got her superhero-like qualities.
Wonder Woman Weed Effects
Trust us, one puff, and you'll feel like you're floating on Cloud 9 - euphoric, happy, relaxed, aroused, uplifted, she brings it all.
With a profile that's accompanied by a long-lasting buzz, this green goddess is more than just a quick thrill.
This marijuana is more than a recreational delight; it's got therapeutic vibes, too.
Known for alleviating stress, muscle spasms, glaucoma, depression, and even insomnia, it's the holistic package.
Need a lift or an escape from life's woes?
This beauty, complete with a long-lasting buzz, is your go-to sanctuary.
THC and CBD
What's the secret sauce in Wonder Woman?
It's the powerhouse THC content, ranging from 15% to 22%.
Conversely, the CBD content is relatively low, below 0.3%, making it more suitable for those seeking a psychoactive high rather than medicinal effects.
The Tetrahydrocannabinol kick is excellent for weekend warriors or anyone looking to dial down the day's stress.
Aroma and Flavor
Prepare for a sensory adventure!
The blend of pungent skunky notes with bright, sweet overtones will craft a delightful symphony for your nostrils.
When you taste it, you're met with flavors of sweet, skunk, woody, and fruity vibes.
The smoke of this cannabis variety has a classic, skunky flavor accompanied by a rich complexity that blends seamlessly with the sweet and woody notes.
Oh yeah, this is a complex treat you won't want to miss.
Get ready for a flavor journey like no other!
Growing Wonder Woman Plants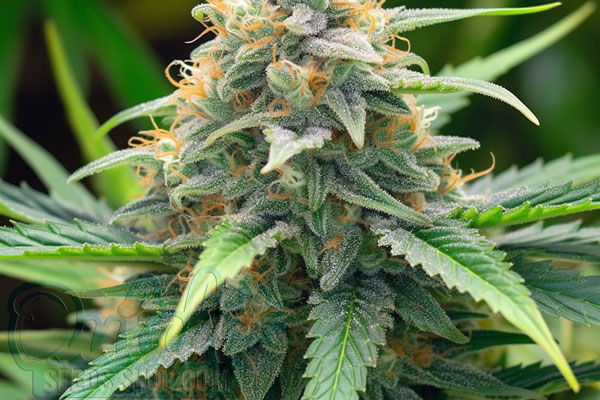 Step aside, average plants!
Meet the diva that both newbie growers and experienced cultivators want in their gardens.
Despite being a medium sized plant, she packs a bushy structure that's a dream to work with.
Get your gloves ready because it's go-time!
Preferred Climate
Preferred climate for optimal growth is mild.
She isn't too demanding and can handle minor fluctuations in temperature and humidity.
Yet, to see her at her full potential, offer her just the right balance of sun, shade, and moisture.
Even in colder climates, this diva holds her own, proving she's not just another pretty face in the cannabis garden.
Indoor and Outdoor Yield
Planning for some cannabis cultivation magic?
These plants can be grown both indoors and outdoors.
Indoor, expect harvests ranging from 1.5 to 2.2 oz/ft².
Going the outdoor route?
You'll be reaping a generous 10 to 16 oz per plant.
Flowering Time
You're looking at a flowering time of 63 to 77 days, which is a moderate waiting game.
Whether you're using the Sea of Green technique or letting her grow naturally, this period could vary slightly.
Patience is vital; good things come to those who wait.
Buy Cannabis Seeds for Sale Online
Why settle for less when you can have the best?
Buy Wonder Woman cannabis seeds from Dutch Seeds Shop, your trusted seed bank, and take your growing game to the next level.
We're talking premium quality and fantastic genetics.
Craving some additional information?
We've got you covered, from autoflowering options to the nitty-gritty of cultivation.
You'll find everything you need to succeed!
Free Shipping Worldwide - Including the USA
Don't let geography dictate your passion for top-notch cannabis.
Dutch Seeds Shop breaks down borders by offering free shipping worldwide, extending the courtesy all the way to the USA!
Imagine getting your hands on those coveted feminized seeds without a second thought about shipping costs.
Plus, we get it, time is of the essence when you're all set to cultivate.
That's why we offer a fast delivery option ranging from 2 to 5 days.
And guess what? If you go all-in on your order and rack up over $100, we'll throw in 5 seeds for free to sweeten the deal.
So what are you waiting for, get these weed seeds online from DSS and elevate your grow game!
Similar Marijuana Seeds
Ah, so you're fond of that iconic heroine of herb but curious about other cannabis contenders?
Allow me to draw some comparisons with other big-hitters in the ganja galaxy.
Black Jack: Leaning more to the indica side, Black Jack strain provides a truly calming experience. Yield-wise, it's quite the rival, with hearty outputs whether you're indoors or soaking up the sun.
Somango: Want to level up the fruitiness? Somango elevates your aromatic experience with an exotic tropical bouquet. Plus, it's easier on newbie growers, setting you up for easy success.
Original Glue: Craving more intensity? This one's got Tetrahydrocannabinol levels through the roof. Crops are ample, but be ready to finesse your indoor setup for the best results.
Blue Dream: If you prefer cerebral and sky-high highs, look no further than Blue Dream. Flowering may take a bit more patience, but you're rewarded with a bounty that's nothing short of generous.
California Orange: A classic through and through, this easy to grow balanced cannabis strain has a citrus twist that sets it apart. It rivals our heroine in output and is an olfactory delight to boot.
Big Bud: In the big leagues of production, this indica-dominant giant stands tall. If you're aiming for a windfall that's off the charts, Big Bud is your go-to.
White Widow: Known for balanced effects and robust output, White Widow typically reaches maturity in just 60 days. In comparison, our green heroine can take up to 77 days but offers a more bountiful outdoor gathering.
Super Skunk: Super Skunk leans more toward indica dominance and usually completes its flowering cycle in 45 to 50 days. In terms of outdoor productivity, it's neck-and-neck with our featured green lady.
From aroma to growing conditions, these contenders offer unique spins worth exploring.
If you're aiming to diversify your cannabis collection, you've got some tantalizing options here.
FAQ
How much do Wonder Woman plants yield?
Expect indoor yields to range from 1.5 to 2.2 oz/ft² and outdoor to range from 10 to 16 oz per plant.
How long does Wonder Woman take to flower?
The blooming time is between 63 to 77 days.