Trichomes Not Turning Amber: A Troubleshooting Guide
You're standing there, jeweler's loupe pressed to one eye, a twinkle of anticipation in the other. You've spent countless hours ensuring the ideal temperature, optimal humidity, and precise nutrient regimen for your beloved cannabis plants. And yet… those trichomes, those tiny factories of frosty goodness, refuse to turn amber. Don't pack your bags and move to…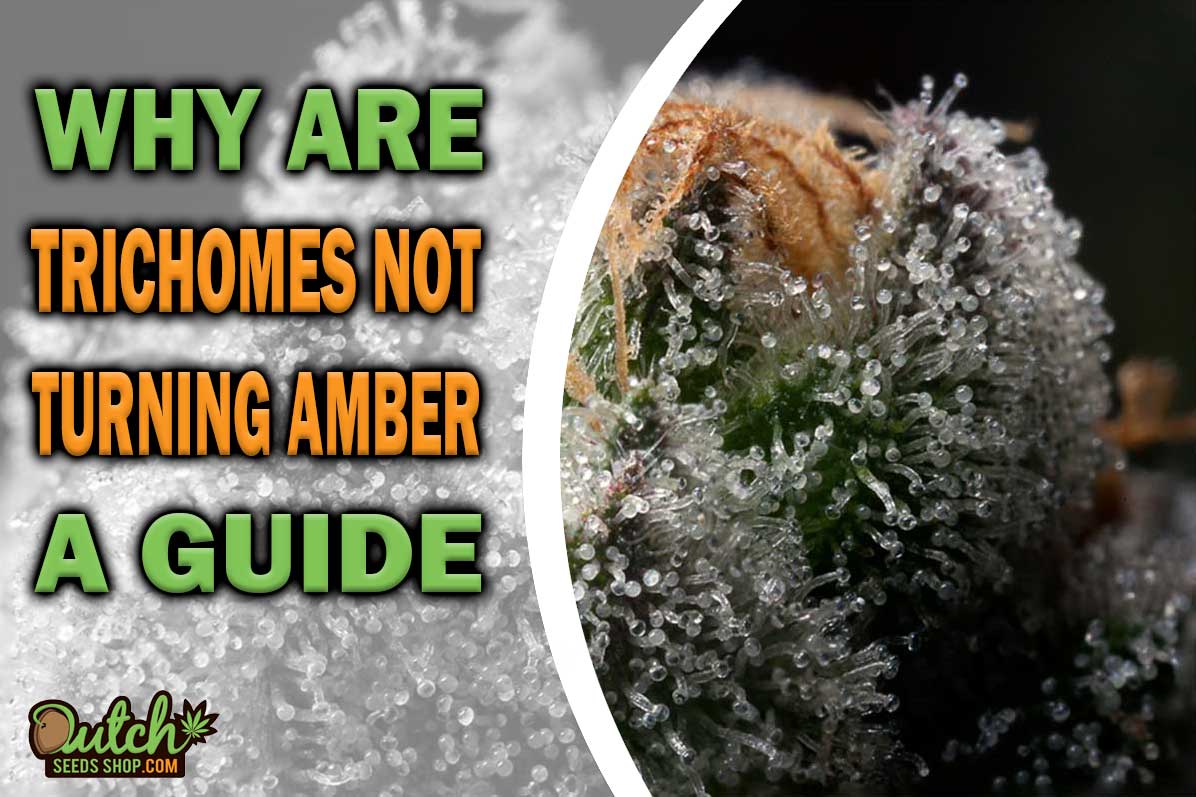 Written by Kodinov Ivan
Date: 2023-07-14 15:48:01
Understanding Trichomes and Their Importance
Trichomes are like the Swiss Army knife of the cannabis plant: tiny but mighty.
They're not just there to make your buds look like they've been dusted with a fresh layer of alpine snow.
Trichomes are the birthplace of tetrahydrocannabinol (THC) and other cannabinoids that we all know and love.
No trichomes, no high. It's as simple as that.
The Significance of Amber Trichomes
Now, why are we all so obsessed with these trichomes turning amber?
Well, think of trichomes as little traffic lights for your harvest.
They go through a color transition – clear, milky white, and finally, amber.
When most trichomes have become rich amber, they say, "Stop! It's time to harvest!"
Harvesting at this stage ensures your buds pack the most potent punch.
But what if they refuse to turn amber?
Factors Affecting Trichome Color
When trichomes don't transition to amber as expected, it's usually a sign that something's up with your plants.
But don't worry; it's not a grower's version of a midlife crisis.
Here are the most likely suspects:
Genetics and Strain Characteristics
Like people, cannabis strains are beautifully diverse, with distinct personalities and behaviors.
For instance Indica strains, are the overachievers of the trichome world, generating plenty of these tiny resin factories and usually transitioning to amber more noticeably.
On the other hand Sativa strains, tend to generate fewer bulging trichomes, making their color transition less noticeable. It's not their fault; they're just a little shy.
Environmental Factors
Cannabis plants are like Goldilocks – they like their conditions just right.
If temperature and humidity stray too far from the ideal, trichomes can throw a fit and refuse to turn amber.
Conversely, ideal environmental conditions make them happy, and happy trichomes are more likely to play by the rules and turn amber as expected.
Nutrient Deficiencies and Imbalances
Cannabis plants, much like us, after a long night, need constant feeding and energy.
Starve them of essential nutrients during the flowering stage, and trichomes may sulk and refuse to mature.
Remember, your plants need more than just water and sunshine – they need a balanced diet too!
Troubleshooting Tips for Trichomes Not Turning Amber
If your trichomes are still acting like rebellious teenagers, here are some ways to put them in line:
Inspect your strain: Not all strains are created equal. If you're growing a Sativa or a strain known for slow trichome maturation, you may need to exercise a little more patience.
Check your environmental conditions: Ensure your plants are grown in optimal temperature and humidity. Trichomes love conditions that are just right – just like Goldilocks!
Balance your nutrients: Provide a balanced nutrient diet to your plants, especially during the flowering stage. A well-fed cannabis plant is a happy cannabis plant.
Harvesting Considerations
Don't panic if your trichomes are pulling a disappearing act on the amber color.
Even without the amber signal, you can still decide when to harvest by observing other maturity indicators, such as the pistils' color.
Remember, the ultimate goal is to maximize cannabinoid potency, not to win an amber trichome beauty pageant.
Maximizing Cannabinoid Potency Without Amber Trichomes
Despite the lack of amber, harvesting when most trichomes are milky can still get potent buds.
Milky trichomes indicate that THC is at its peak, and that's when you want to swoop in and harvest.
Waiting for the amber might leave you with degraded THC levels and a couch-locking effect thanks to increased CBD and CBN levels.
Remember, as a cannabis cultivator, you're more of a conductor than a dictator.
You can't force the music to play faster, but you can guide each orchestra section to create the perfect symphony.
In this case, your symphony smells like the best kind of trouble.
Happy growing!
FAQ
Do some trichomes not turn amber?
Yes, some trichomes may stay milky instead of turning amber, depending on the strain.
Why are my trichomes not maturing?
Trichomes may not mature due to genetics, environmental factors, or nutrient imbalances.
How do you speed up amber trichomes?
Speeding up amber trichomes is not recommended, as it's a natural process. Optimal growing conditions can help the plant mature at its own pace.
Why are my trichomes still clear?
Clear trichomes suggest that the plant is not ready for harvest. Give it more time and ensure proper light, nutrients, and care.
Share the Love:
Written by Kodinov Ivan
Date: 2023-07-14 15:48:01