Critical + 2.0 Feminized Seeds Information
Buckle up, grow enthusiasts and cannabis connoisseurs!
If you're searching for a cannabis seeds that masterfully merges potency with resilience, feast your eyes on Critical 2.0 Feminized Cannabis Seeds.
With its tantalizing scents and flavors, this weed is a true sensory delight you won't want to miss.
Critical + 2.0 Strain Origin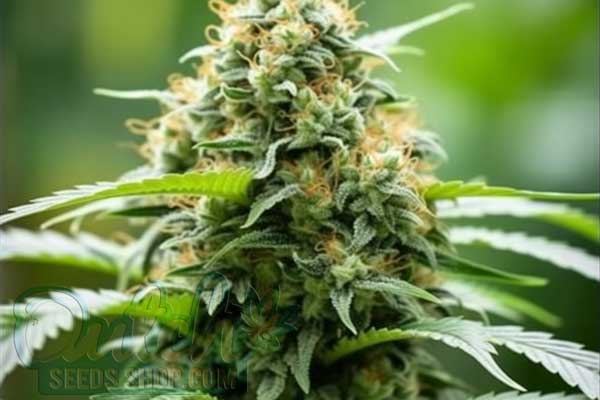 Regarding heritage, Critical 2.0 feminized is like the love child of rockstar cannabis parents.
Its parents are none other than Critical and the Resistant Critical+.
It flaunts a 70% Indica and 30% Sativa split, blending the best of both worlds.
This genetic cocktail infuses it with resilience and high yields, making it a go-to for those who want both quantity and quality.
In the world of cannabis, your roots matter.
Critical + 2.0 hails from a remarkable lineage, setting the stage for a stellar growing journey.
It's famous for its exceptional resilience, a blessing for growers tired of fighting pests and fungi.
With this plant, you're in for a much smoother ride.
Critical + 2.0 Weed Effects
Ah, the moment of truth - the effects of marijuana Critical + 2.0!
Whether you're an experienced cannabis enthusiast or just diving into the world of weed, the moment you light up those buds, you're in for an experience like no other.
The high kicks off with an immediate sense of euphoria, and let me tell you, this baby is a mood elevator!
Its 70% indica and 30% sativa genetics create a balanced cocktail of happy vibes and relaxation.
It's the kind of strain you'd reach for after a long, exhausting day.
No wonder it's often associated with therapeutic boons awaiting to alleviate conditions like depression and muscle spasms.
But hey, don't take my word for it; this strain's effects are best experienced firsthand.
Because of its indica-dominant profile, it's also ideal for nights when insomnia rears its ugly head.
Your eyelids will feel like they've got tiny sandbags attached.
You'll transition from a state of relaxation to the dream world effortlessly.
And for all you night owls out there, this could be your ticket to resetting that sleep cycle.
THC and CBD
Let's talk numbers, shall we?
Critical 2.0 feminized plant is a heavyweight champ in the THC department, boasting levels between 18% to 22%.
This high THC content means it's not for the faint of heart - or lungs, for that matter.
If you're new to cannabis, proceed with caution.
Those seasoned in the art of cannabis consumption will find its high THC levels a true sensory delight, perfect for both recreational and medicinal use.
In stark contrast, CBD levels are practically a no-show, falling below 0.3%.
While not a weed you'd pick for CBD-specific benefits, the high THC content makes it an effective analgesic.
So yes, it's a kick-butt option for pain relief.
Aroma and Flavor
Now, let's get into the sensual stuff.
The scent and flavor of Critical + 2.0 are nothing short of an olfactory terpenes carnival.
When you crack open that jar, you're greeted with citrus notes underpinned by that classic piney aroma that's a hit with sativa and indica lovers alike.
But wait, there's more!
Herbal undertones playfully tease the senses, adding complexity and depth to the overall profile.
This weed takes you on a gastronomic adventure that feels like walking through a forest doused in citrus rain.
When it comes to flavor, Critical + 2.0 doesn't disappoint.
It's a harmonious blend that mirrors its terpenes - citrusy, piney, and herbal.
Inhale and you'll taste a symphony of sweet and spicy nuances, rounded off by a peppery and skunk kick that dances on the palate.
It's a bodacious bud producer and a moreish strain like no other.
If you're looking for a cannabis experience that's both enriching and enjoyable, you can bet your last bud that Critical + 2.0 will deliver.
Growing Critical + 2.0 Plants
From soil to spliff, growing Critical 2.0 feminized weed seeds is an adventure you'll be looking forward to growing!
Whether you're a green-thumbed guru or a rookie about to germinate your first cannabis seed, this plant offers an invigorating growing experience.
Its superior resistance to insects and fungi makes it a low-maintenance dream for any cultivator.
Preferred Climate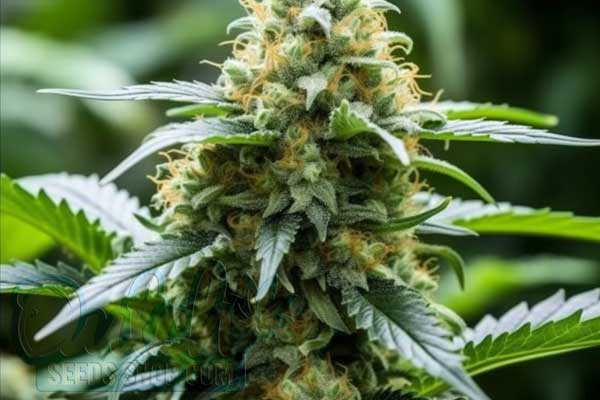 If you're eyeing Critical + 2.0 feminized plants as your next cannabis conquest, you'll want to give special attention to its preferred climate.
Think of it as the plant's happy place - where it blooms with all its botanical brilliance.
This plant has a soft spot for mild weather conditions, so you might say it's more of a Mediterranean soul at heart.
Now, mild doesn't necessarily mean boring.
You must maintain optimal conditions, carefully regulating temperature and humidity to let your buds bask in the right environment.
One more thing - this baby is moisture-resistant, so there are fewer worries about the dread of bud rot.
Whether you're a pro cultivator or just starting your cannabis journey, being climate-savvy gives your cannabis plant a chance to express its full genetic potential.
Indoor and Outdoor Yield
Harvest is the pie everyone wants a slice of.
When you're diving into cultivation, you can expect indoor production to range from 2 to 2.3 oz/ft².
It's a high-yielding strain indoors and outdoors, almost greedy in its buds covered by a thick and smelly layer of resin production, which means more bang for your grower buck.
For those thinking of stepping outside under the sky, get ready for a harvest fest!
Outdoor production rockets between 31 to 46 oz per plant.
Now, these aren't just random numbers; they're achievable feats, especially when you opt for a SCROG (Screen of Green) setup.
With this method, even if you're a novice, you can bump up the harvest time like a seasoned cannabis icon.
Remember, your crop depends not only on your growing technique but also on the plant's genetic makeup, which, in this case, is engineered for bud opulence.
Flowering Time
Critical 2.0 feminized cannabis is no slow-poke when it comes to flowering.
It zooms from germination to bud inception to harvest-ready in a period of 42 to 56 days.
But wait, what can influence this already fast flowering time?
One word: Technique.
The SCROG method is your flowering fast-pass, speeding up the plant's transition from a green sprout to a resin dripped masterpiece.
Advanced cultivators can venture into High-Stress Training (HST) methods to perhaps shave off a few more days.
Short flowering time, multiple growing techniques and a better resistance to various pests such as mould and insects make Critical + 2.0 a cannabis strain adaptable to various cultivator's timelines and experience levels.
Whether you are an indoor cultivation champ or an outdoor cannabis enthusiast, knowing how to work with your plant's flowering time is like knowing the secret handshake in the cannabis cultivators club.
Buy Cannabis Seeds for Sale Online
Hey there, green thumbs and cannabis connoisseurs!
If you're salivating over the prospect of growing some feminized Critical 2.0 seeds in your garden, there's no better place to get your cannabis seeds online than the Dutch Seeds Shop.
You might be wondering, "Why should I pick DSS?"
The answer is as simple as it is compelling: top-notch quality and with high germination rates, baby!
We're talking about seeds that have been meticulously inspected for their genetic purity.
No duds here - only the best of feminized seeds with high germination rates.
And let's not forget, we're an online seed bank you can absolutely trust, offering a wide array of seeds with high germination rates perfect for any level of grower expertise.
Free Shipping Worldwide - Including the USA
Now, let's chat about something that makes everyone's ears perk up: Free Shipping.
That's right! Get your feminised cannabis seeds shipped for zero, nada, zilch!
This isn't a luxury, especially for our friends in the USA; it's a must-have!
Also, with our fast delivery option, you'll have your seeds at your doorstep in just 2 to 5 days.
But hey, it gets better. DSS seed bank is the gift that keeps on giving!
Orders over $100? Boom! Enjoy complimentary free seeds.
It's like a golden ticket but for cannabis fans.
A genuine win-win scenario for those aiming for maximum yield and minimum expenditure.
So what are you waiting for?
Buy Critical 2.0 cannabis seeds or any other strain you fancy, and take advantage of these bodacious benefits!
Similar Marijuana Seeds
Hold onto your hats, cannabis aficionados!
If you're digging Critical 2.0 feminized seeds, there are other perfect strains you might want to get acquainted with.
Each has its own unique twist, so let's dive in and compare them:
Northern Lights: A classic in the cannabis world, Northern Lights leans toward the indica side with a 100% ratio. It's simpler to grow but offers a slightly lesser yield. The effects are more relaxing and long-lasting, perfect for a nighttime chill.
Purple Haze: With its Sativa-dominant profile, Purple Haze provides an energizing experience that is quite different. The strain is easier to cultivate but demands a tropical climate. The yield can be less generous, but the psychedelic effects make it a worthwhile trade-off.
Critical Lemon: Think of it as cousin with a zesty kick. It has similar grow difficulty and climate preferences, but where it stands out is in its lemony scent. The yield is comparable both indoors and outdoors, making it another excellent choice for yield-focused cultivators.
Critical Kush: Critical Kush is feminized strain that offers a higher indica ratio and is notably easier to grow. The yield might be a bit less, but the strain makes up for it with its potent, relaxing effects and a unique earthy and skunk aroma.
Critical Mass: Critical Mass is the go-to for cultivators aiming for high yields. This strain is easier to grow and offers similar therapeutic effects. However, it's more susceptible to bud rot, so you must keep a keen eye during cultivation.
FAQ
How long does Critical 2.0 take to grow?
The flowering time is between 42 and 56 days, making it a relatively fast flowering strain.
What are the effects of Critical 2.0 strain?
Expect to feel happy and relaxed, potentially benefiting from its analgesic properties.