Purple Haze Feminized Seeds Information
If you're in the cannabis scene, you've undoubtedly heard of Purple Haze, a strain immortalized by the iconic Jimi Hendrix tune.
This classic sativa-dominant hybrid will have you feeling like you can kiss the sky!
From its vibrant purple flowers to its dreamy, cerebral high, it's a must-try for both newcomers and cannabis connoisseurs.
Back in the day, the Purple Haze strain was something you'd find in the repertoire of Woodstock attendees.
Today, it's a legend in its own right, appealing to a new generation of growers and users.
Whether you're in it for the therapeutic benefits or the psychedelic trips, this strain offers an experience you can't overlook.
Purple Haze Strain Origin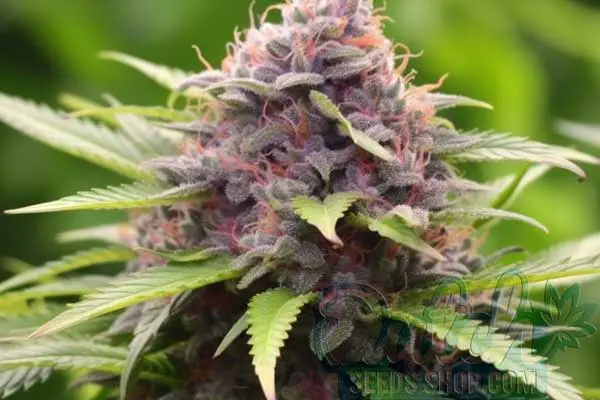 Born from the mix of Haze feminized weed seeds and Purple Thai, Purple Haze is a delightful 60% sativa and 40% indica hybrid.
What makes it stand out?
First, it's the rich purple hues that can make any grower's heart skip a beat.
These beautiful purple colors often show up late in the flowering stage, surprising even seasoned cultivators.
The strain's psychedelic name also points to its vibrant history, deeply tied to the 1960s counterculture and popularized by the Jimi Hendrix song of the same name.
It's not just for show; its lineage and appearance promise an extraordinary cannabis experience.
You'll fall in love with this classic strain that's an emblem of a generation.
Purple Haze Weed Effects
Euphoric, psychedelic, and uplifting, smoking Purple Haze feels like embarking on a colorful journey of the senses.
It is sativa-dominant, so expect cerebral effects that can stimulate creativity and conversation.
And it's not all in your head; you'll also notice a gentle relaxation washing over your body. Ah, pure bliss!
But be cautious!
The strain's high THC levels mean it packs a punch.
While it may relieve stress and mood swings, misuse could lead to dizziness or paranoia.
Always remember moderation is key when enjoying this potent strain.
THC and CBD
The THC levels in Purple Haze range from 16% to 19%, making it a pretty potent choice.
This is your ticket to the stars if you want to get lifted.
However, the CBD levels hover below 1%, so it's not the go-to strain for those seeking a CBD-rich experience.
That said, the high THC content makes Purple Haze excellent for tackling issues like chronic stress, mood swings, and even insomnia.
Purple Haze could be a great fit for your needs if you're after medicinal benefits without a heavy CBD influence.
Aroma and Flavor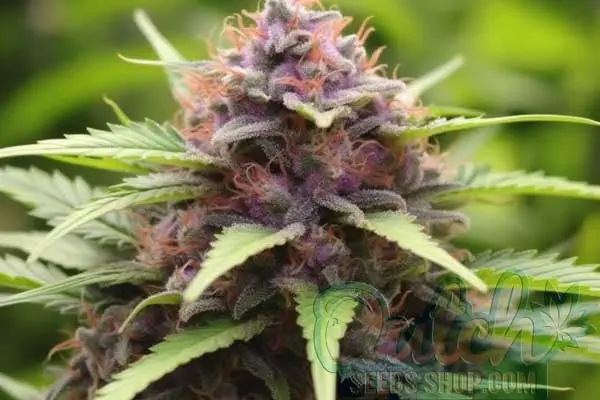 Imagine lighting up and getting hit by an intoxicating blend of sweet, incense-like, and woody notes with a dash of metallic undertones.
Yes, that's Purple Haze strain for you!
Its aroma is as complex as its history, creating a sensory experience unlike any other.
For those who appreciate the finer details in cannabis strains, the Terpene profile of Purple Haze includes Caryophyllene, Humulene, and Myrcene.
These terpenes contribute to its unique aroma and also offer potential health benefits, making the Purple Haze a strain you'll not only enjoy but also find beneficial.
Growing Purple Haze Plants
Listen up, green-thumbed enthusiasts!
If you've been itching to grow a strain that promises excellent yields and an extraordinary experience, look no further than Purple Haze.
Seriously, with its easy-to-grow nature and resilience against diseases, what's not to love?
It thrives both indoors and outdoors, but keep an eye on that vertical growth.
This plant loves to stretch out, so if you're growing indoors, you might find yourself doing some pruning to manage its height.
Preferred Climate
The good news is that Purple Haze is a forgiving strain regarding climate preferences.
Whether you're in a region with moderate summers or the harsh cold, this plant tends to adjust beautifully.
However, to truly flourish, it prefers a sunny, Mediterranean-style climate.
The plant is quite resilient to diseases and molds, making it a fantastic choice for growers who may not have the luxury of constant monitoring.
Indoor and Outdoor Yield
When it comes to yields, Purple Haze is generous.
Expect around 1.6 to 2 oz/ft² when growing indoors.
Outdoor cultivation can get you a whopping 21 to 25 oz per plant.
These numbers can vary based on factors like growing techniques and environmental conditions.
Remember that the plant tends to stretch upwards, impacting your yield if you grow indoors with limited space.
Proper pruning is essential to manage the plant's height and encourage bushy growth, which can positively impact your yield.
Flowering Time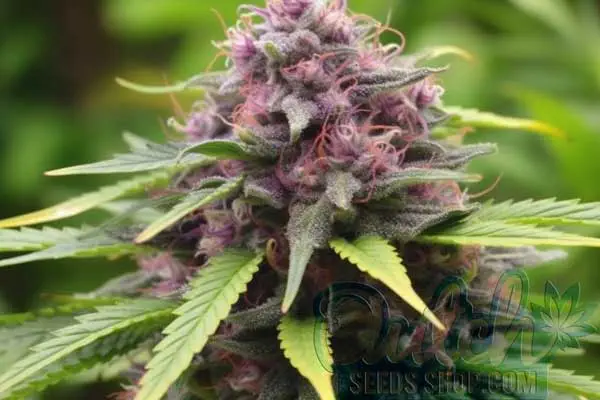 Purple Haze typically has a flowering time ranging from 65 to 70 days.
Several factors, including the growing environment and techniques, can influence this period.
For instance, using techniques like the Sea of Green (SoG) can accelerate the flowering process.
Patience is vital, as letting it fully mature will result in denser buds and a more vibrant purple color.
And let's be real, who wouldn't want to see those gorgeous purple buds in their full glory?
Buy Cannabis Seeds for Sale Online
Why shop anywhere else when Dutch Seeds Shop has got you covered?
Picking up Purple Haze feminized seeds from DSS isn't just a purchase; it's an investment in quality and peace of mind.
With an impeccable reputation, we stand as a beacon for seed quality and customer service.
Navigating through our seed bank online, you'll find that we offer an assortment of strains, each with detailed reviews and vital stats.
It's like having a grow guide in your pocket.
And hey, while you're exploring, why not toss a few more strains in your cart?
Trust us, diversifying your cannabis garden has never been more accessible or more exciting.
Free Shipping Worldwide - Including the USA
Stop right there; free shipping is calling your name!
Who wants to worry about extra costs when you're already investing in some of the best strains? Exactly, no one!
Dutch Seeds Shop offers free worldwide shipping, reaching as far as the USA.
We also offer a fast delivery option ranging from 2 to 5 days.
But hold on, it gets even better.
Orders over $100 come with free seeds. Yep, you heard that right.
More bang for your buck, and who doesn't love that?
A garden full of Purple Haze is one thing, but a garden with a splash of extra variety is an entirely new level of awesome.
With free seeds on deck, cultivating that diverse garden just got real.
Similar Marijuana Seeds
Hey there, grow gurus and budding enthusiasts!
So you've got your eye on Purple Haze, eh? Well, that's a classic choice, but hold on!
Variety is the spice of life.
Let's take a quick look at some other strains you might want to consider adding to your garden.
Each has its own unique perks, but how do they measure up to the legendary Purple Haze?
Granddaddy Purple: A heavy indica dominant strain, Granddaddy Purple feminized seeds take the cake when it comes to delivering a body-melting high. While Purple Haze leans more toward the sativa side with its uplifting effects, Granddaddy Purple will have you sinking into your couch. Yield-wise, both strains can be pretty generous, but GDP might require a bit more care and attention than the easy-to-grow Purple Haze.
Purple Sour Diesel: A fascinating mix of Purple Kush and Sour Diesel, this strain also has vibrant purple buds but packs a pungent, fuel-like aroma. Purple Sour Diesel has a balanced indica and sativa profile, whereas Purple Haze is sativa-dominant. In terms of yield, Purple Sour Diesel is a high-yielding plant but might not be as resilient to diseases as Purple Haze.
Purple Kush: Welcome to the land of 100% indica! Purple Kush offers deep relaxation and is excellent for nighttime use. If you're leaning towards the cerebral stimulation Purple Haze offers, then Purple Kush feminized weed seeds will provid a different experience altogether. As far as growing goes, Purple Kush has a slightly shorter flowering time but generally yields less compared to Purple Haze.
Purple Lemon Haze: This strain marries the citrusy goodness of Lemon Haze with the vibrant colors of a typical purple strain. Like Purple Haze, it's also sativa-dominant but brings in more lemony undertones in flavor and aroma. While Purple Haze thrives in almost any environment, Purple Lemon Haze prefers a Mediterranean climate for optimal yield.
Blue Dream Purple: This strain offers a balanced high with sativa-driven euphoria and indica relaxation. In contrast to the 60% sativa lineage of Purple Haze, Blue Dream Purple offers a 50-50 indica to sativa ratio. The strain is also moderately easy to grow and has a similar flowering time to Purple Haze, making it an alternative for those looking for something new yet familiar.
And there you have it!
Each of these strains brings its own unique flair to the table.
Whether you're a seasoned grower or a newbie, diversifying your cannabis garden with strains similar to Purple Haze could make your next growing season a blast!
FAQ
What strain is Purple Haze seeds?
Purple Haze seeds produce a sativa-dominant hybrid strain derived from Haze and Purple Thai genetics.
Is Purple Haze easy to grow?
Yes, Purple Haze is easy to grow and is resilient to most diseases and molds.
Does Purple Haze have seeds?
Yes, Purple Haze is available in feminized seed form, ideal for growers.
What does Purple Haze smell like?
Purple Haze features a complex aroma that blends sweet, incense, and woody notes for a uniquely fragrant experience.