Purple Kush Feminized Seeds Information
Are you looking for a majestic cannabis strain that combines high potency, therapeutic benefits, and remarkable growing traits?
Look no further! Purple Kush cannabis seeds is what you need to get your hands on.
This is an irresistible option if you have a taste for the classics and an appreciation for dominant Indica.
But that's not it – there's a whole world of reasons why Purple Kush is a cultivator's dream.
Purple Kush Strain Origin
Purple Kush's regal lineage comprises Hindu Kush and Purple Afghani – two potent, pure indica strains.
The resultant strain, Purple Kush, carries a whopping 90% Indica dominance.
This old-school strain is famous for its strikingly beautiful purple nugs enveloped by a dense, resinous coating.
Purple Kush Weed Effects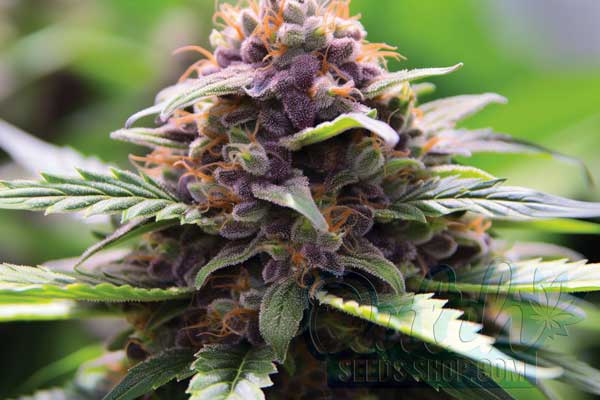 When it comes to the captivating experience Purple Kush flower offers, it stands tall in the world of Indica dominant strains.
As soon as you inhale its fragrant smoke, you're treated to a wave of intense tranquility, slowly washing over your entire body.
This profound relaxation, also called the couch-lock effect, makes it a perfect companion for unwinding after a long day.
Additionally, Purple Kush's flower high THC content – as high as an astounding 27% – is responsible for its strong analgesic effects, making it a valuable ally in combatting various types of pain, from migraines to chronic pain.
It also helps individuals struggling with insomnia, helping them achieve much-needed restful nights.
By relieving the mind and body from stress and restlessness, it ensures the user's complete relaxation.
And what about the potential downsides?
While adverse reactions are minimal, some users might experience slight dizziness, headaches, or dry eyes and cottonmouth.
Rare cases might experience paranoia.
However, these effects can be easily managed by staying hydrated and consuming the strain in moderate amounts.
It's safe to say the benefits of smoking Purple Kush heavily outweigh the minimal drawbacks.
THC and CBD
The THC levels of Purple Kush flowers range from a substantial 20% to an extraordinary 27%, while the CBD levels remain below 0.2%.
This high THC content is responsible for the strong effects, making it particularly beneficial for medical marijuana patients seeking relief from pain or insomnia.
Aroma and Flavor
Let's talk about the intoxicating aroma and flavor profile of Purple Kush, which can only be described as a symphony for the senses.
As you open a jar of these glorious buds, the room fills with an earthy scent with subtle notes reminiscent of a rich, fertile forest floor.
That is soon followed by a hint of skunk, which is a gentle nod to its Hindu Kush lineage.
Now, as you break the buds apart, a delicious wave of grape aroma emerges, almost like a fine wine waiting to be savored.
The flavor profile is equally delightful.
When smoked, the initial earthiness hits your palate, evoking images of ancient woods.
But here's where it gets interesting; the grape undertone quickly follows, delivering a sweet yet robust taste.
This combination of earthy and grapey flavors creates an almost nostalgic experience akin to sipping a glass of deep purple wine in a vineyard.
Purple Kush is not just a strain; it's a sensory experience that every weed connoisseur must indulge in.
Growing Purple Kush Plants
Do you have a green thumb and an interest in cultivating your weed?
Growing Purple Kush feminized marijuana seeds is a moderately challenging yet highly rewarding venture.
Preferred Climate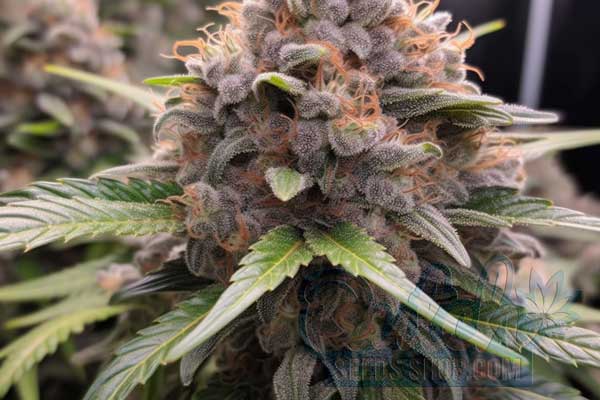 Ah, the climate!
The ever-so-crucial factor that plays a starring role in your Purple Kush's performance.
Purple Kush feminized cannabis seeds, with its Hindu Kush and Purple Afghani genetics, is a weed that thrives in a mild climate.
That means that it's happiest when the temperature is relatively stable, ideally between 65-80°F (18-27°C).
Now, while Purple Kush has its preferences, it's also known for being quite the hardy plant.
Thanks to its 90% Indica dominance, this plant exhibits excellent resistance against pests and parasites, which is a massive plus for any cultivator.
However, Purple Kush does have a compact, bushy stature.
What this means for you, the cultivator, is that it's essential to ensure proper airflow around and through the plant.
That will reduce the risk of mold and mildew, which can be particularly troublesome in cooler climates.
Using the Screen for Green (SCROG) technique and proper pruning can help maintain healthy airflow.
Indoor and Outdoor Yield
The yields, dear cultivators, are what make those tender moments of care worth it.
Regarding Purple Kush, growing indoors is usually the more favored approach.
That is mainly because of your control over temperature and humidity, which, as we established earlier, is critical for this particular weed.
These feminized seeds grew strong and healthy plants.
Indoor Yield: When grown indoors, under optimal conditions, Purple Kush typically yields around 1.4 to 1.6 oz/ft². That is quite bountiful, considering the moderate growing difficulty.
Outdoor Yield: If you decide to take the gallant route and grow your Purple Kush outdoors, the yields can be pretty spectacular. We're talking 20 to 26 oz per plant. However, achieving this requires a near-perfect season with optimal weather conditions.
Flowering Time
The crescendo of the growing process, the flowering time, is when your plant starts showing off those beautiful purple buds that you've been so eagerly waiting for.
Purple Kush has a flowering time of 56 to 63 days. In simpler terms, that's around 8 to 9 weeks.
That is relatively short compared to some other strains, which means you'll be able to enjoy your harvest sooner.
Do note that environmental factors and growing techniques can slightly influence the flowering time.
For example, some growers have pointed out that employing a hydroponics system can sometimes accelerate the flowering process.
Buy Cannabis Seeds for Sale Online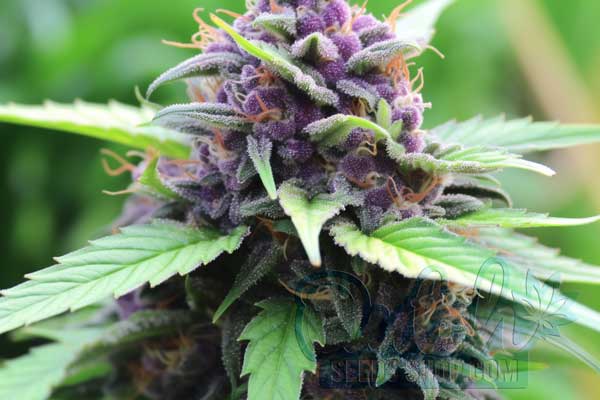 When buying Purple Kush seeds online, quality, authenticity, and service are paramount.
Dutch Seeds Shop (DSS) checks all these boxes and more.
We are a reputed online seed bank with the finest selection of seeds, including the phenomenal Purple Kush marijuana seeds.
Why should DSS be your go-to place for seeds?
Authenticity and Quality: We at DSS are known for sourcing high-quality seeds that are genetically stable and authentic. You're getting the real deal.
Excellent Strain Variety: Besides Purple Kush, we offer a diverse range of seeds.
Competitive Prices: At DSS, you'll find some of the best prices in the market. This is where affordability meets quality.
Knowledgeable Support: Whether you're a first-time grower or a seasoned cultivator, our customer support is there to assist you in making the right choice.
So, if you want to grow this purple strain, don't settle for anything but the best.
Buy Purple Kush seeds online from Dutch Seeds Shop – where excellence is the norm.
Free Shipping Worldwide – Including the USA
What's better than having the seeds of your dreams?
Getting them delivered for free!
We at Dutch Seeds Shop offer free worldwide shipping and ensures a speedy delivery between 2 to 5 days.
Spend over $100, and guess what? You will also receive free seeds!
Similar Marijuana Seeds
As magnificent as Purple Kush is, the cannabis world is ripe with variety.
If you want to explore others that share some characteristics with Purple Kush, here are some splendid options:
Purple Haze strain: A classic strain with a higher sativa content. It's known for its uplifting and energetic effects. If you're looking for something more refreshing, this is it.
Hawaiian Purple Kush: Imagine the relaxing effects of Purple Kush but with a tropical twist. The flavors here are more fruity, with a distinct pineapple note.
Granddaddy Purple (aka Grand Daddy Purp): It's like Purple Kush's big brother – similar grape and berry flavors but with even more of a punch when it comes to relaxation.
Popcorn Kush: This marijuana strain has compact buds akin to popcorn. It's renowned for its relaxing effects and buttery flavor profile.
Critical Purple Kush: For those looking for a weed that excels in relieving stress, this is the answer. With sweet and spicy flavors, it's an experience waiting to be unraveled.
Orange Kush: If you're intrigued by contrasting flavors, Orange Kush is an exciting option. It combines the relaxing effects of an Indica with a zesty, citrusy flavor profile.
By exploring these strains, you not only get to experience a diverse palette of flavors but also a wide array of effects and growing challenges.
It's an adventure waiting to happen!
So there you have it, fellow cultivators and cannabis connoisseurs!
With its mesmerizing purple hue, potent effects, and high yields, Purple Kush is a jewel for both growers and users.
Get your seeds from Dutch Seeds Shop today and embark on an enchanting cannabis journey. 🌱💜
FAQ
Is Purple Kush easy to grow?
This marijuana is moderately difficult to grow due to its need for optimal conditions and proper pruning.
How much does Purple Kush feminized yield?
It yields around 1.4 to 1.6 oz/ft² indoors and 20 to 26 oz per plant outdoors.
What conditions does Purple Kush grow in?
This strain thrives in mild climates with controlled temperatures and ample sunlight.