Grape Ape Feminized Seeds Information
Dive headfirst into the hypnotic world of Grape Ape seeds, the strain that promises a euphoric voyage unlike any other.
You know that tingling sensation of anticipation, like the moment just before a rollercoaster takes off?
That's this weed for you - offering a ride through relaxing, flavorful clouds. You won't want to miss out!
Grape Ape Strain Origin
Ah, the genesis of Grape Ape strain seeds, a weed that's as intriguing as its name!
This grape flavored weed wonder comes from a cocktail of powerhouse parents: Afghani, Mendocino Purps, and Skunk #1.
Imagine the intense earthiness of Afghani merging with the fruity splendor of Mendocino Purps, topped off with the balanced high of Skunk#1.
You've got yourself a unique cannabis quilt stitched together with Indica dominant strain threads.
Yep, it's got 90% indica and 10% sativa, making it a go-to for those who are looking for something to kick back with.
It really shines due to its exceptional resistance to pests and diseases, making it a strong choice for growers at all skill levels.
Fun Fact: Grape Ape seeds aren't just a result of random hybridization. This weed was meticulously crafted to yield the therapeutic qualities it's known for.
Grape Ape Weed Effects
Picture this: A wave of relaxation so deep it feels like you're floating on a grape-flavored cloud.
Grape Ape is an effective cure-all and is renowned for its analgesic, relaxed, sleepy, and happy effects.
It is very popular with medical users for its ability to manage pain, muscle spasms, insomnia, calm PTSD and stimulate the appetite.
High levels of the terpene Myrcene are present and it's thought to bring many medical benefits.
The indica-heavy strain gets to work the moment you inhale, unwinding even the tightest knots of stress.
Forget insomnia and say hello to Dreamland; these nugs are an effective cure for sleep issues.
Grape Ape strain isn't just about physical relaxation; it also helps you mentally unwind.
Whether you're dealing with the Monday blues or long bouts of stress, effects of Grape Ape can help you reclaim your zen.
THC and CBD
Now, let's talk numbers, specifically THC and CBD levels.
Grape Ape isn't shy when it comes to tetrahydrocannabinol, boasting levels ranging from 20% to 25%.
With tetrahydrocannabinol levels like that, this is undoubtedly a potent plant that can offer significant psychoactive effects.
Conversely, CBD levels are pretty low, often registering below 0.1%.
What does this mean for you? Well, if you're after the psychoactive kick, Grape Ape's got your back.
But you might want to look elsewhere if you're seeking a CBD-rich plant for more therapeutic effects without the high.
The high THC levels in Grape Ape cannabis contribute to its robust effects, making it an excellent choice for treating various ailments like anxiety, migraines, and stress.
So, whether you're a veteran looking for a potent indica to add to your garden or a newbie scrolling through customer reviews, rest assured that Grape Ape has something for everyone.
Aroma and Flavor
One whiff of this weed, and you're instantly transported to a vineyard packed with ripe, juicy grapes!
The aroma is a captivating blend of grape and berry intertwined with hints of earthy goodness.
Now, let's talk flavor. The experience is akin to biting into a succulent grape candy, but there's more to it.
A symphony of berry undertones serenades your taste buds, and a subtle skunkiness wraps up each inhale.
It's an aromatic journey, my friends, one that's equal parts sweet, tangy, and earthy.
Growing Grape Ape Plants
Ready to flex those green thumbs?
Growing Grape Ape feminized marijuana seeds is a rewarding experience for novices and experts alike.
Time is ticking, and your window to cultivate these marvelous plants is wide open.
Just imagine the lush grape-flavored buds that'll soon be yours!
Preferred Climate
Alright, let's get cozy and talk climate.
Feminized Grape Ape seeds feel most at home in a Mediterranean-like climate, soaking up those rays in a comfy temperature range of 70-80°F (21-27°C).
But hey, it doesn't mean you should just toss your feminized cannabis seeds outdoors and expect them to germinate and thrive in any weather.
This feminized plant disdains the extremities - too hot, and it'll throw a fit; too cold, and it won't even look at you.
Also, be vigilant with humidity levels.
Excessive moisture can invite unwanted mold, turning your beautiful buds into a mushy mess.
Managing the climate for growing is all about finding the perfect balance between warmth and humidity.
Whether nurturing your seeds indoors or out, keeping tabs on the temperature and moisture will set you on a path to prime yields.
As these plants are exceptionally bushy, trimming, pruning, and installing support measures is a requirement for indoor and outdoor cultivators.
Indoor and Outdoor Yield
Regarding yield, it doesn't play around; this plant is the epitome of generosity.
Indoors, you could swim in around 1.3 to 1.6 oz of bud per square foot under optimal conditions.
I mean, that's a whole lot of cannabis joy bundled into a small space!
You might wonder if outdoor yields can keep up, and the answer is an emphatic yes!
Plant these cannabis seeds under the open sky and shower it with love, and you're looking at a jaw-dropping 28 ounces per plant.
Let that sink in. Whether you're in an apartment with a grow tent or have acres of land, Grape Ape marijuana seeds will give you more than just a pat on the back for your efforts.
It will provide you with heaps of quality buds that are just waiting to be rolled, packed, or vaped.
Flowering Time
Patience is a virtue, but this plant knows you don't have all the time in the world.
Indoor, these marijuana seeds races through its flowering period, ready for harvest after just 42 to 56 days of flowering.
It's like it is as excited as you are to get to the good stuff!
Conversely, if you're more of an outdoor cultivator, mark late September to early October on your calendar.
That's when this leafy green beauty starts dropping hints that it's ready to be plucked.
Not too shabby for a plant that offers such high yields and potent effects, right?
So, whether you're an indoor enthusiast looking to speed through cycles or an outdoor lover who enjoys the slow dance of the seasons, Grape Ape weed seeds tailors its flowering time to suit your growing style.
Now, that's what I call accommodating!
Buy Cannabis Seeds for Sale Online
So you've got your grow tent up, your lights hanging like mini-suns, and you're just itching to get started.
But hold up - what about buying Grape Ape seeds online with high germination rates?
No worries, that's where Dutch Seeds Shop seed bank shines like a 600W HPS bulb!
This is your ultimate one-stop shop with a range that caters to everyone, from the newbie who can barely tell an Indica from a Sativa to the veteran grower eyeing rare and exotic quality seeds.
Free Shipping Worldwide - Including the USA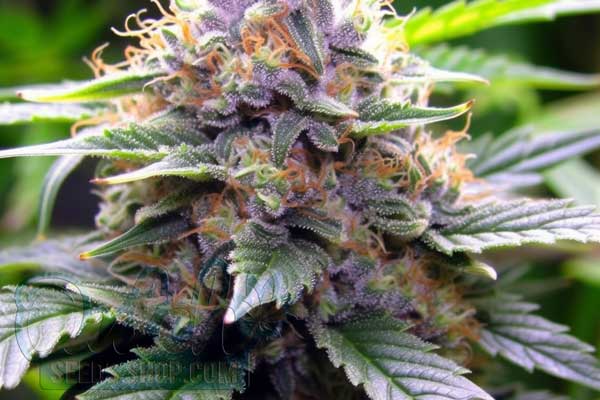 Nothing makes a grower's heart skip a beat like seeing that 'Free Delivery' tag, and guess what, Dutch Seeds Shop offers free shipping worldwide.
Yeah, you read that right, worldwide - that includes the good old USA!
We also provide a fast delivery option ranging from 2 to 5 days.
And on top of that, you get 5 or 10 seeds for free on all orders above $100 or $200.
Similar Marijuana Seeds
When it comes to indulging in grape-flavored goodness, Grape Ape seeds feminized aren't your only option.
Let's explore how it stacks up against some other intriguing strains.
Grape Bubblegum: Ah, Grape Bubblegum - this strain is like fun-loving cousin. While Grape Ape MJ leans heavy on the indica side with a 90% dominance, Grape Bubblegum offers a more balanced high, often with a 50/50 indica-sativa split and an arsenal of terpenes. Regarding yield, Grape Bubblegum usually offers a bit less, mainly when grown outdoors.
Grape God: Grape God, often considered a divine intervention in the weed world, brings more sativa into the mix, usually clocking in at about 30%. Unlike grape flavor notes, Grape God tends to offer a spicier palate. It also typically flowers a bit quicker, getting you to that heavenly experience sooner.
Grape Crush Gelato: This weed usually offers a lower tetrahydrocannabinol level, hovering around 18-20%, making it slightly less potent than Grape Ape. However, when it comes to flavor, Grape Crush Gelato doesn't disappoint, offering a creamier, more dessert-like experience and is easy to grow and germinate.
Gorilla Grape Ape: Think of Gorilla Grape Ape like Grape Ape on steroids. With generally higher tetrahydrocannabinol levels, often above 25%, it delivers a knockout punch of relaxation. But unlike Grape Ape, which is more resistant to pests and diseases, Gorilla Grape Ape might require a bit more TLC in the growing process.
Purple Haze: Purple Haze is free-spirited, sativa-dominant sibling. The tetrahydrocannabinol levels are pretty comparable, but where Grape Ape helps you wind down, Purple Haze is more likely to rev you up. Purple Haze could be your jam if you're looking for similar medical benefits but a more energizing experience.
Wedding Cake: Ah, the celebratory Wedding Cake. This strain tends to have a higher sativa content, often around 40%. In terms of tetrahydrocannabinol levels, it's pretty neck-and-neck with Grape Ape. But if you prefer more sweet aroma and flavor, then Wedding Cake might be your match made in cannabis heaven.
FAQ
What two strains make Grape Ape?
It is a mix of three parents: Afghani, Mendocino Purps, and the Skunk #1 cannabis strain.
Is Grape Ape a strong strain?
Yes, it has a THC range of 20-25%, making it a potent variety.
Is Grape Ape good for pain?
Absolutely. It's analgesic and relaxing effects make it effective for dealing with various forms of pain, including muscle spasms and migraines.