Holy Grail Kush Feminized Seeds Information
Step right up, green thumbs and cannabis connoisseurs!
All of us growers have been searching for the one plant, if you had to pick only one, to have with you on a deserted island...
Well the search can be temporarily suspended. Drum rolls, please!
We introduce the Holy Grail Kush seeds - a ticket to a botanical paradise you never knew you needed.
Holy Grail Kush Strain Origin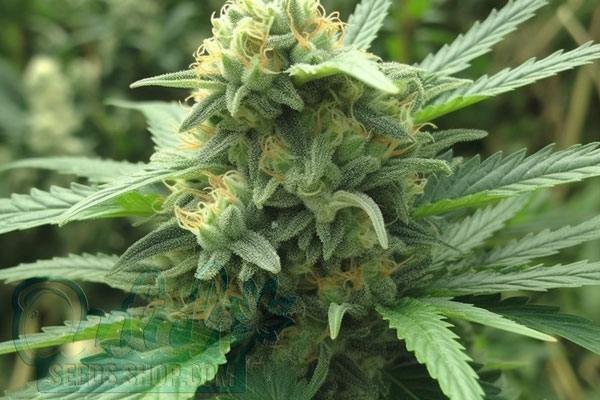 Originating from a sublime genetic pool of Kosher Kush x OG #18, Holy Grail Kush is a masterpiece crafted by DNA Genetics.
This strain isn't just unique; it's legendary!
DNA presents the cannabis community with the 2 time Cannabis Cup Champion, this hybrid boasts an impressive 60% Indica and 40% Sativa blend.
Several High Times staff were heard talking of how superior and how far out performing this plant is!
This weed will demand the highest price of all the OG Kush hybrids because of it's perfect score.
It also won 1st place on Indoor Hydro Spannabis Cannabis Cup in 2012.
It's the perfect fusion that the cannabis community has been drooling over.
Holy Grail Kush Weed Effects
Take a puff and embark on a magical journey - it hits you with a wave of euphoria that leaves you grinning ear to ear.
Expect to feel relaxed, happy, and uplifted, like you're floating on a cloud of pure bliss.
This isn't just another high; it's a euphoric experience that makes you forget the word 'stress.'
THC and CBD
Let's talk numbers!
This strain is a powerhouse with a levels of THC ranging between 20% to 24%.
CBD levels linger below 1%, making it less suitable for those looking strictly for CBD benefits.
But for THC nugs enthusiasts, the high THC levels mean more bang for your buck.
In layman's terms? It packs a punch that's hard to forget.
Aroma and Flavor
Picture this: a forest after a fresh rain, with hints of pine and earth wafting through the air.
That's smell and taste of this weed for you.
It features a complex profile rich in Myrcene, Limonene, Sabinene, and Ocimene, making it earthy, piney, and pungently woody.
Trust us; this is one aroma that's hard to resist.
Growing Holy Grail Kush Plants
Now, if you're ready to roll up your sleeves and get some dirt under your nails, we have some good news.
Growing cannabis is like hitting the easy button in the grow room.
It is great for the beginners as well as the master growers.
Let's dig in!
Preferred Climate
This gem loves a warm climate - think lazy afternoons in the sun and balmy breezes.
The plant is medium in height but likes ample space for its heavy branches, which may need a little support due to the dense buds.
So yes, you'll need to pamper it a bit, but the end product is worth every drop of sweat!
Experienced growers can take her to the limit pushing the nutrient uptake to the very edge and being rewarded with insanely aromatic plants with the strength and yield not to be matched!
This cross produces large resinous buds that reak of goodness!!
New, or fairly new, carbon filters are highly recommended as the smell can be over powering!
Indoor and Outdoor Yield
Indoors, you're looking at a harvest ranging from 1.3 to 1.7 oz/ft².
Outdoors, this plant is no slouch either, boasting an impressive 20 to 25 oz per plant.
The yield is nothing short of jaw-dropping.
Flowering Time
Mark your calendar for 63 to 70 days; that's all the time you need from the moment those first flowers appear to a full-blown harvest.
Factors like growing techniques can influence the flowering time, but this strain is pretty much plug-and-play.
Buy Cannabis Seeds for Sale Online
Ready to go on this botanical journey?
Look no further than Dutch Seeds Shop seed bank for buying Holy Grail Kush cannabis seeds.
Why? Because quality germination of cannabis seeds matters and that's what you'll get from this trusted source.
Free Shipping Worldwide - Including the USA
Get this - we offer free shipping, not just around the block but globally!
That's right, whether you're in Amsterdam or the heart of the USA, your seeds will arrive without a dent in your wallet from shipping costs.
But hold on, there's more.
If you're itching to get your hands on those weed seeds online ASAP, we offer a fast delivery option with your seeds zipping their way to you in 2 to 5 days.
And the cherry on top?
For orders above $100, we throw in some free seeds.
Because, let's face it, you can never have too many quality seeds in your stash.
So not only do you save on shipping, but you also get to expand your cannabis garden with some extra green goodness!
It's like the universe aligning to say, "Hey, grow something amazing!"
Similar Marijuana Seeds
Let's dive into the lush garden of similar strains that give Holy Grail Kush marijuana seeds a run for its money.
These cannabis strains can captivate your senses, deliver potent effects, and meet diverse growing needs.
So, let's compare them based on yield, blooming time, growing difficulty, and their Indica to Sativa ratio.
Kosher Kush: As a parent it is giving it some familial similarity. Kosher Kush requires a bit more TLC and is considered moderately challenging. However, both offer a high THC level and robust yields, making either a rewarding choice for growers.
Wedding Cake: If you're looking for something as euphoria-inducing but with a different flavor profile, Wedding Cake indica dominant hybrid is your go-to. Wedding Cake offers a sweet, vanilla aroma. Both strains have a similar blooming time, but Wedding Cake typically yields slightly more.
Purple Haze: Purple Haze brings a sativa-dominant alternative to the table. The growing difficulty for both strains is comparably easy, but Purple Haze tends to have a slightly longer blooming time. Where it offers deep relaxation, Purple Haze is more about uplifting your spirits and energizing your day.
Gorilla Glue: Gorilla Glue is another strain that doesn't shy away regarding THC potency. Both strains boast dense, resinous buds, but Gorilla Glue leans more towards the Sativa-side. It has a quicker blooming time and offers a similar, easy to grow experience.
So, whether you're a newbie looking to take her to the limit or an experienced cultivator in the cannabis community, these similar strains can offer you options that are as tantalizing and potent.
FAQ
How long does it take for Holy Grail Kush to grow?
It takes 63 to 70 days to complete its flowering cycle.
How much does Holy Grail Kush yield?
Indoor yields range from 1.3 to 1.7 oz/ft², while outdoor yields can hit 20 to 25 oz per plant.
What does Holy Grail Kush taste like?
The taste is a delightful blend of earthy, pine, and woody flavors, thanks to its rich terpene profile.