KC 33 x Master Kush Feminized Seeds Information
Boom! You've just stumbled upon a strain that's a sensory roller coaster of spicy, sweet, and floral.
KC 33 x Master Kush feminized seeds are where your adventure starts.
This strain doesn't just offer a good time; it's the answer to many physical and mental concerns.
It's like discovering a secret garden, and the door's wide open!
KC 33 x Master Kush Strain Origin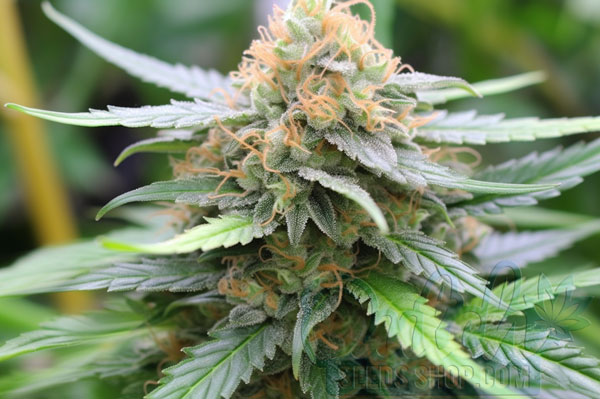 The offspring of the legendary Original KC 33 and Master Kush weed strain, this strain is like the rockstar offspring of cannabis royalty.
Its genetics provide a unique, balanced hybrid, perfectly tuned between indica and sativa.
Developed through years of breeding expertise, it encapsulates the best characteristics of its parent strains, making it a real deal for both recreational and medicinal uses.
KC 33 x Master Kush Weed Effects
Fasten your seatbelts, folks!
This strain offers a harmonious blend of head-high and body relaxation.
Feel the creativity ooze out of you as your mood lifts and waves of happiness flow.
On the flip side, it unwinds your body, making it a handy solution for problems like anxiety, stress, and muscle pain.
A Swiss Army knife in weed form? You got it!
THC and CBD
With THC levels ranging from 13% to 18% and CBD below 1%, this strain offers a balanced high that's potent but not overwhelming.
The moderate THC levels are enough to kick pain and stress to the curb, while the low CBD ensures you won't be sedated into oblivion.
Aroma and Flavor
Take a whiff and fall in love!
The strain's aroma is a complex bouquet of spicy, sweet, and floral notes.
It's a concoction of earthy spice akin to black pepper, the sweetness of ripe fruit, and the gentle fragrance of fresh flowers.
This irresistible scent profile is a real game-changer in your cannabis experiences.
Growing KC 33 x Master Kush Plants
Eager to take the reins and grow your own stash?
KC 33 x Master Kush seeds are ready to rocket your growing game to the next level.
Whether you're a greenhorn or a seasoned cultivator, this strain has something for everyone.
Preferred Climate
Ideal for both indoor and outdoor cultivation, KC 33 x Master Kush thrives in a mild climate.
Maintain temperatures around 70°F and a 56% humidity level.
It's also resistant to molds and pests - beginner growers, this is your lucky day!
Indoor and Outdoor Yield
Indoors, you can expect yields ranging from 1.6 to 1.8 oz/ft².
Outdoors, you're looking at a generous 18 to 24 oz per plant.
It's like hitting the jackpot every harvest season!
Factors like proper watering and nutrient levels can significantly influence the yield, so watch out.
Flowering Time
With a flowering time ranging from 55 to 65 days, you won't have to wait forever to enjoy your homegrown buds.
Your patience is rewarded with dense, flavorful buds that offer a multitude of effects suitable for both medical and recreational users.
Buy Cannabis Seeds for Sale Online
Why not get your hands on some KC 33 x Master Kush feminized seeds from Dutch Seeds Shop?
Our seeds are of the highest quality, ensuring that your grow journey is smooth from start to finish.
Free Shipping Worldwide - Including the USA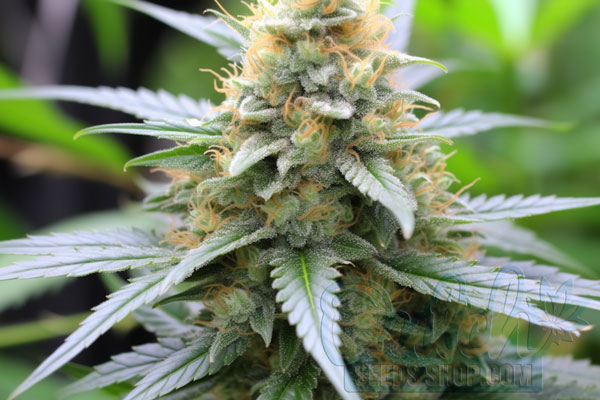 Dutch Seeds Shop takes the hassle out of shipping so you can focus on what truly matters: growing your perfect bud.
If you're in the USA or anywhere in the world, you're in for a treat.
Zip, nada, zero - yes, that's how much you'll pay for shipping.
No sneaky fees or last-minute surprises.
We also offer a fast delivery option ranging from 2 to 5 days.
Sweeten the deal? Orders over $100 get free seeds.
It's a win-win that keeps on giving!
Similar Marijuana Seeds
So, you're digging KC 33 x Master Kush but wondering what else is out there, eh?
Let's take a whirlwind tour through some strains that are in the same league yet bring their own set of trump cards to the table.
Hell Fire OG: If you're into the moderate grow difficulty of KC 33 x Master Kush, you'll find Hell Fire OG equally forgiving. However, Hell Fire OG leans more on the indica side, offering potentially higher THC levels, perfect for those seeking a more intense experience.
OG Kush: One of the most iconic strains, OG Kush also has that 50-50 indica-sativa balance like our star, KC 33 x Master Kush. But, it has a shorter flowering time, making it a go-to for growers who are a little impatient.
Filipino Kibungan: This exotic name might tickle your ears, and rightfully so. While KC 33 x Master Kush thrives in a mild climate, Filipino Kibungan prefers a more tropical setting. It also takes a bit more expertise to grow, so it may not be the best choice for a newbie.
Diamond Queen Kush: If you're after yields, Diamond Queen Kush is a queen indeed, often surpassing the outdoor yield of 18 to 24 oz per plant you'd get from KC 33 x Master Kush. However, it's a bit pickier about its climate and prefers very controlled indoor conditions.
Durban Poison: Ah, the ever-invigorating Durban Poison! It's a pure sativa, contrasting the balanced hybrid nature of KC 33 x Master Kush. This one's for those who crave an energetic, uplifting high and are willing to invest in a slightly more extended flowering period.
FAQ
How much does KC 33 x Master Kush yield?
Expect indoor yields of 1.6 to 1.8 oz/ft² and outdoor yields of up to 24 oz per plant.
What does KC 33 x Master Kush taste like?
A delightful blend of spicy, sweet, and floral flavors that tantalize your taste buds.
Is KC 33 x Master Kush a sativa or indica?
It's a balanced hybrid, offering the best of both indica and sativa characteristics.