Master Kush Feminized Seeds Information
Hello fellow growers! 🌱
Are you looking to add an exquisite strain to your weed garden?
Well, let me introduce you to the Master Kush seeds.
If the blend of impressive yields, alluring aroma, and delightful effects are your thing, then you're at the right place.
Don't sleep on this; grab your Master Kush seeds from Dutch Seeds Shop before the stock runs out!
Master Kush Strain Origin
Let's take a journey back in time to the majestic Hindu Kush mountains, the birthplace of the Master Kush.
This is a purebred champion, cultivated by breeding two landrace strains from different parts of the Hindu Kush region.
It is essentially 90% Indica, which can be traced back to its strong heritage, as the region is known for producing some of the world's most revered pure Indica strains.
The robust nature owes a lot to its origin, as the strains from the Hindu Kush mountain range have evolved over centuries to become hardy and resilient.
They had to, given the often harsh and unpredictable conditions of the mountains.
Additionally, this plant didn't just appear and become an instant hit; it has its fair share of accolades to brag about.
It proudly took 1st prize in the Kush category at a well-renowned Cannabis Cup, cementing its position as a high-quality cannabis strain.
Master Kush Weed Effects
Now, let's talk about what you can expect once you light up those beautifully cured nugs.
Upon your first inhale, the immediate feeling is one of deep relaxation.
Your muscles may feel like they are melting into your seat.
This is a classic Indica trait, and the 90% Indica genetics really shine through here.
But wait, it's not just about calmness.
There is a beautiful undercurrent of euphoria and happiness that many users report.
That can make a tremendous weed for socializing in a chill environment or simply winding down after a long day.
What's truly noteworthy about it is its therapeutic properties.
It alleviates various conditions, such as depression, anxiety, stress, and chronic pain.
Migraine sufferers might find some relief, and it can even tackle appetite issues.
It's particularly good at numbing the brain, taking away stressors and negative thoughts, which is why it is highly recommended for patients who suffer from depression or are just in a bad mood.
It allows users to remain present and functional, unlike others that can leave you glued to the couch.
That makes it an excellent choice for medicinal users who need pain relief but also need to go about their day.
THC and CBD
With Master Kush, the cannabinoid profile is nothing short of spectacular.
The THC levels range from a potent 20% to a staggering 24%.
That means that when you smoke this plant, expect a powerful, deeply relaxing, and euphoric high.
These high levels contribute significantly to the pain-relieving properties.
It's a go-to choice for anyone looking to numb chronic pain, joint aches, or mental conditions while staying present and functional.
On the other side of the spectrum, it's CBD levels are relatively low, staying below 0.8%.
While CBD is known for its therapeutic attributes without the psychoactive effects, the low CBD content doesn't overshadow the benefits it offers.
This might not be the first choice for those exclusively seeking CBD.
Still, its high content makes it a star in the cannabis community, especially for those seeking intense relaxation and mood elevation.
Aroma and Flavor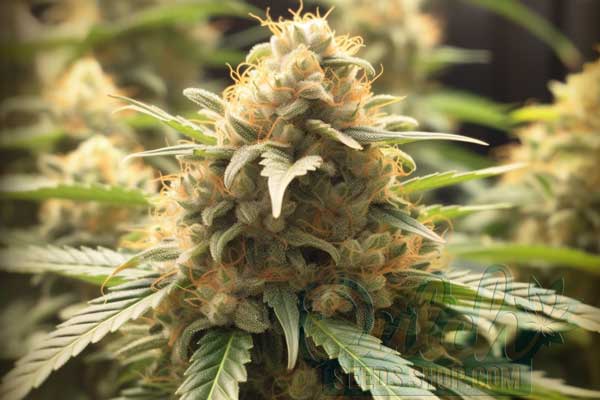 For many connoisseurs, the scent and flavor are just as important as the effects, and let me tell you, Master Kush doesn't disappoint.
The first whiff of buds is like a walk through a dense forest; earthy and piney with a hint of citrus.
A certain pungency also underlies these scents, making the scent profile rich and layered.
Now, onto the flavor – as you inhale, your taste buds are greeted with the same earthiness that the smell promises.
The piney taste is more pronounced with a subtle, sweet undertone.
What's fascinating about it is that the flavor tends to evolve as you continue to smoke.
It's like a symphony of tastes playing in perfect harmony, leaving a lasting impression long after you've enjoyed your session.
Growing Master Kush Plants
Whether you're a seasoned weed cultivator or a newbie, the feminized Master Kush cannabis seeds is an absolute delight to grow.
This Indica-dominant strain is resilient, with a robust structure resistant to common pests, molds, and parasites.
That's right; Master Kush takes care of itself!
Preferred Climate
Let's move on to growing this emerald beauty.
One of the first things you need to consider is the climate.
Master Kush, being initially from the mountainous region, is surprisingly adaptable.
However, it thrives in a warm climate.
If you're growing outdoors, think of Mediterranean environments – a place with plenty of suns but not too humid.
What about indoors? Master Kush loves a controlled environment!
Being a relatively small and sturdy plant, it's ideal for indoor growing spaces where you can easily manage temperature and humidity.
That is important to remember because these female plants have dense buds, and controlling humidity ensures you don't run into mold issues.
For those growers in cooler climates, don't despair!
Master Kush's resilient genetics means it can also withstand cooler temperatures.
Just remember, if you're growing outdoors in a cooler climate, watch the weather as blooming approaches to ensure the buds don't get too wet.
Indoor and Outdoor Yield
So, let's talk numbers. When growing Master Kush, the harvest is generous.
Indoors: Expect about 1.1 to 1.3 oz/ft². Using techniques like SOG (Sea of Green) can help maximize the harvest.
Outdoors: This is where Master Kush can go bonkers, with harvest ranging from 15 to 18 oz per plant.
This strain is not too demanding about the growing medium either – it does well in soil, coco, or hydroponic setups.
Flowering Time
When it comes to flowering, Master Kush is somewhat of a speedster.
With an average blooming time ranging from 56 to 70 days, depending on phenotype, it's ideal for those growers who are impatient to get their hands on those beautiful nugs.
Moreover, Master Kush doesn't stretch too much during flowering, maintaining a compact size, which is great if space is a concern.
Its small, bushy structure is laden with dense buds covered in a beautiful layer of trichomes.
Buy Cannabis Seeds for Sale Online
Alright, growers and enthusiasts, if you've made up your mind and Master Kush feminized strain is the one you want to experience, there's no better place to buy your seeds than the Dutch Seeds Shop seed bank.
Not only will you buy Master Kush feminized seeds that are best but an array of other strains as well.
What sets DSS apart is our unwavering commitment to quality seeds.
The seeds online you purchase will be top-notch, ensuring high germination rates and healthy, vigorous plants.
Free Shipping Worldwide – Including the USA
Now, let's talk perks – who doesn't love free stuff?
We at Dutch Seeds Shop offer free worldwide shipping, including the USA!
Yes, that means you can get your seeds delivered to your doorstep without paying a dime for shipping.
Moreover, we ship fast, so you can expect your seeds to arrive between 2 to 5 days.
Wait, there's more – for orders over $100 or $200, we will throw in some free 5 seeds or 10 seeds.
That's right; you get to try growing additional strains without spending extra.
Similar Marijuana Seeds
If this weed has piqued your interest in the world of kush, you might want to explore a few others.
Let's take a look at how they stack up against Master Kush marijuana seeds.
Skunk: This strain is similar in its indica dominance. Feminized Skunk is easy to grow and known for its potent skunky, and earthy smell.
Kryptonite: A highly potent strain known for its high yields. However, it can be more challenging to grow.
Avatar: It's known for its psychedelic effects, lower potency levels, and short flowering time.
Blue Dream: A balanced hybrid with high THC levels. Blue Dream has a sweet berry scent and is known for its high yields.
Blueberry Kush: This is another indica dominant strain with a sweet, berry-like flavor. This indica has similar growing characteristics but is known for its intense relaxing effects.
Lithium OG Kush: This strain has similar blooming time. It's known for its mood-lifting effects and unique earthy and citrus flavors.
Sour Diesel: A high-THC, sativa-dominant strain known for its energizing effects. Sour Diesel has a longer blooming time and has a pungent, diesel-like scent.
Choosing a strain might depend on your preferences for flavor, effects, or growing characteristics.
This weed, however, remains a classic favorite among many for its balance of high yield, potency, and relatively easy cultivation process.
Ready to embark on your growing journey?
Head over to Dutch Seeds Shop and grab your seeds today! Happy growing! 🌱💚
FAQ
Is Master Kush hard to grow?
No, it's quite easy and adaptable, perfect for both indoor and outdoor cultivation.
How long does Master Kush strain take to flower?
It typically takes between 56 to 70 days to flower.