Purple Kush Autoflower Seeds Information
Prepare for an exciting journey into the world of Auto Purple Kush seeds!
This extraordinary cannabis strain boasts incredible flavors and effects that tantalize novice and seasoned users.
Dive into the sensory universe that this indica hybrid presents, and allow yourself to discover its many secrets.
Purple Kush Autoflower Strain Origin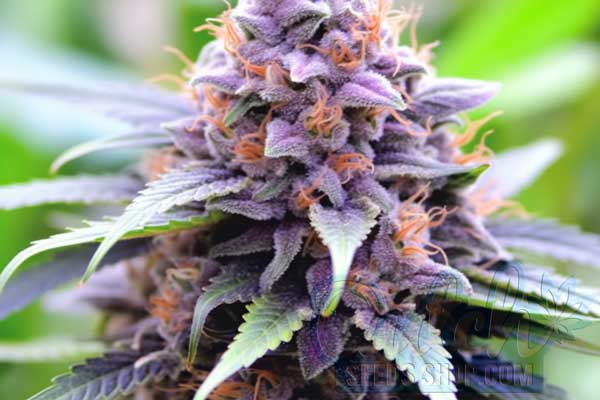 Purple Kush Auto results from a stunning genetic fusion between Ruderalis, Hindu Kush and Purple Afghani.
This mix gives birth to a beautiful 90% indica and 10% sativa strain.
Its heritage traces back to the Hindu Kush's region exotic mountains and Afghanistan's alluring landscapes.
Known for its striking purple leaves and rich grape flavor, this is a masterpiece of genetics that cultivates easily and brings visual and sensory pleasure.
Purple Kush Autoflower Weed Effects
From a delightful grape aroma to an immersive experience of relaxation, Purple Kush is indeed a gem.
Its effects are immediate and profound.
The high begins with a euphoric mental uplift followed by a strong body high, embracing the user in a warm, calming sensation.
Notably, its analgesic properties make it a preferred choice for those seeking relief from chronic pain, muscle spasms, or insomnia.
Just be mindful of side effects like cottonmouth and dry eyes; moderation is key!
THC and CBD
Purple Kush contains THC levels ranging from 15% to 20% and CBD below 0.2%.
These cannabinoids create a powerful synergy, offering potential medical benefits such as anti-anxiety, depression relief, and even some cancer-fighting properties.
While THC is the star player providing mind and body highs, the subtle CBD presence balances the effects, enriching the experience.
Aroma and Flavor
The aroma and flavor profile of Purple Kush is nothing short of spectacular.
Earthy and skunk undertones mingle with a succulent grape flavor, creating a unique taste sensation.
The strain's terpene profile, featuring myrcene, caryophyllene, and humulene, further adds to its distinctive aroma, imparting hints of sandalwood and fruitiness.
Flavors and effects of Purple Kush are adventure you won't want to miss!
Growing Purple Kush Autoflower Plants
Attention, growers!
If you're looking for a resilient, easy to grow strain that rewards with dazzling purple nugs, look no further.
Purple Kush is the ideal choice for indoor and outdoor cultivation alike.
Here's what you need to know:
Preferred Climate
Cultivating Purple Kush Autoflower cannabis seeds doesn't have to be a complicated task, especially when it comes to climate preferences.
Known for its resilience, it can thrive in various climate conditions, making it a favorite among both novice and seasoned growers.
Purple Kush Auto is often labeled as an "easy" preferred climate plant, and there's a good reason for this.
Its indica-dominant side lend to its robust nature, allowing it to withstand fluctuations in temperature and humidity.
While it does love a warm and sunny climate, the adaptability of this plant means that it's not overly fussy.
Purple Kush plants can even endure cooler temperatures without significant issues, making it an excellent choice for those looking to grow seeds in regions with mild summers.
Indoor and Outdoor Yield
When it comes to growing Purple Kush auto seeds, both indoor and outdoor cultivation offer its advantages.
With a reputation for being easy to grow, these auto plants provide quite rewarding yields for the effort involved.
Indoor Grow: Those looking to grow these marijuana seeds indoors can expect an indoor yield range from 0.9 to 1.1 oz/ft². Cultivating Purple Kush seeds indoors offers more control over the environment, ensuring that factors like temperature, humidity, and lighting are optimal. Since the strain is perfect for smaller spaces due to its limited height, it's ideal for indoor cultivation. Implementing techniques like the Sea of Green (SOG) can maximize harvest within the limited square footage.
Outdoor Grow: If you want to go the natural route, growing outdoors can yield from 1 to 1.8 oz per plant. Since it's a strain resistant to pests and parasites, outdoor cultivation becomes less daunting. The adaptability of Purple Kush makes it fit for various climates, enhancing its outdoor yield potential. The ability to tap into the power of natural sunlight can lead to robust, flavorful purple color buds.
In both scenarios, genetics play a vital role in determining the yield, and Purple Kush brings the strong genes of Hindu, Purple Afghani, and Ruderalis.
Whether it's an indoor setup or an outdoor garden, this strain's yielding potential is exciting for both new and experienced growers alike.
Flowering Time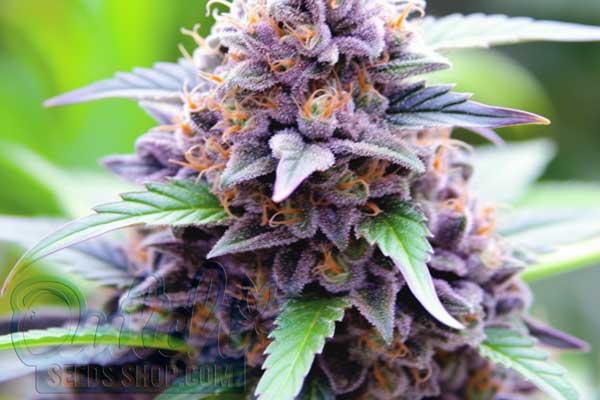 The blooming stage is a crucial phase in the cannabis growth cycle, and it hits the sweet spot with a flowering of 56 to 63 days.
This fast flowering time is typical of kush varieties especially those that are indica dominant.
The onset of the flowering stage is when the real magic happens, as the cannabis buds begin to develop and the unique characteristics of the strain start to shine through.
Purple Kush's flowering is manageable for even the most impatient cultivator, making it a popular choice among those eager to experience the earthy and grape flavors it's renowned for.
Buy Cannabis Seeds for Sale Online
Explore the vast collection of autoflowering and feminized seeds at Dutch Seeds Shop, where quality meets affordability.
Buy Purple Kush Autoflower seeds online at DSS seed bank, which are promising an unforgettable growing experience and abundant harvest of buds.
Free Shipping Worldwide - Including the USA
Take advantage of free worldwide shipping, including to the USA, at Dutch Seeds Shop.
Also, the fast delivery option from 2 to 5 days ensures you get your feminized and autoflowering seeds with high germination rates without delay.
Plus, don't forget the free seeds on all orders over $100, adding even more value to your purchase.
Similar Marijuana Seeds
Purple Kush cannabis is a beloved strain known for its unique characteristics and ease of growth.
But the following might catch your interest if you're looking to explore other strains that offer similar experiences or growth qualities.
Here's how they stack up against the one-of-a-kind Purple Kush:
LA Confidential: While Purple Kush is recognized for its strong, pungent flavors, LA Confidential provides a more piney and skunk aroma. This strain also leans towards the indica side but has a slightly more extended flowering. Unlike Purple Kush's easy growing difficulty, LA Confidential may require more care and attention from the cultivator.
Granddaddy Purple: This perfect strain shares Purple Kush luscious purple hues and strong body effects. Although both are indica dominant strains, Granddaddy Purple has a more fruity and berry-like flavor. The yields of Granddaddy Purple tend to be higher, but the growth difficulty level is similar, making it an alternative option for novice and experienced cultivators.
Mimosa: A more balanced hybrid in comparison to Purple Kush's indica dominance, Mimosa offers a more uplifting and energizing effect. While Purple Kush tends towards pungent and skunk flavors, Mimosa presents a citrusy and tropical taste. Although Purple Kush grows shorter, Mimosa might require more vertical space, thus slightly altering your indoor setup.
Blueberry Kush: Blueberry Kush and Purple Kush both fall under the indica varieties, but Blueberry Kush is famous for its sweet blueberry flavors as opposed to the pungent tones of Purple Kush. Regarding growing, Blueberry Kush is slightly more challenging but offers similar yield ranges. Both are suitable for those seeking relaxation and body-high effects.
Blue Dream Purple: It stands apart from Purple Kush strain with its sativa-dominant traits, providing more euphoric and creative effects. While Purple Kush exudes grape flavors, Blue Dream Purple offers sweet berry tones. Cultivators will find Blue Dream Purple a bit more challenging to cultivate, and it generally requires a longer blooming time.
Hindu Kush: Originating from the same region as Purple Kush, this pure indica strain shares similarities in growth patterns, harvest and buds potency. However, Hindu provides a more sandalwood flavor profile, contrasting Purple Kush's grape notes. Cultivators might find this cananbis to be slightly more resilient in outdoor environments, although both offer similar ease of growth.
Exploring these marijuana strains could lead to discovering new favorites or expanding your growing skills.
While each has unique attributes, their similarities to Auto Purple Kush make them worth considering for any enthusiast or cultivator.
FAQ
How tall does Purple Kush Auto grow?
It grows to a small height, making it ideal for indoor growing.
How long does Purple Kush Autoflower take to grow?
The entire growth cycle, from germination to harvest, takes approximately 11 to 12 weeks.