Super Silver Haze XTRM Feminized Seeds Information
Time-sensitive alert: If you're looking to elevate your cannabis game, then hold on tight!
Super Silver Haze XTRM Feminized Seeds are here to take you on an incredible journey, unlocking layers of flavors, effects, and growing potential like never before!
Super Silver Haze XTRM Strain Origin
Kudos to a killer lineage of Northern Light strains, pure haze Sativa, and Skunk #1. 
Super Silver Haze XTRM is the epitome of strong genetics.
A 70% Sativa and 30% Indica ratio makes it a balanced bliss for both the mind and body.
This strain combines the best of both worlds, making it a unique choice that caters to a broad spectrum of cannabis enthusiasts.
Super Silver Haze XTRM Weed Effects
This strain isn't just a feast for your taste buds; it's a carnival for your senses!
The effects are like a rollercoaster that starts with a heady, euphoric high and then gently rolls into a soothing body sensation.
Imagine busting through the creative block or leveling up your social game - this strain does it all!
THC and CBD
Buckle up!
With THC levels ranging from 17% to 21% and CBD levels below 1%, this strain packs quite a punch.
The high THC concentration works wonders for various ailments like depression, stress, and headaches, while the low CBD ensures a clean, psychoactive experience.
Aroma and Flavor
How about a sensory journey?
Super Silver Haze XTRM dances between citrus, diesel, pungent, and skunk flavors, layered with a complex aroma of sweet spices, skunk, lemon, herbal, and diesel notes.
One puff, and you're not just smoking; you're experiencing!
Growing Super Silver Haze XTRM Plants
Heads up, growers!
Whether you're a seasoned expert or just dipping your toes into the world of cannabis cultivation, Super Silver Haze XTRM offers a satisfying challenge and lush rewards!
Preferred Climate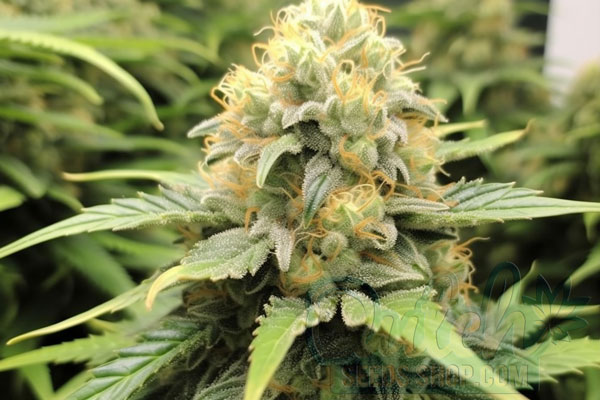 For those planning to grow, this strain prefers a mild climate.
Temperature management is essential: keep daytime temperatures around 70-78°F and nighttime temperatures above 68-70°F.
Humidity levels must also be on point to avoid mold or disease.
Indoor and Outdoor Yield
Let's talk about abundance!
Indoors, expect a yield ranging from 2 to 2.6 oz/ft², while outdoor cultivation can yield a hefty 25 to 35 oz per plant.
Your rewards directly correlate with how much love and attention you give your plants.
Flowering Time
Tick-tock, tick-tock!
Flowering time ranges from 63 to 70 days.
To make the most of this period, employing the Screen of Green (ScrOG) method and hydroponics as a medium can work wonders.
The last 3-4 weeks of flowering are crucial for flushing and pest control.
Buy Cannabis Seeds for Sale Online
Why go anywhere else when Dutch Seeds Shop offers you premium quality Super Silver Haze XTRM seeds?
Here, quality meets convenience, making it a win-win for all.
Free Shipping Worldwide - Including the USA
Yes, you read that right!
Free shipping worldwide, and guess what? That includes the USA.
On top of that, we offer a fast delivery option ranging from 2 to 5 days.
Orders over $100 also get you some free seeds!
Similar Marijuana Seeds
Ready to explore the cannabis cosmos?
Take a leap from Super Silver Haze XTRM and get to know its star-studded family of strains.
Whether you're looking for more citrusy undertones or a quicker flowering time, these relatives offer something for everyone.
Let's roll!
Super Silver Haze: A close sibling that doesn't fall far from the family tree. Super Silver Haze is similar in THC levels but has a more earthy aroma than Super Silver Haze XTRM's citrus and skunk profile. Yield-wise, they're close, but Super Silver Haze XTRM tends to have slightly higher outdoor yields.
Purple Haze: This one adds a dash of color to your cannabis garden! While Super Silver Haze XTRM leans toward energetic and uplifting effects, Purple Haze often introduces more relaxing and calming vibes. Purple Haze also has a quicker flowering time, making it a good choice if you're on a tight growing schedule.
Lemon Haze: If life gives you lemons, grow Lemon Haze! This strain cranks up the citrus volume, offering a zestier aroma than Super Silver Haze XTRM. However, its THC levels can be slightly more moderate, making it ideal for those who prefer a less intense high.
There's a strain for every mood, need, and growing expertise.
You can't go wrong with Super Silver Haze XTRM or its kin.
Make your choice, and let the growing games begin!
FAQ
What is the difference between Super Silver Haze and Super Silver Haze XTRM?
Super Silver Haze XTRM has a more intricate flavor profile and slightly higher THC levels, making its effects more potent and varied.
What strains make Super Silver Haze XTRM?
It's a magical blend of Northern Light strains, pure haze Sativa, and Skunk #1.
How long is the flowering time for Super Silver Haze XTRM?
The flowering time ranges from 63 to 70 days, offering flexibility for growers looking to optimize their harvest timing.