Mother Of All Buds Feminized Seeds Information
Prepare for an unforgettable journey with the Mother Of All Buds (MOAB) feminized seeds!
This strain is a botanical power punch, blending rich genetics and compelling effects.
If you've been waiting for a strain that combines powerful impact with easy cultivation, your wait is over!
Mother Of All Buds Strain Origin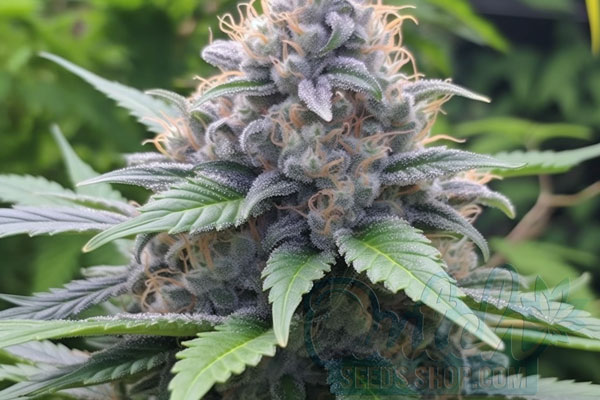 MOAB has a star-studded family, boasting genetics from Blueberry 420, Chem Dawg, Blue Dream XTRM, and Hindu Kush strain. 
This mix of heavy hitters gives MOAB a robust 80% indica and 20% sativa lineage.
Born from these exceptional parents, MOAB carries the best traits from each, resulting in a genuinely unique cannabis strain.
Mother Of All Buds Weed Effects
When you light up MOAB, prepare for waves of euphoria, happiness, and relaxation.
This isn't your run-of-the-mill experience; MOAB leads you down a path of bliss that can turn any frown upside down.
Whether you're a seasoned smoker or a newbie, expect a balanced but potent kick that leaves you in a state of serene happiness.
THC and CBD
With THC levels ranging from 20% to 23%, MOAB is not for the faint of heart.
Despite its sky-high THC content, CBD levels are below 1%.
This combination offers intense euphoric and pain-relieving effects, proving to be a potential game-changer for individuals dealing with chronic conditions.
Aroma and Flavor
Imagine a sensory symphony of sweet, earthy, and diesel fragrances accompanied by the richest blueberry notes.
That's MOAB for you!
A true indulgence for your senses, MOAB promises to treat you to an unforgettable aroma and taste experience.
Growing Mother Of All Buds Plants
Hey, all you green thumbs and aspiring cultivators, MOAB is the strain you've been dreaming of!
It's easy to grow and doesn't fuss about its environment.
So let's dive in, shall we?
Preferred Climate
MOAB is pretty adaptable when it comes to climate.
Although it thrives in warm conditions, there are no hard and fast rules.
Whether you're growing in a hot or mild climate, MOAB can flourish, making it incredibly convenient for growers worldwide.
Indoor and Outdoor Yield
Indoor yields range from 1.4 to 1.8 oz/ft², and if you're planting MOAB outdoors, expect a whopping 25 to 32 oz per plant.
MOAB is versatile, forgiving, and well-suited for SCROG setups and traditional cultivation methods.
Flowering Time
Mark your calendars because MOAB goes from 54 to 58 days in flowering time.
That is incredibly short compared to other strains, meaning you'll enjoy your harvest sooner than you think.
For maximized yields, defoliation during the vegetative stage is highly recommended.
Buy Cannabis Seeds for Sale Online
A tip for savvy shoppers: Don't miss out on buying MOAB feminized seeds from Dutch Seeds Shop.
You're guaranteed top-notch quality and an unforgettable cannabis journey.
Free Shipping Worldwide - Including the USA
Yes, you read that right!
Dutch Seeds Shop offers free worldwide shipping, and for those of you in the USA, this is a deal-maker.
Plus, orders over $100 come with free seeds.
And with our fast delivery option, expect your seeds at your doorstep within 2 to 5 days.
Similar Marijuana Seeds
If you've got a thirst for variety or are just curious about how MOAB stacks up against other strains, you're in for a treat!
Let's explore some other intriguing options that give MOAB a run for its money.
Mother of Berries: A mainly indica strain with a strong berry aroma, Mother of Berries has a shorter flowering time than MOAB but offers lower THC levels. It's easier on the senses but still packs a wallop in terms of relaxation.
Pixie Dust: This strain is a sativa-dominant hybrid, contrasting MOAB's indica-heavy nature. Pixie Dust offers a euphoric high and leans more towards a citrusy aroma, differing from MOAB's berry-diesel complexity.
White Queen: Known for its potent THC levels, White Queen competes closely with MOAB. While both strains share high THC content, White Queen leans more towards a balanced indica-sativa ratio, offering a more nuanced high.
Afghan Big Bud: If you're after massive yields, Afghan Big Bud delivers, but typically with a longer flowering time than MOAB. The strain leans heavily on the indica side, making it another excellent option for relaxation and pain relief.
Waikiki Queen: This strain offers a sativa-dominant experience, contrasting MOAB's indica-rich lineage. Waikiki Queen provides a more energetic high and has a tropical aroma that contrasts sharply with MOAB's earthy and berry notes.
Each of these strains has its own set of unique characteristics, but none entirely match MOAB's easy cultivation and robust sensory experience.
Whether you're comparing yields, flavors, or effects, MOAB stands tall in a league of its own.
FAQ
What is the mother of all buds?
Mother Of All Buds is a potent and easy-to-grow cannabis strain known for its high THC content and rich blueberry-diesel aroma.
What are the medical benefits of Mother Of All Buds?
This strain is noted for its efficacy in pain relief, making it suitable for both short-term and chronic conditions.
Is Mother Of All Buds good for sleep?
Yes, MOAB's indica dominance and high THC levels can induce a state of relaxation that is conducive to sleep.