True OG Feminized Seeds Information
True OG cannabis seeds are a gateway to an extraordinary experience for both cannabis enthusiasts and cultivators.
Its rich heritage and remarkable traits make it a standout choice in the cannabis community.
Whether exploring its therapeutic benefits or seeking a new addition to your garden, it offers something for everyone.
The allure of this cannabis lies in its diverse characteristics, catering to both recreational and medicinal needs.
Its unique profile makes it a sought-after strain, suitable for various applications.
From its potent content to its fascinating flavor and aroma, True OG beckons you to explore a world of intriguing and satisfying sensations.
True OG Strain Origin
Born from the prestigious lineage of OG Kush, it embodies the essence of what OG originally meant - "ocean grown."
This strain, originating in Southern California, has a genetic makeup that's 70% Indica and 30% Sativa.
It's a true classic, reflecting the best of its heritage.
It's fame stems from its selectively bred characteristics, derived from various OG Kush phenotypes.
It has earned its place as an elite strain, recognized and revered for its distinct features.
This strain was twice awarded 'Best Indica' in the High Times Cannabis Cup.
This is a testament to superior breeding and quality, whether it's the potent effects or the robust growth.
True OG Weed Effects
When you consume these buds, prepare for a euphoric ride that hits the body with relaxation.
Known for relaxed, happy, and mood-altering effects, this weed has become a favorite among marijuana users.
The physical sensation is long-lasting, making these buds a top-shelf option for those seeking relief from stress, insomnia, and chronic pain.
THC and CBD
True OG boasts substantial THC levels ranging from 20% to 24%, while CBD levels stay below 1%.
This combination provides a powerful, high THC experience known for its medicinal properties, treating conditions like headaches, joint pains, muscle spasms, and many inflammatory conditions.
The blend of cannabinoids makes it a versatile option for both recreational and medicinal usage.
Aroma and Flavor
True OG presents a delightful sensory experience with an aroma that's a beautiful blend of citrus, lemon, pine, and skunk.
The flavors are equally engaging, with earthy notes.
These taste profiles make MJ that stands out in both aroma and flavor.
The rich taste and smell can be attributed to the dominant terpenes like Myrcene, Limonene, Caryophyllene, Linalool, Pinene, and Humulene.
These terpenes add depth to the scent and flavor, enhancing the overall experience.
Whether you're new to True OG or a seasoned fan, the distinctive taste and aroma will surely captivate you.
Growing True OG Plants
Embarking on the journey to grow True OG Kush plants? You're in for a treat!
It's a grower's joy, known for being easy to cultivate, producing large solid plants with many beautiful buds covered with amber pistil.
Preferred Climate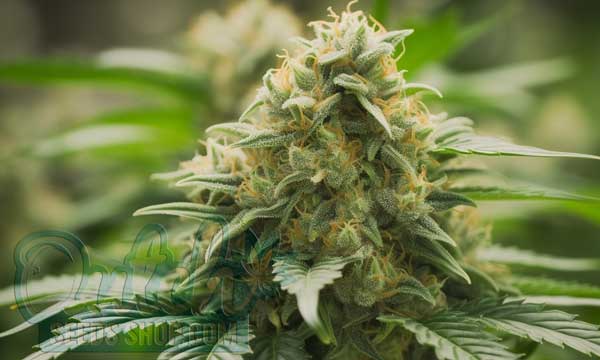 It has preference for a warm and sunny Mediterranean climate makes it suitable for various environments.
Its low-maintenance nature allows it to flourish even in milder conditions, making it a versatile option for different cultivators.
Outdoor cultivators can particularly enjoy this plant's adaptability.
Its ability to thrive in typical indica conditions makes it a resilient choice, whether in your backyard or a large-scale cultivation setup.
True OG is a weed that forgives and rewards, ensuring a satisfying growing experience.
Indoor and Outdoor Yield
When cultivated with care, this plant offers a generous yield.
Indoors, the range varies from 1.3 to 1.6 oz/ft², while outdoor yields span from 20 to 22 oz per plant.
These quantities can vary depending on the care and conditions provided, but the rewarding output remains a constant with True OG seeds.
The yield isn't the only attraction.
This plant's growth is characterized by beautiful bud structure and cloudy white trichomes that become prominent come harvest time.
Whether you're growing for personal use or commercial purposes, True OG seeds offer an experience that's as rewarding as the final product.
Flowering Time
Flowering time extends from 56 to 63 days, a period that sees the transformation of your feminized plant into a flowering marvel.
The wait is filled with anticipation as the buds develop, revealing themselves in all their glory.
Growing is a journey filled with gratification as you witness the beautiful process from seed to harvest.
The timely flowering ensures that your patience is rewarded, with the final product reflecting the quality and care invested in its growth.
Buy Cannabis Seeds for Sale Online
Ready to cultivate True OG seeds?
Purchase your seeds from Dutch Seeds Shop seed bank, where quality meets affordability.
Delight in the authentic, original experience of cultivating True OG seeds made especially for your success.
Free Shipping Worldwide - Including the USA
The best part is that Dutch Seeds Shop doesn't just provide top-quality cannabis seeds; we extend their services by offering free shipping worldwide, even to the USA!
That ensures that wherever you are, your seeds are within reach.
Dutch Seeds Shop's commitment to customer satisfaction doesn't end there.
We also offer a fast delivery option ranging from 2 to 5 days, plus additional free seeds on all orders over $100, ensuring a smooth and exciting start to your growing journey.
Your cultivation dreams are not only a click away but come with perks that make every purchase feel special.
Similar Marijuana Seeds
True OG has captivated many growers and enthusiasts, but it's not alone in its brilliance.
Explore these similar cannabis strains that share certain qualities with True OG seeds, each having its unique features.
Dive into this comparison to find the perfect strain for your next cultivation adventure:
Yoda OG: Similar to True OG relaxing effects, Yoda OG offers deep relaxation but with a slightly more earthy flavor. While True OG seeds thrive in a warm and sunny climate, Yoda OG regular seeds prefers cooler temperatures. Yield-wise, Yoda OG might produce slightly less indoors yield but shares ease of cultivation.
White Fire OG: Known as WiFi OG, this weed stands apart with higher Sativa content. It delivers a euphoric and cerebral high that contrasts with True OG body relaxation. Though both strains have similar citrusy flavors, White Fire OG has a distinct diesel undertone, and the blooming time is comparable to True OG.
Hindu Kush: A pure Indica strain, Hindu Kush has a more pronounced pungent and sandalwood flavor, contrasting True OG's citrus and piney notes. The potency levels are relatively lower, providing a milder experience. Like True OG seeds, it's considered easy to grow but may require more attention to humidity control.
Triple OG: Often compared to True OG for its three-times OG Kush lineage, Triple OG offers a more intense relaxation effect. The flavor profile is similar, rich in fruit and pine, but with a more noticeable skunky smell. Growing Triple OG may present a medium difficulty level, making it a slightly more challenging cultivation experience.
FAQ
Is True OG a sativa or indica?
It is an indica-dominant strain with 70% Indica and 30% Sativa.
Is True OG hard to grow?
No, it is considered easy to grow and is suitable for both novice and experienced growers.
How long does True OG strain take to flower?
It takes between 56 to 63 days to flower, offering a gratifying cultivation experience.