White Rhino Feminized Seeds Information
Hey, cultivators and tokers!
Whether you're looking for something that packs a punch or has that exotic sweet and spicy aroma to impress your senses, the White Rhino seeds will make you go "Wowza!"
You just can't help but be enticed by its charisma; this is the stuff legends are made of.
White Rhino Strain Origin
Originating from a fusion between the infamous White Widow and North American Indica strains, it carries an 80% indica and 20% sativa genetic makeup.
This indica-dominant hybrid has earned its stripes in the weed community, winning multiple awards and sealing its reputation as a therapeutic powerhouse.
The cannabis strain got its name due to its robust and stout structure, resembling a rhino's strong and sturdy nature.
Not just any strain can boast about having White Widow as a parent.
It's like being born into weed royalty.
When you cultivate White Rhino cannabis seeds, you're essentially growing a piece of history, a strain that delivers consistent potency and myriad effects, from calming to cerebral.
Even if you're a seasoned cultivator, White Rhino will keep you on your toes, and the reward?
Unparalleled deep relaxation and medicinal properties.
White Rhino Weed Effects
Are you seeking solace from discomfort or just want a ticket to euphoria? White Rhino has got you covered.
This strain provides a unique blend of cerebral and physical effects, perfect for winding down after a stressful day.
Users often report it's their go-to for combating insomnia, stress, and pain, making it an ideal nighttime option.
Prepare for a full-on body buzz accompanied by a mental clarity that's rarely experienced.
The effects are long-lasting, ensuring you're not just taking a quick dip but a deep dive into calmness.
Some users even claim that White Rhino can make the world slow down a bit, giving you a momentary break from the constant hustle and bustle of life.
THC and CBD
THC levels in White Rhino range from a potent 18% to a whopping 22%, while CBD levels are less than 1%.
This high THC content ensures you're not just scratching the surface of relaxation but plunging into the deep end.
As for cannabidiol, the strain's low levels won't give you significant CBD benefits, but the high tetrahydrocannabinol levels make up for it by providing effective relief from various ailments like pain and insomnia.
With such potent THC levels, White Rhino is not for the faint-hearted.
This strain is reliable for seasoned weed enthusiasts looking for potent effects.
The THC can have powerful numbing effects, making it a viable option for medical cannabis users who seek to relieve stress and anxiety or cope with chronic aches and pains.
Aroma and Flavor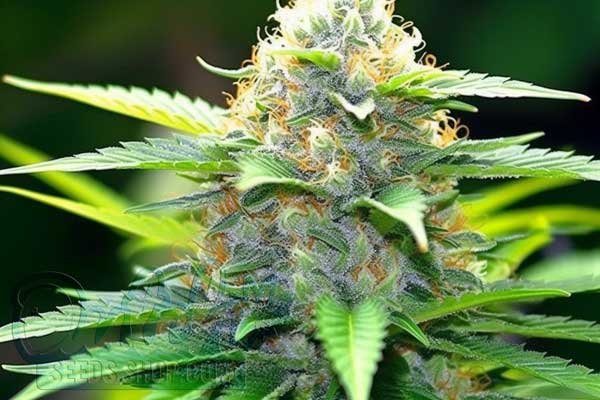 As you approach a flowering plant, your senses are greeted by an intoxicating mix of earthy, woody, and sweet scents.
Break open a bud, and you'll get a whiff of honey - yes, honey!
It's like walking through a forest with a bowl of cereal.
The terpene profile includes myrcene, caryophyllene, and limonene, contributing to its unique and pungent scent.
When it comes to flavor, this strain doesn't disappoint, either.
On the inhale, you're treated to a woodsy and earthy taste, while the exhale leaves a sweet and honey-like aftertaste on your palate.
The flavors are as complex as the strain itself, making every puff a new experience.
Growing White Rhino Plants
Heads up, aspiring gardeners and veteran cultivators alike!
Imagine this: You, in your comfy weekend clothes, standing beside a lush, flowering plant.
Sounds fantastic, right? Let's make that dream a reality!
Preferred Climate
This strain loves basking under the warm sun, so a Mediterranean climate would be its paradise.
However, it's also pretty versatile, adapting well to both indoor and outdoor environments.
While this bushy plant shows moderate resistance to pests and diseases, vigilance is essential.
Make sure to check for common weed pests and employ preventive measures to keep your plants healthy.
Trust us, when it comes to reaping time, you'll be glad you put in the extra effort.
Indoor and Outdoor Yield
Indoors, you can expect yields ranging from 2.7 to 3.2 oz/ft².
Outdoor yields are even more generous, offering a harvest ranging from 40 to 45 oz per plant.
Yes, you read that right. When grown in optimal conditions, this strain can be a monster yielder.
Factors like the growing medium, nutrients, and light conditions can affect the yield, so pay attention to the details.
The Screen of Green (ScroG) technique works wonders for this strain in the grow room.
Training the plants using this method can substantially boost your indoor yields.
For outdoor growers, proper spacing and sunlight can make a world of difference.
If you're new to cannabis cultivation, consider starting with an indoor setup for more control over environmental factors.
Flowering Time
This isn't the kind of plant that'll make you wait forever.
The flowering time is relatively short, ranging from 60 to 65 days.
That means you don't have to wait too long to enjoy the fruits of your labor.
However, keeping an eye on your plants during the flowering stage is crucial to ensure they're developing properly.
While the flowering is shorter, don't rush to harvest.
Allowing the buds with coating of white crystal trichomes to mature fully can significantly affect potency and yield.
If you're growing indoors, manipulating the light cycle can help you control the blooming time more precisely.
Outdoor growers will typically find their plants from germination to harvest ready in early October.
Buy Cannabis Seeds for Sale Online
Hey, green thumbs and weed fans, listen up!
No more hunting down obscure websites or trekking to distant dispensaries.
Dutch Seeds Shop seed bank brings the world of premium cannabis seeds with 100% germinating rates right to your doorstep.
We're not just talking about any seeds online; we're talking about a range of great strains that cater to all your weed cravings and curiosities.
So what are you waiting for?
Buy White Rhino seeds for sale or the classics like Northern Lights seeds, it's all just a click away!
Free Shipping Worldwide - Including the USA
You read it right, folks - worldwide shipping on the house!
Navigating the internet for weed seeds should be fun, not a treasure hunt for the lowest shipping rates.
Dutch Seeds Shop is changing the game by offering free shipping globally.
Yep, including the USA.
There are no surprises at checkout no scrambling for promo codes; our policy is straight-up and transparent.
Picture this: You're browsing, you settle on some quality seeds, and maybe toss a few autoflowering strains into your cart for good measure.
Then comes the grand finale - your seeds are delivered to you with no extra shipping fees tacked on.
But we're not stopping there!
Place an order over $100 or $200, and you're in for a treat - free 5 seeds or free 10 seeds to sweeten the deal.
And for those in a hurry? We've got you covered with a 2-to-5-day fast delivery option.
Your weed dream starts here, and it's free, quick, and chock-full of extras!
Similar Marijuana Seeds
Ready for more?
While White Rhino marijuana seeds are a star in its own right, the weed galaxy has other constellations too.
Here's how they stack up:
Sour Diesel: Unlike White Rhino's indica-dominant strain nature, Sour Diesel leans sativa-heavy. If White Rhino is the relaxed evening, Sour Diesel is the energetic morning.
Sharklato: Sharklato offers a balanced indica and sativa experience, contrasting with Rhino's intense indica effects. Yet, both marijuana strains boast impressive tetrahydrocannabinol levels and are champions for pain relief.
Chronic Haze: Easier to grow but offers lower yields. It's a solid option for those who want less potency but a similar euphoric lift.
Black Widow: Almost a sibling to White Rhino due to its White Widow parentage, but with a lighter tetrahydrocannabinol touch. It offers a more effortless growing experience but requires a longer blooming time.
Blackberry Rhino: If the medicinal benefits entice you, you'll find a similar friend in the Blackberry Rhino. It's less potent but offers higher cannabidiol levels.
Cherry White: Think of this as gourmet cousin. Cherry White offers a unique flavor profile and has a similar indica dominant ratio but a longer blooming time.
FAQ
Is White Rhino easy to grow?
It's a moderate grow. Attention and love are critical!
Is White Rhino top shelf?
Absolutely, it's a premium pick for connoisseurs.
What are the side effects of White Rhino?
Watch out for the munchies and dry mouth, but that's a small price to pay for nirvana.