White Rose Feminized Seeds Information
Step into a garden of serenity and power.
White Rose feminized seeds present you with a one blend of tranquility and healing that has made it a favorite in the cannabis community.
White Rose has something for everyone, from the expert grower seeking a versatile flower to the novice wanting a hardy and forgiving strain.
White Rose Strain Origin
The White Rose strain is a delightful combination of Skunk and White Shadow lineage.
This 90% indica and 10% sativa hybrid has inherited some fantastic traits, making it unique.
Bred for its calming and analgesic effects, it's known for its resistance to pests and mold, making it a strong choice for cultivation.
This strain has become famous thanks to its parents, combining a sweet and floral resin profile with woody aroma, perfect for those seeking relaxation and peace of mind.
White Rose Weed Effects
Indulging in White Rose is an exploration of comfort and tranquility.
The calming, relaxed, antiinflammatory, and sleepy effects make it a potent use for pain, inflammation, and stress.
It's an common ally in managing disease like depression, fibromyalgia, and muscular dystrophy, soothing both mind and body.
Beyond the soothing properties, White Rose carries the potential to manage negative thoughts and produce relaxation.
With high THC content and psychoactive effects, this strain has become a go-to choice for getting rid of various ailments, mostly insomnia and sleeping disorders.
Its effectiveness in providing relief is much common among users.
THC and CBD
White Rose cannabis strain offers a THC range of 13% to 16%, with CBD levels below 1%.
These THC and CBD figures showcase a blend designed for little relaxation and medicinal purposes.
THC is the psychoactive component, the one responsible for the calming effect, while CBD brings forth the strain's analgesic properties.
This THC and CBD combination creates a balanced harmony within the White Rose strain.
While the THC content ensures relaxation and sleep, CBD contributes to the medicinal effectiveness of the strain.
This small union of cannabinoids stands as the cornerstone of White Rose's plant appeal, delivering CBD therapeutic benefits that helps with managing pain coupled with enjoyable THC experiences.
Aroma and Flavor
White Rose's strain aroma and flavor transport you to a fragrant garden filled with floral, sweet sugar, and earthy notes.
This strain offers a case of sensory delights, combining floral sweetness with rich earthy undertones.
The sweet taste is a celebration, mirroring the aroma in a satisfying and memorable way.
The terpenes like Myrcene, Caryophyllene, Phellandrene, and Carene significantly shape White Rose's distinct aroma and flavor.
Whether you're seeking relaxation or want to get delightful taste experience, White Rose is bound to leave a lasting impression with its rich and complex profile.
Growing White Rose Plants
Enter the world of growing White Rose, a path filled with lots of beauty, flavor, and lush greenery.
Whether you're a new grower or a seasoned expert, the journey of cultivating White Rose seeds is filled with large joy and satisfaction.
Preferred Climate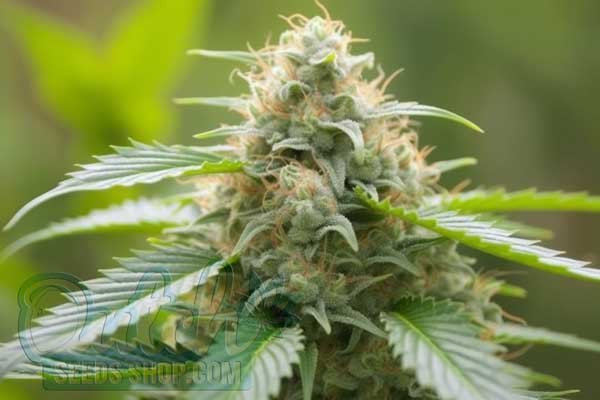 The preferred climate for growing White Rose plants is mild, with balanced temperatures and humidity.
Such conditions emulate the freshness of spring or early autumn, allowing the plants to thrive without extreme cold or heat.
This climate preference makes White Rose plants suitable for various locations and indoor cultivation.
However, White Rose plants demands care and attention to temperature, sunlight, and moisture.
Maintaining a controlled environment can help ensure a healthy growth cycle.
Keeping an eye on these considerations helps with the ease of growing White Rose cannabis strain, allowing novice and experienced growers to cultivate these beautiful plants successfully.
Indoor and Outdoor Yield
White Rose cannabis strain can yield a generously well harvest both indoors and outdoors.
You can usually expect a range of 1.1 to 1.5 oz/ft² when grown inside, on the other hand outdoor this strain can produce from 15 to 20 oz per plant.
The yield may vary based on a lot of factors such as care, nutrients, and growing techniques, but the strains hardy nature contributes to its success.
Flowering Time
The flowering time for White Rose plants is between 56 to 63 days.
Growing conditions and techniques can help to reduce or extend this duration.
Careful monitoring of lighting and nutrients can ensure a timely and healthy bloom, adding to the strain's appeal as an easy-to-grow choice.
Buy Cannabis Seeds for Sale Online
The journey to cultivating your own White Rose garden starts at Dutch Seeds Shop.
Experience the quality and also satisfaction that comes with purchasing seeds from a reliable source.
Don't miss out on an opportunity to grow this remarkable strain and revel in its calming THC and CBD effects.
Free Shipping Worldwide - Including the USA
What's more? Dutch Seeds Shop also offers free shipping worldwide, including to the USA.
Also with fast delivery option from 2 to 5 days and free seeds on all orders over $100, DSS is the perfect place to start your cannabis cultivation journey.
Similar Marijuana Seeds
In the world of cannabis, variety is the spice of life.
If you've been intrigued by White Rose's characteristics, several other strains may pique your interest.
Let's explore some similar marijuana strains info and see how they compare with White Rose.
Rozay strain: Similar to White Rose in its earthy, sweet and floral flavor and also terpenes, Rozay offers a more balanced indica-to-sativa ratio. While its flowering time is comparable, growing Rozay can be slightly more challenging. The yield is robust, making it a favorite among many growers. With a THC content of around 18-22% and a CBD content of approximately 0.5-1%, Rozay also delivers a harmonious blend of effects ideal for treating various conditions.
Blue Rose strain: Blue Rose's flowering time is somewhat shorter than White Rose, and it has a distinct fruity flavor. Its indica-to-sativa ratio leans more towards indica, and it's known for its soothing effects. Yield-wise, Blue R. can produce a bountiful harvest, rivaling that of White Rose. It typically contains a THC content of about 15-20% and a CBD content of small 0.1-0.5% that add up to it's strong effects.
White Cherry Gelato strain: A strain with a sweet floral twist, White Cherry Gelato offers an exciting flavor profile that contrasts White Rose's earthy taste. The indica dominance is evident but carries a more complex hybrid effect. While the yield can be slightly lower, the flowering time is similar to White Rose's. White Cherry Gelato boasts a THC content of around 20-24% and a CBD content of approximately 0.1-0.5%.
Rainbow Snacks strain: Known for its colorful buds and unique sweet and floral flavor, Rainbow Snacks stands out with its striking appearance and effects. The flowering time is a bit longer, and the yield may vary. The indica-to-sativa ratio is balanced, providing a full multifaceted effects that complements White Rose. This plant typically has a THC content of about 18-23% and a CBD content of roughly 0.2-1%.
White Widow strain: A classic in its own right, White Widow shares a similar name. The growing difficulty is moderate, with an equally rewarding yield. Flowering time is consistent with White Rose, and its strong flavor and terpene profile makes it a captivating choice for enthusiasts. White Widow usually contains a THC content of approximately 18-25% and a CBD content of around 0.1-0.5%.
Wild Rose strain: Living up to its name, it also brings a wild, hybrid twist to the table. The indica-to-sativa ratio is even, and the yield is also even with White Rose. The flowering time is slightly longer, adding to the suspense of its growth, and its vibrant sweet flavors, effects and terpenes make it an adventurous alternative to White Rose. Wild R. typically possesses a THC content of about 16 - 20 % and a CBD content of roughly 0.1-0.6%.
FAQ
How strong is White Rose?
It is considered moderate in strength, with THC levels ranging from 13% to 16%.
Is White Rose a sativa or indica?
It is predominantly an indica strain, making it ideal for relaxation and therapeutic use.