White Widow Autoflower Seeds Information
The mystique of White Widow autoflowering seeds pulls you in, captivating your senses with its enchanting effects and versatile nature.
The legacy and potency of this perfect strain demand attention, with a reputation that has traveled far and wide among cannabis enthusiasts.
Your journey with starts here, and it's nothing short of magical!
From its remarkable origin to its balanced effects that offer both relaxation and invigoration, this is a legend in the making.
This strain's ethereal name hints at the snowy trichome coverage that adorns its buds, a beautiful sight for any grower.
As you delve into the cultivation of auto White Widow weed seeds, you'll find a plant that is both forgiving to the novice grower and rewarding to the seasoned expert.
Its resilience and adaptability make it a joy to grow, while the complex flavors ranging from earthy to floral captivate the palate.
Whether you're seeking a creative spark, a meditative calm, or just a rich and fulfilling gardening experience, it presents a world of possibilities.
It's not merely a strain to grow and consume; it's a story waiting to unfold, a dance between nature and nurture, and a symbol of the thriving cannabis culture.
The allure lies not just in its effects but in the entire journey from seed to harvest and beyond, weaving a tapestry of taste, aroma, and sensation that resonates with growers and users alike.
The Auto White Widow awaits, and the adventure is yours to embrace!
White Widow Autoflower Strain Origin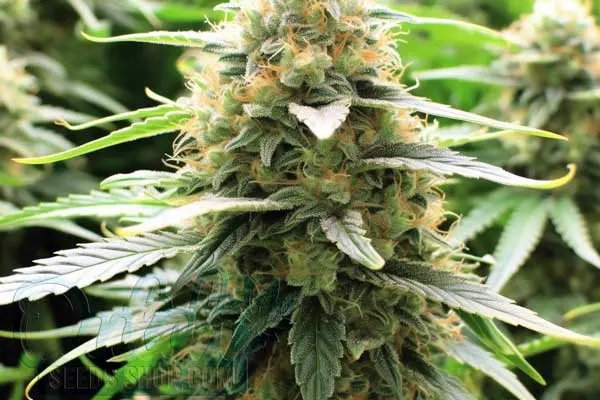 Auto White Widow strain brings together a masterful blend of White Widow, Critical auto seeds, and Ruderalis genetics.
Its 60% Indica and 40% Sativa composition showcase an ideal balance for those seeking a versatile and engaging cannabis experience.
Well-regarded for its hardiness and resistance to diseases, it can thrive in both cold and hot climates, making it an excellent choice for growers at all skill levels.
The White Widow is a classic strain that has its roots in the Netherlands and is multiple Cannabis Cup winner, and this autoflowering version carries on the legacy by offering a sturdy, low-maintenance plant that consistently delivers high-yields.
For growers purchasing seeds, it's an autoflower strain to love, presenting the original White Widow fem marijuana seeds properties in an easily manageable form. 
It's a timeless choice that resonates with both White Widow purists and newcomers looking for a strain that's easy to grow yet rich in character.
White Widow Autoflower Weed Effects
This is a classic strain that brings a harmonious fusion of effects to the table.
Users experience simultaneous physical relaxation and cerebral stimulation from the first puff, engaging both body and mind.
This balanced state is particularly attractive for those seeking an all-encompassing experience, from the gentle uplift of spirits to a comforting body embrace.
The effects are well-regarded for their medical applications, especially for treating fatigue, aches, and pains.
White Widow offers a gentle, nurturing touch for individuals facing chronic conditions like worry, insomnia, chronic pain, multiple sclerosis, or seizures.
As a strain known for its therapeutic qualities, it's a favorite among medical cannabis users for their beneficial properties.
For those who enjoy recreational use, the strain provides a versatile experience that can be enjoyed at various times of the day.
It is indeed a cannabis variety that stands out in its universal appeal.
THC and CBD
The THC and CBD levels in White Widow auto strain are another highlight of this impressive strain.
With THC levels ranging from 16% to 20%, it offers a potent yet approachable experience.
The high THC content ensures a vibrant and energetic effect, perfect for creative pursuits, socializing, or simply enjoying a peaceful moment alone.
Meanwhile, the CBD levels are below 1%, placing the focus on therapeutic effects without too much sedation.
Whether you're a new grower purchasing seeds or an experienced cultivator, understanding these THC and CBD levels is vital to making the best of this strain.
White Widow's blend of cannabinoids contributes to its efficacy in treating various medical conditions.
For instance, the relatively high THC level enhances its ability to alleviate chronic pain, while the low CBD level ensures that the psychoactive effects remain manageable.
It's a fine-tuned balance that has earned White Widow a spot as one of the best strains available at the Dutch Seeds Shop.
Aroma and Flavor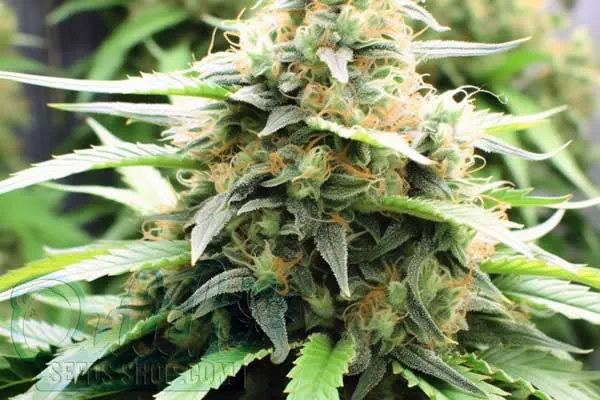 White Widow's aroma and flavor profile is a captivating symphony that echoes its diverse terpene profile.
Sweet, herbal, citrus, and earthy tones meld together to create a sensory experience that's both delightful and intriguing.
One of the standout terpenes in this plant is Humulene, known for its earthy and woody scent.
It doesn't just add to the fragrance; it also has the potential to offer anti-inflammatory and pain-relieving properties.
For cultivators who want to experience the best results from their autoflowering cannabis strain, appreciating the aroma and flavor is part of the joy of cultivation.
As the buds mature and flower, their rich scent fills the growing space, promising a taste experience that's just as rewarding.
Whether you're a first-time user or an experienced one, you'll be enchanted by the symphony of scents and flavors these buds produces.
It's not just about enjoying the delicious taste and smell; it's about understanding the more profound complexities and potential health benefits of this world-class cannabis strain.
Growing White Widow Autoflower Plants
Growing autoflowering cannabis plants is an adventurous and rewarding pursuit that appeals to novice and experienced cultivators.
This strain's autoflowering nature means it has a shorter growth cycle and is generally easier to manage, making it a favorite choice for those buying seeds online at Dutch Seeds Shop seed bank.
The robustnes allows it to thrive in different environments, and its resilience to pests and diseases is an additional advantage.
From seed germination to harvesting the buds, every stage of growing plants offers an exciting learning experience.
You get a bud that combines aesthetics, fragrance, and potency, turning the cultivator's journey into a memorable and enriching endeavor.
Preferred Climate
The preferred climate is something that sets it apart from many others.
It has the flexibility to adapt to various climate conditions, making it suitable for indoor and outdoor growing.
In outdoor environments, it thrives in temperate to warm climates.
It doesn't shy away from cooler temperatures either, displaying a hardiness that cultivators across different regions appreciate.
The preferred temperature range is 18°C to 28°C (65°F to 82°F), and maintaining optimal humidity levels will ensure healthy growth.
This adaptability means that cultivators worldwide can confidently buy White Widow seeds from the Dutch Seeds Shop and anticipate success.
While the plant appreciates consistency, it also forgives minor mistakes, making it an excellent choice for those new to cannabis cultivation or looking to expand their growing repertoire.
Indoor and Outdoor Yield
When it comes to yield, it doesn't disappoint.
Whether you choose to grow it indoors or outdoors, you can expect a generous harvest that reflects the time and care invested.
Indoors, with the proper care and attention to lighting, watering, and nutrient needs, it can offer produce from 1 to 1.5 oz/ft². Cultivators employing hydroponics or using quality soil will find that the plant responds positively, showcasing robust growth and bountiful buds.
Outdoors, White Widow's adaptability comes into play again, produces anywhere from 2 to 3 oz per plant, depending on conditions. The joy of growing outdoors is witnessing how well this strain interacts with nature, maturing into a beautiful plant that offers an aromatic and flavorful experience.
Understanding White Widow's specific needs, whether indoors or outdoors, means a successful cultivation process.
Whether you're just starting or have years of growing experience, it promises an engaging and fruitful cultivation journey, making it a must-have in any grower's garden.
From its forgiving nature to its substantial production, it's a strain that rewards your efforts with all the rich qualities that cannabis enthusiasts seek.
Flowering Time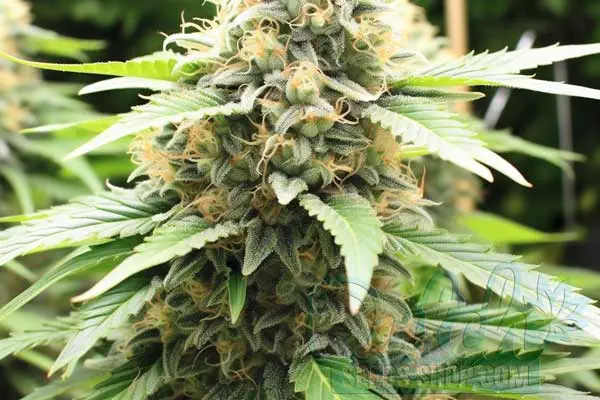 The flowering time is a significant highlight of this remarkable weed, and it's one of the aspects that makes it so appealing to cultivators of varying experience levels.
With a quick flowering period of just 8 to 9 weeks, auto White Widow allows cultivators to harvest their buds relatively quickly both indoors and outdoors.
This short flowering cycle means that cultivators can achieve multiple harvests even in regions with shorter growing seasons.
The auto plants begin to show their iconic white crystals during the flowering phase, a beautiful sight that signifies maturity.
For those seeking a quick turn-around without sacrificing quality, the short blooming time of this auto is a significant advantage.
It's a testament to the careful breeding that has gone into creating this auto strain, ensuring a balance between speed and quality that satisfies both commercial cultivators and hobbyists alike.
Buy Cannabis Seeds for Sale Online
In the exciting world of cannabis cultivation and germination, starting with the right seeds can't be overstated.
Buying White Widow autoflower cannabis seeds for sale online from a reputable source like the Dutch Seeds Shop guarantees world class cannabis quality seeds, variety, and peace of mind.
With a wide selection of marijuana seeds catering to different growing conditions and preferences, there's something for everyone.
Whether you're looking to explore new auto seeds or stick to your tried-and-true favorites, buying seeds online provides the convenience and choice that makes growing your cannabis an engaging and satisfying experience.
Our seeds have high germination rates, meaning 3 seeds out of 4 will germinate!
From the classics to the latest hybrids, the auto and feminized seeds available for sale online are curated to meet the diverse needs of cultivators around the world.
It's not just about making a purchase; it's about joining a community of enthusiasts who appreciate the art and science of cannabis cultivation.
Free Shipping Worldwide - Including the USA
One of the standout features of buying cannabis seeds from Dutch Seeds Shop is the free shipping worldwide, including the USA.
That means that whether you're a cultivator in North America, Europe, Asia, or any other part of the world, you can access the finest cannabis seeds without worrying about additional shipping costs.
Also, our fast delivery option from 2 to 5 days ensures that you get your seeds in a timely manner, ready to start your growing journey.
It's a commitment to accessibility and customer satisfaction that sets Dutch Seeds Shop apart.
The secure packaging ensures that your seeds arrive safely and discreetly, ready for planting.
Additionally, all orders above $100 come with free seeds, adding even more value to your purchase.
This worldwide reach has made Dutch Seeds Shop a favorite destination for cultivators seeking high germination rates,quality, diversity, and the thrill of growing something beautiful from a tiny seed.
The seeds you order are more than just a product; they're the beginning of an exciting journey, a connection to a tradition of cultivation and enjoyment that transcends borders.
With free shipping to the USA and worldwide, coupled with fast delivery and added incentives, buying cannabis seeds becomes an invitation to be part of a global community that shares a passion for growth, creativity, and the enduring allure of this remarkable plant.
Similar Marijuana Seeds
When exploring the world of cannabis strains, it's always thrilling to discover the siblings and cousins of a classic.
For those who find the White Widow appealing, a similar delight may be found in the following variaties.
Each one carries its own twist on the White Widow magic, offering unique characteristics that both contrast and complement this iconic autoflowering variety.
White Widow XXL: A powerhouse in its own right, White Widow XXL is a bulked-up version of the original White Widow. With a slightly higher yield and maintaining the ease of growth, it's ideal for those wanting more buds without sacrificing quality or flavor. It typically boasts a THC ranging from 18% to 25%, striking a balanced blend between its Indica and Sativa genetics.
Black Widow: Not to be outshone, Black Widow seeds boast a tantalizingly rich flavor profile. It shares the relaxing and balanced effects but provides a deeper, more complex experience for connoisseurs seeking something more adventurous. With a THC of around 20% to 28%, Black Widow maintains a near-perfect equilibrium between its Indica to Sativa ratio, offering a well-rounded and potent experience.
Purple Widow: A colorful twist on a classic, Purple Widow blends the robust growth and yield of White Widow with a stunning purple hue and a sweeter, fruity and pungent flavor. It adds an artistic flair to the growing process and brings a fresh aesthetic to the final product. With a THC of approximately 16% to 22%, Purple Widow maintains a harmonious Indica to Sativa balance, offering not only visual beauty but also a satisfying experience.
White Rhino: Mighty and majestic, White Rhino weed seeds take the soothing and relaxing effects of White Widow to new heights. With a slightly more dominant Indica lineage, it offers a more profound relaxation, making it a perfect choice for evening use or medicinal applications.
Through these strains, cultivators and users alike can embark on a fascinating journey, exploring the many facets and nuances of the White Widow family.
From yield to taste to effects, there's a world of cannabis enjoyment waiting to be unlocked.
It's a thrilling exploration that leads to new favorites and a deeper appreciation for the complexity and beauty of cannabis.
FAQ
How long do White Widow Auto take from seed to harvest?
The journey from seed to harvest takes anywhere between 10 to 11 weeks, making it a relatively quick-growing strain.
Is White Widow auto easy to grow?
Absolutely! It is known for its easy-growing nature, perfect for beginners and experienced cultivators alike.
How much does White Widow auto seeds yield?
Indoor cultivation yields 1 to 1.5 oz/ft² while outdoor growing can fetch 2 to 3 oz per plant.