Zkittlez Feminized Seeds Information
Picture this: you're surrounded by medium-sized plants flaunting vibrant shades of green and purple and an aroma that's out of this world.
Enter the world of Zkittlez feminized seeds, a fruity ride that every cannabis enthusiast must try at least once.
A favorite among growers and consumers alike, Zkittlez feminized seeds offer a fantastic yield and an experience that's second to none.
If you've been waiting for a strain that combines a hassle-free growing process with a complex flavor profile, your search ends here.
The Zkittlez strain is one that gets people talking - and for good reason!
Keep your eyes locked on this review if you're all about top-notch potency, rich flavors, and versatile growing conditions.
Trust us, you don't want to skip this one.
Zkittlez Strain Origin
When it comes to genetics, Zkittlez is a star-studded lovechild.
Originating from Grape Ape and Grapefruit strains, this variety brings the best of both worlds.
It's no surprise why Zkittlez took home the Cannabis Cup, not just for its stunning looks but also its remarkable effects.
With a 70% Indica and 30% Sativa mix, Zkittlez brings balanced vibes all around.
It has a complex family tree packed with award-winning pedigree, making it one of the go-to strains for recreational and medicinal users.
Zkittlez Weed Effects
Are you after a balanced, full-body experience that keeps you grounded yet creatively inspired?
Zkittlez has got you covered.
The effects are an even blend of physical relaxation and mental uplift, perfect for anyone looking to ease stress, anxiety, or muscle tension.
After a long day, lighting up some Zkittlez weed offers a smooth transition into a state of relaxation without any of the couch-lock effects.
In terms of medicinal benefits, Zkittlez works like a charm.
It can relieve various ailments, including stress, insomnia, and depression.
Its balanced profile of effects makes it a favorite choice among medical cannabis users.
So whether you're seeking therapeutic relief or just a great time, Zkittlez is the strain to reach for.
THC and CBD
Zkittlez isn't just a pretty face; it packs a punch with THC levels ranging from 16% to 20%.
Even with this potency, it's not overwhelming, offering a well-balanced, cerebral, and physical high.
On the CBD side, it's less than 1%, which means this strain leans more towards recreational use, but don't underestimate its therapeutic properties.
Zkittlez offers a myriad of benefits, from pain relief to stress alleviation.
Whether you're a recreational user seeking a buzz or a patient needing symptom relief, Zkittlez will not disappoint.
Aroma and Flavor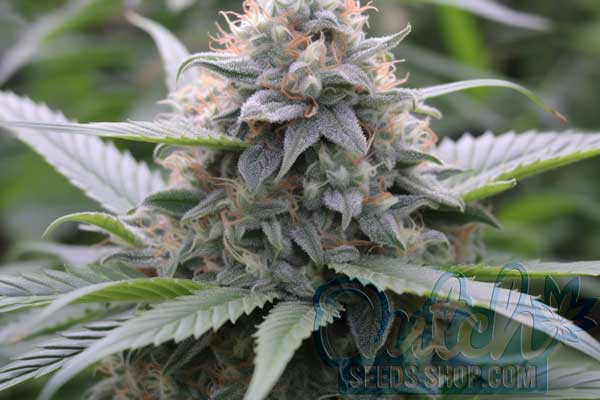 Let's talk about the tantalizing aroma and flavors of Zkittlez!
Imagine a burst of sweet, fruity, kush, and citrus notes simultaneously.
Yes, you read that right.
The moment you light it up, it's like popping a bag of mixed fruit candies, each puff a different treat.
Don't just take our word for it; you've got to taste it to believe it.
And if you're a terpene fan, you're in for a treat.
Zkittlez showcases a symphony of terpenes, including Alpha-Humulene, Beta-Pinene, d-Limonene, and Myrcene.
So, every hit is not just an adventure in flavor but also a journey through a complex landscape of aromatic compounds.
Growing Zkittlez Plants
So you're sold on the experience Zkittlez offers, and now you're ready to grow your own? Fantastic choice!
Zkittlez plants are a dream for both novices and experts.
They're super easy to grow and make an excellent option for any level of growing expertise.
With Zkittlez, you're not just growing a plant but cultivating an experience.
Each stage of the growing process is a journey towards a fruitful harvest, offering both high yields and a fascinating array of aromas.
Look no further if you're seeking a strain that delivers on all fronts.
Zkittlez seeds are the golden ticket to a rewarding and versatile growing experience.
Preferred Climate
One of the best things about Zkittlez is its flexibility in growing climates.
While it does best in mild conditions, it's also resistant to mold and mildew, making it a suitable choice for more humid climates.
Don't fret too much about fluctuating temperatures or moisture levels; Zkittlez plants are resilient.
The ideal climate for Zkittlez ranges from temperate to slightly warm, but it can adapt well to various conditions.
Just ensure it's not too hot or cold, as extreme temperatures can hinder growth.
Whether you're dealing with a continental or Mediterranean climate, Zkittlez is an excellent choice for all-year-round cultivation.
Indoor and Outdoor Yield
Ready for some jaw-dropping yields?
Indoors, you can expect anywhere from 1.5 to 1.6 oz/ft².
But if you've got a green thumb and can maximize your growing techniques, you might even exceed this.
Outdoor yields are even more generous, ranging from 14 to 17 oz per plant.
The great news? Zkittlez is forgiving to mistakes and still gives decent yields.
Growing Zkittlez outdoors? Brace yourself for some stunning, robust plants that feast for the eyes and nose.
If you can provide a good amount of sunlight and moderate temperatures, the sky's the limit when it comes to yield.
Zkittlez plants are generous in what they offer, making your gardening efforts well worth the time and energy.
Flowering Time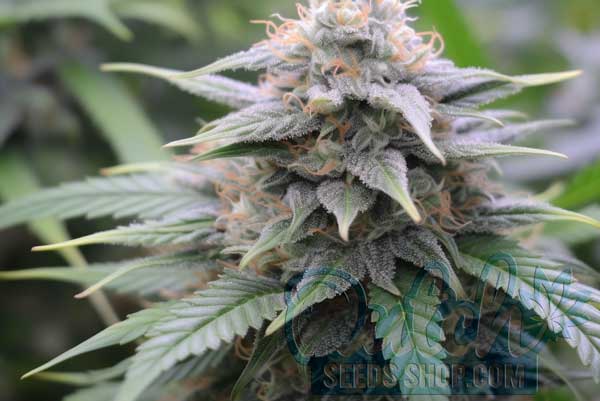 In terms of flowering time, Zkittlez is pretty quick.
You can expect to see those glorious buds in just 50 to 60 days.
Remember that external factors like climate and growing techniques can influence this time frame.
But generally speaking, Zkittlez is quick to bloom and even quicker to offer an abundant harvest.
Timing is crucial when it comes to cannabis cultivation, and Zkittlez doesn't keep you waiting.
From the onset of flowering, it's a relatively quick journey to harvest time.
That means you get to enjoy your fruity, potent buds without a long, anxious wait.
With Zkittlez, it's all about quick returns without compromising quality.
Buy Cannabis Seeds for Sale Online
Hey there, cultivators and tokers!
Ready to elevate your grow game? Look no further.
Dutch Seeds Shop is the epitome of quality and reliability regarding cannabis seeds.
Why roam the labyrinth of the internet when you can buy Zkittlez feminized seeds right here?
Our seeds are drenched in authenticity and backed by years of satisfied growers.
Experience the beauty of Zkittlez - a tantalizing strain you can trust, seeds bursting with life and potential.
Get your hands on these must-haves, and watch your grow room turn into a cannabis Eden.
Quality? Check.
Reliability? Double-check.
Go ahead, make the right move, and let your grow operation soar.
Free Shipping Worldwide - Including the USA
Stop breaking the bank on shipping fees!
Dutch Seeds Shop is all about making your shopping experience a breeze, and what's breezier than free worldwide shipping?
That's right; we ship around the globe, including to the USA, without costing you an extra dime.
We also offer a fast delivery option ranging from 2 to 5 days.
Oh, did we mention? Orders over $100 receive free seeds!
Enhance your cannabis collection while keeping that wallet thick.
Similar Marijuana Seeds
So you've got a taste for Zkittlez, and now you're curious about what else is out there?
No worries, we've got you.
Let's explore how Zkittlez stacks up against some strains that share its genetic playground.
Whether you're after potent highs or nuanced flavors, there's a sibling strain that might just tickle your fancy.
Watermelon Zkittlez: If you're into the fruity blast Zkittlez offers, Watermelon Zkittlez is a complementary symphony in a similar key. While Zkittlez leans more towards indica at 70%, Watermelon Zkittlez balances at a 50/50 indica to sativa ratio. The yield for Watermelon Zkittlez is slightly lower, but the flavor profile includes, you guessed it, a strong watermelon kick along with a smooth high.
Amnesia Zkittlez: Looking for something a bit more mind-bending? Meet Amnesia Zkittlez. While Zkittlez keeps things calm and therapeutic, Amnesia Zkittlez kicks up the sativa levels for a more cerebral experience. Both strains have a flowering time of around 60 days, but Amnesia Zkittlez can be more challenging to grow, making it better suited for experienced cultivators.
Gorilla Zkittlez: Gorilla Zkittlez is what happens when you marry Zkittlez's fruity essence with the powerful resin production of Gorilla. This one's also a 70/30 indica-dominant, just like Zkittlez, but it boasts an even higher THC content of up to 24%. Regarding yield, Gorilla Zkittlez stands taller, offering up to 17-21 ounces per plant outdoors.
Purple Zkittlez: For those who can't get enough of the rich colors in Zkittlez, Purple Zkittlez brings even more visual flair. The strain shares Zkittlez's easy-to-grow nature but trades some of the citrus undertones for a deep berry and grape profile. THC levels are comparable, but Purple Zkittlez brings a splash of art to your garden with its darker hues.
Zkittlez Cake: Think of Zkittlez Cake as the dessert course after a meal of Zkittlez. This strain, a cross between Zkittlez and Wedding Cake, often results in THC levels that can tip the scale over 25%. It's easy to grow like Zkittlez but adds a creamy undertone to the flavor profile. Both strains relieve stress, but Zkittlez Cake adds an extra layer of euphoria.
Feel free to explore the rainbow!
Whether it's yield, potency, or flavor, these Zkittlez cousins each bring their unique vibe to the table.
FAQ
Is Zkittlez indica or sativa?
Zkittlez is an indica-dominant strain comprising 70% indica and 30% sativa genetics.
How much does the Zkittlez strain yield per plant?
Outdoor yields for Zkittlez can range from 14 to 17 oz per plant.
Why is Zkittlez so popular?
Its balanced effects, easy growth, and exceptional flavor profile make Zkittlez a top choice among cannabis enthusiasts.