Blueberry Haze Feminized Seeds Information
Blueberry Haze seeds have emerged as an irresistible treat for growers and consumers alike.
A blend that entices and embraces these seeds are no less than a magical potion.
With their lush appearance and vibrant flavor, they leave a lasting impression that's hard to shake off.
If you're seeking an extraordinary experience that stays with you, Blueberry Haze marijuana strain is where your search ends.
With roots grounded in time-honored classics like Blueberry and Haze strain, it holds a reputation for quality and intrigue.
Its soothing aura and tantalizing haze taste make it a favorite among both recreational and medicinal users.
Whether you're a seasoned connoisseur or a novice venturing into the world of weed, Blueberry Haze promises an unforgettable embrace.
Blueberry Haze Strain Origin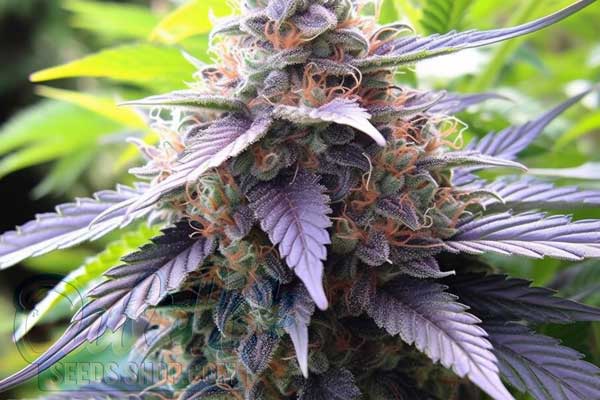 Born from a beautiful marriage between Blueberry and Haze genetics, this strain boasts a lineage that's rich and intriguing.
This captivating blend of 40% indica and 60% sativa has spread its fame far and wide, earning a name in places like California and other medical marijuana states.
With its vibrant colors and lush texture, it stands as a true masterpiece.
The charm of this potent marijuana strain isn't confined to its appearance.
Its attributes run deeper, resonating with a uniqueness that sets it apart.
Known for its medical properties and smooth uplifting high, it's more than a strain; it's a work of art that beckons the senses.
Blueberry Haze Weed Effects
When it comes to the effects, words can hardly do justice what consumers feel.
It's an all-encompassing sensation that uplifts, relaxes, and enthralls all at once when inhaled.
With a balanced blend of uplifted, euphoric, relaxed, and happy sensations, this strain transforms an ordinary moment into something extraordinary.
Beyond the pleasurable high, it is a trusted companion in managing ailments.
From appetite loss to depression to chronic stress, negative thoughts and feelings, as well as PTSD-related symptoms, its medical benefits are well-loved.
It is also perfect for treating insomnia, muscle spasms, and pain ache.
With this strain, it's not just about the high; it's about a holistic experience that nurtures the body and soul.
THC and CBD
The magical blend of THC and CBD in Blueberry Haze sets the stage for a potent experience.
With THC levels ranging from 15% to 20% and CBD below 0.8%, it is a powerful remedy for various needs.
The THC ensures an intense, memorable high, while the CBD adds a touch of relaxation and therapeutic relief.
It's a synergistic dance of cannabinoids that reaches every fiber of your being.
Whether you seek intense euphoria or gentle relaxation, it offers a spectrum of sensations that cater to every mood.
It's not just a strain; it's a multi-faceted experience that enthralls and heals.
Aroma and Flavor
If aroma and flavor were a canvas, this would be a masterpiece painted with the most vibrant hues.
Its unique blend of cherry, earthy, sweet. blueberry flavors, and a funky blue cheese smell creates an irresistible symphony that sings to the senses.
Each puff is a journey through a lush landscape of tastes, a feast that stays on the tip of your tongue.
The earthy tang with hints of menthol leaves a lasting impression, making this one of the best-tasting strains.
It's a celebration of flavors, a treat that never grows old.
Growing Blueberry Haze Plants
Growing Blueberry Haze cannabis seeds is a challenge wrapped in allure.
Its vibrant colors and lush texture are a reward for the seasoned grower, but it doesn't come easy.
The beauty of Blueberry Haze is matched by the dedication it demands.
It's a journey for the passionate, a reward for the patient.
But the difficulty doesn't diminish its charm.
Every challenge brings its rewards, and with Blueberry Haze, the results are truly fascinating.
From its medical benefits to its soothing effects, the journey with Blueberry Haze is an adventure filled with discovery and delight.
Preferred Climate
Blueberry Haze dances best in a mild Mediterranean climate.
A well-balanced environment where temperature and humidity flow harmoniously allows this strain to thrive.
But this dance is delicate and demands the right touch.
It requires an understanding of subtlety and grace, where every movement matters.
While it might seem demanding, the results are well worth the effort.
The Mediterranean climate nurtures the Blueberry Haze, allowing it to flower and flourish.
It's a relationship that blooms in balance, a delicate dance that unfolds in beauty.
Indoor and Outdoor Yield
The Blueberry Haze is generous in its gifts.
With an indoors yield ranging from 1.1 to 1.3 oz/ft² and an outdoor yield from 14 to 16 oz per plant, it rewards those who care and cultivate.
It's a relationship that flourishes with time and effort, a bond that grows stronger with each harvest.
Yielding Blueberry Haze is not just about the quantity; it's about the quality that comes with each indoors and outdoors harvest.
Each bud is a testament to the care and love that went into its growth.
It's a fruitful dance that grows richer with each step.
Flowering Time
The flowering time of Blueberry Haze is a delicate waiting game that stretches 63 to 70 days from germinating seeds.
As the buds covered in trichomes blossom, the room fills with a fragrance that teases and tantalizes.
It's a patient wait, but every second brings you closer to perfection.
The flowering phase of Blueberry Haze is a mesmerizing spectacle that unfolds slowly but surely.
It's a labor of love that demands patience and rewards in abundance.
The wait might be long, but the beauty that blossoms is genuinely breathtaking.
Buy Cannabis Seeds for Sale Online
When purchasing cannabis seeds, especially the alluring Blueberry Haze seeds, the online experience at Dutch Seeds Shop stands unparalleled.
Quality, variety, and the unforgettable experience that growers cherish are woven into every purchase.
With an array of options of both feminized and autoflowering marijuana seeds from best breeders to suit both beginner growers and seasoned experts, the quest for that perfect seed ends at the Dutch Seeds Shop.
What sets Dutch Seeds Shop apart is the impeccable range of seeds with high germination rates and the commitment to customer satisfaction.
From the moment you browse through the diverse catalog, the seamless buying process and informative descriptions guide you, making it an enriching experience.
Free Shipping Worldwide - Including the USA
Free shipping might sound simple, but at Dutch Seeds Shop, it's an assurance of care, quality, and a commitment to getting your chosen seeds to you, fresh and fast.
Whether you reside in the heartland of the USA or in a distant corner of the globe, DSS ensures that distance is no barrier.
The free worldwide shipping, including the USA, is a testament to a service that transcends boundaries.
But free shipping isn't just about cost savings; it's a promise that's delivered with every package.
It means meticulous packaging that ensures your seeds remain safe, discrete shipping that respects your privacy, and timely delivery that understands your excitement.
Every package shipped from Dutch Seeds Shop symbolizes trust, a relationship that grows with each order.
It's not just about high-quality seeds; it's about a partnership that flourishes with care and understanding.
Plus, on top of all this, you get free seeds on all orders over $100! It's an offer as sweet as blueberry itself.
We also offer fast delivery shipping from 2 to 5 days!
Similar Marijuana Seeds
In the sea of popular strains, Blueberry Haze cannabis strain holds a special place.
Let's dive into its comparison with some other great strains:
Haze Berry: A delightful blend of Haze and Blueberry genetics, Haze Berry has 60% Sativa and 40% Indica properties. Unlike the hard-to-grow Blueberry, Haze Berry offers a moderate growing difficulty but shares the tantalizing flavor and a joyful, euphoric high.
Cannalope Haze: Known for its melon and tropical fruit flavors, Cannalope Haze induces more energetic effects compared to the relaxed sensation of Blueberry Haze. Growing Cannalope Haze is easier, and it flourishes in various climates.
Super Silver Lemon Haze: A masterpiece of citrus flavors, Super Silver Lemon Haze is a 70% Sativa-dominant strain. It shares a euphoric and cerebral high with Blueberry Haze but differs in its lemony scent and shorter flowering time of 56 to 65 days.
Sour Diesel: with its intense pungent and diesel-like smell, Sour Diesel is a hybrid that stands in stark contrast to the sweet blueberry and cherry aftertaste. This 60% Sativa-dominant strain offers a powerful and energizing high, unlike the more balanced Blueberry Haze's effects, and has a similar growth difficulty.
Green Crack: Unlike the 40% Indica in Blueberry, Green Crack is almost pure Sativa, boasting an energetic buzz and focused high. The tangy, fruity flavor sets it apart from the woody sweetness, and its relatively easy to grow nature contrasts demanding cultivation requirements.
These strains, each with their unique characteristics, showcase the diverse world of weed.
Whether you prefer the smooth and calming effects of Blueberry Haze or the invigorating kick of Green Crack, the Dutch Seeds Shop has the perfect seed for your garden.
FAQ
What is Blueberry Haze strain?
Blueberry Haze is a hybrid strain known for its euphoric effects, with 40% indica and 60% sativa.
Is Blueberry Haze a good strain?
With its rich genetic lineage and medical benefits, it's adored by many users for its quality yields and smooth high. It's more than good; it's exceptional.