NYC Diesel Feminized Seeds Information
Hey, growers and enthusiasts!
Got your eyes on something extraordinary? Well, hold your horses because NYC Diesel cannabis seeds are about to revamp your cannabis journey!
It's not just a seed; it's an experience, a flavor festival, and a therapeutic bonanza rolled into one.
If you've been hunting for the perfect blend of sativa energy and indica relaxation, then these seeds are your ticket to cultivating ecstasy.
This strain is the spicy, thrilling novel of the cannabis world.
Its pages? Coated with resinous trichomes.
Its chapters? Scents of diesel and grapefruit.
Its climax? A cerebral euphoria that's bound to leave you on the edge of your seat.
You can't afford to miss this one-of-a-kind experience.
Let's delve in, shall we?
NYC Diesel Strain Origin
NYC Diesel is no ordinary strain; it's a cosmopolitan mix crafted to perfection.
Stemming from legendary parents Sour Diesel, Afghani, and Hawaiian, this baby is an eclectic blend of the best cannabis worlds.
The genetics are robust, and the breed is 60% Sativa and 40% Indica, offering the perfect equilibrium between a relaxed body and an active mind.
Known for its multiple high-times cannabis cups, this strain has made a name for itself.
NYC Diesel Weed Effects
Picture this: You light up, take that first inhale, and BOOM - you're rocketed into a realm of uplifting energy and radiant euphoria, thanks to its powerhouse lineage of parent strains like Afghani, Sour Diesel, and Hawaiian.
NYC Diesel doesn't just knock at your door; it kicks it open with sensations of happiness and a galvanic jolt to your creative spirits.
And let's not forget, you're still wrapped in a warm, calming indica embrace that makes the ride all the more pleasurable.
For the social butterflies or those looking to become one, NYC Diesel is your go-to.
Its effects are more of an inviting party rather than a solo meditation session.
You'll find yourself more talkative, engaging, and, most importantly, happier than you've felt in a long while.
Perfect for daytime use or social events where you want to be the life of the party.
THC and CBD
If numbers could talk, NYC Diesel's would be screaming, "Look at me!"
This marijuana strain flaunts THC levels ranging from 18% to 21%, promising a high that's both intense and enduring.
As for CBD? Less than 1%.
So, while it might not be a CBD-rich strain, its high THC concentration packs a therapeutic punch.
Now, you might be thinking, "What about medical uses?"
Well, the high THC levels make it a heavyweight champion for treating ailments like anxiety, depression, and PTSD.
Conversely, its low CBD content means you won't get much of an anti-inflammatory kick.
But hey, if it's the euphoric cerebral high and relief from psychological ailments you're after, this strain is your hero.
Aroma and Flavor
Step aside, NYC Diesel buds are here to blow your olfactory senses away!
With an intriguing terpene profile featuring myrcene, limonene, and caryophyllene, this strain brings an ensemble of scents and flavors.
Picture diesel fuel topped with a citrus zing, a touch of grapefruit, and a sprinkle of pungent earthiness.
You inhale, and it's like walking through an aromatic forest where trees exude the diesel aroma, once you touch the fresh buds you can not smell the other strains in your room or garden
What makes the NYC Diesel genuinely remarkable is its layered complexity of tastes and smells like Ripe Red Grape fruits.
The first puff might remind you of grapefruit, but as you exhale, don't be surprised if you catch notes of refreshing citrus and a finish that's all original diesel flavor.
It's not just a taste; it's a narrative, a story in each puff that keeps you coming back for more.
Growing NYC Diesel Plants
Growing NYC Diesel seeds is like taming a wild stallion; challenging but oh-so-rewarding!
You're growing a legend. And legends require extra care, just so you know.
Preferred Climate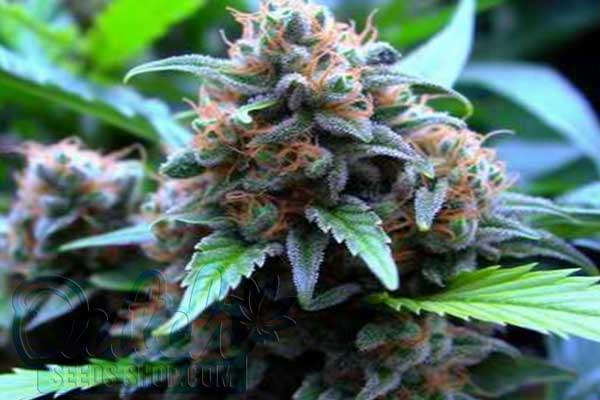 Regarding climate, NYC Diesel marijuana seeds are like that friend who always brings sunscreen to the beach - a total sun-lover.
Your best bet for a bountiful harvest is a warm climate, ideally with stable conditions to minimize stress.
Variability in temperature and humidity can make this potent strain a bit finicky, so keep those environmental factors in check.
Remember, NYC Diesel is a high-maintenance beauty.
Whether you're an indoor grower using climate control or an outdoor enthusiast relying on Mother Nature, maintaining the right conditions is crucial.
Rain or shine, your plants need consistency, so think twice before leaving them to the whims of changing weather patterns.
Indoor and Outdoor Yield
Ready for some heavy lifting?
Indoors yield ranges from 1.2 to 1.4 oz/ft², which is nothing short of a grower's dream.
Outdoors? Even better.
You could be looking at a generous 13 to 15 oz per plant.
But hey, remember, these aren't guaranteed numbers. Your yield is as good as your care.
Flowering Time
For those with an impatient green thumb, brace yourselves.
NYC Diesel has a flowering time that ranges from 70 to 84 days.
But don't fret; good things come to those who wait.
The flowering stage is like the last act of a thrilling play, one that calls for your utmost attention and care.
Factors like light exposure, nutrients, and growing techniques like Sea of Green (SOG) or Screen of Green (SCROG) can speed up or slow down this timeline.
But trust us, once those resinous buds are ready for harvest, all your waiting and work will feel worth it - guaranteed.
Buy Cannabis Seeds for Sale Online
Regarding quality seeds and germination reliability, look no further than the Dutch Seeds Shop seed bank.
Buy NYC Diesel seeds online, which are second to none and promise an unparalleled germination and growing experience.
Free Shipping Worldwide - Including the USA
Why settle for less when you can have more?
Dutch Seeds Shop offers free shipping worldwide, making your growing endeavor not just accessible but downright convenient.
Whether you're in the USA, Europe, or Timbuktu, we make sure your seeds reach you safe, sound, and on time.
We also offer fast delivery option ranging from 2 to 5 days.
On top of all that, order above $100, and you get free seeds!
Similar Marijuana Seeds
Looking to diversify your garden or just curious about cannabis strains similar to NYC Diesel?
Let's dig into some popular strains that share a kinship in genetics, effects, or cultivation needs with NYC Diesel strain seeds.
Whether you're hunting for a different flavor profile or similar euphoric kicks, this list has got you covered.
Sour Diesel: Known as NYC Diesel's pungent cousin, it also leans heavily on the sativa side with about 70% sativa genetics. While NY Diesel flowers in 70 to 84 days, it can be a bit quicker, taking around 10 weeks. Both share the strong diesel smell and the commonality of requiring meticulous care but promise high yields in return.
Blue Diesel: This is a more balanced hybrid. It offers a sweeter, berry-like scent than NYC Diesel's sharp citrus and diesel notes. Blue Diesel is also more forgiving on the cultivator, with a moderate difficulty level and a flowering period of approximately 55 to 60 days.
Blue Dream: A sativa-dominant superstar, Blue Dream shares NYC Diesel's happy and uplifting effects. However, it packs a different flavor punch, veering more toward blueberry sweetness than citrus tang. Blue Dream has a somewhat easier grow difficulty and often offers slightly higher yields, making it a worthwhile consideration for your garden.
Lemon Diesel: With this weed, you get a taste of the citrus notes found in New York City Diesel but with a lemony twist. Lemon Diesel is an indica-dominant hybrid, contrasting NYC Diesel's sativa dominance. The blooming times are comparable, with Lemon Diesel usually taking around 9 to 10 weeks.
Green Crack: If you're after the energetic effects of NYC Diesel, Green Crack could be your go-to. It's another sativa dominant weed but has a quicker blooming time of around 7 to 9 weeks. Yield-wise, it's comparable, and it has a distinctly tropical, fruity scent.
Blueberry Diesel: Think of this as NYC Diesel's chill sibling. Blueberry Diesel is an indica-dominant, making it more relaxing than NYC Diesel. It takes about the same time to bloom - around 60 to 75 days - but it comes with the added bonus of a blueberry scent, differentiating it significantly in the flavor department.
Each of these weed seeds brings unique characteristics to the table, but they all have similarities with NYC Diesel that might pique your interest.
So, whether you're a seasoned cultivator or a newbie, exploring these options could make your next growing season an intriguing journey.
FAQ
What is NYC Diesel hybrid strain good for?
NYC Diesel is excellent for treating anxiety, depression, PTSD, and chronic pain.
How tall do NYC Diesel plants grow?
These plants are known for their tall height, making them more suitable for outdoor growing.
What strain is NYC Diesel?
NYC Diesel is a sativa-dominant hybrid by Soma seeds breeders.