Pineapple Chunk Feminized Seeds Information
Get ready for a tropical burst of bliss with Pineapple Chunk Feminized Seeds!
Experience highs like never before and yield so good you'll wonder why you didn't get your hands on these seeds sooner.
Your senses will thank you for the scintillating aroma and euphoric effects.
But that's not all; growing this variety is a breeze!
Let's dive right in.
Pineapple Chunk Strain Origin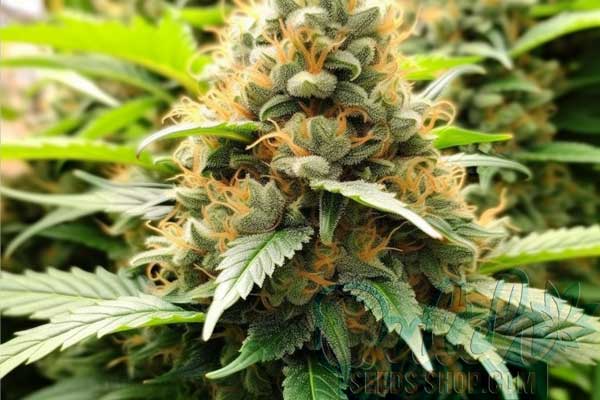 The Pineapple Chunk strain comes from some genuinely iconic parents: Pineapple, Skunk No. 1, and Cheese.
That's a lineage as regal as cannabis royalty gets.
What makes it stand out? It's an 80% Indica, 20% Sativa mix designed to impress.
Not just a mashup of flavors, Pineapple Chunk boasts a distinct personality inherited from its forebears.
The strain is known for being exceptionally resilient against diseases, and its 80% Indica dominance assures you of a deeply soothing experience.
Pineapple Chunk Weed Effects
You're in for a ride!
The effects of Pineapple Chunk can best be described as a rollercoaster of relaxation.
Imagine feeling totally chilled out but uplifted and happy at the same time.
This strain doesn't hold back in delivering powerful couch-lock effects that can keep you rooted to your seat.
Pair that with euphoria and upliftment; you've got yourself a ticket to paradise.
Whether you're looking to relieve stress after a long day or simply want to feel like you're floating on clouds, Pineapple Chunk delivers.
THC and CBD
Ready to talk numbers?
Pineapple Chunk has a THC level ranging from 15% to 25%.
That's like saying this strain could be your mild-mannered buddy or your wild party companion.
CBD levels? They're below 1%, so don't count on this strain for that.
These THC levels make Pineapple Chunk particularly useful for treating chronic pain, anxiety, and inflammation.
Conversely, the negligible CBD content means it's not your go-to strain for conditions requiring high CBD levels.
Aroma and Flavor
The aroma and flavor profile of Pineapple Chunk is truly a carnival for the senses.
Early on, you'll notice earthy tones with a secondary pineapple scent coming into the picture as the plant matures.
It's a magnificent blend of earthy cheese and sweet pineapple aroma.
Your grow shop will never smell better!
Growing Pineapple Chunk Plants
If you've ever fantasized about growing a nearly effortless strain that showers you with buds, say hello to Pineapple Chunk.
Whether you're a seasoned grower or a newbie, this strain is a pleasure to cultivate.
Preferred Climate
Welcome to Paradise, growers!
Imagine a warm, sunny haven where your Pineapple Chunk plants can flourish without a care in the world.
This strain is like that vacationer who prefers the beach over the ski slopes; it thrives in a warm climate.
If you plan on outdoor cultivation, ensure you're in a region that mimics such tropical warmth.
But hey, don't sweat it if you're not! Indoor growers can easily replicate these conditions with the right temperature and humidity control.
When it comes to battling the elements, Pineapple Chunk shows off its resilience.
It's impressively resistant to mold and disease, making it a reliable pick for your grow operation.
Extra Tips:
Optimal Temperature: 70-80°F (21-27°C)
Humidity Level: 40-50% during flowering
Sunlight: Lots of it, whether you're outdoors under the big sky or using high-intensity lights indoors
Indoor and Outdoor Yield
Let's talk numbers and get into what you're probably most curious about - the yield.
Pineapple Chunk is what you'd call a "high-achiever" among cannabis strains.
You can expect yields ranging from 1.5 to 2 oz/ft² when grown indoors.
That's a plentiful bounty for any grower looking for a quick and easy return on their cultivation efforts.
Outdoor yields are a different story altogether.
We're talking massive yields, ranging from 22 to 25 oz per plant.
Yes, you read that right.
This strain is a giver with a massive THC output, and it doesn't hold back when it comes to returns.
Flowering Time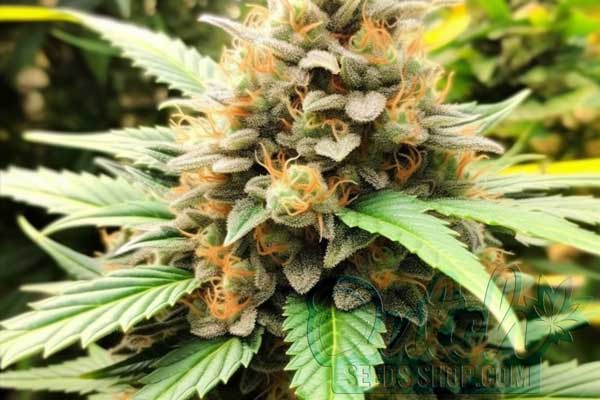 Oh, the anticipation of flowering time!
With Pineapple Chunk, the wait isn't long.
The flowering period for this strain ranges from 56 to 63 days, a relatively short cycle that adds to its allure for growers eager to taste the fruits of their labor.
Unlike strains requiring extended flowering periods, Pineapple Chunk lets you reap the benefits without a lengthy commitment.
And hey, the quicker the flowering time, the sooner you experience that powerful couch lock effect and delicious pineapple flavor.
Flowering time can be influenced by various factors like light exposure and stress on the plant.
Maintaining a consistent light schedule for indoor setups of 12 hours on and 12 hours off can lead to optimum flowering.
Outdoor growers should aim for a harvest from late September to early October to capture the strain's peak.
Buy Cannabis Seeds for Sale Online
Are you buzzed about growing your very own Pineapple Chunk plants? Hey, we can't blame you.
This strain is a growers' dream and a smokers' paradise.
Good news: Dutch Seeds Shop is your go-to destination to turn that dream into reality.
Not only do we offer quality-assured, feminized Pineapple Chunk seeds, but our seed bank is also home to a vast array of other strains that would make any cannabis connoisseur drool.
Trust us; we've got the stash to make your grow room shine.
Hold up! There's more.
When you buy from Dutch Seeds Shop, you're not just scoring some seeds but investing in an experience.
Our platform is tailored for growers of all skill levels, from that eager newbie who just figured out what THC stands for, to the seasoned veteran with trichomes practically growing out of their fingertips.
We serve it all up in a secure, user-friendly online shop that even your grandma could navigate.
Free Shipping Worldwide - Including the USA
Shipping costs can be a buzzkill.
There's nothing worse than filling your online cart only to find out the delivery fees are through the roof.
Dutch Seeds Shop swoops in like a hero, offering free worldwide shipping.
Yes, you read that right - worldwide, even to the good old USA.
But wait, before you get swept off your feet, let's sprinkle in a little more magic.
We also offer a fast delivery option ranging from 2 to 5 days, so you're just a click and a short wait away from starting your Pineapple Chunk adventure.
And here's the cherry on top: If your bill racks over $100, we toss in free seeds.
So not only do you get quality Pineapple Chunk seeds and a plethora of others to choose from, but your order might just bring along some unexpected, delightful surprises.
So, why settle for less when you can have the best?
Trust Dutch Seeds Shop for an uncomplicated, swift, and wholly satisfying shopping experience.
Similar Marijuana Seeds
Ah, you're here because Pineapple Chunk sparked your interest, right?
Let's dive into strains that swing in the same tropical groove.
These beauties have something in common with Pineapple Chunk, whether it's the luscious flavor or the heady effects.
Buckle up because we'll take a compelling tour of these comparable strains. 🍍
Maui Pineapple Chunk: A beach holiday in a bud! This strain shares a lineage with Pineapple Chunk and ups the ante on citrus flavors. While Pineapple Chunk leans more towards an 80% indica profile, Maui Pineapple Chunk strikes a more balanced indica-sativa ratio, making it a versatile pick.
Pineapple Express Auto: Speed is the name of the game. While Pineapple Chunk can take up to 63 days to flower, Pineapple Express Auto races through its life cycle in as little as 50 days. The high is uplifting but less intense, suited for those who want a milder version of Pineapple Chunk's euphoria.
Pineapple Kush: Sweetness overload! Pineapple Kush intensifies the sugary elements, offering a dessert-like experience. Though it has a similar THC range as Pineapple Chunk, the Kush influence brings an additional layer of relaxation, making it ideal for unwinding.
Pineapple Skunk: Say hello to a skunky undertone. While Pineapple Chunk offers a more complex blend of sweet and earthy notes, Pineapple Skunk embraces its skunky heritage unabashedly. Expect a similar yield but with a funkier, more audacious aroma.
So there you have it - strains that mirror the magic of Pineapple Chunk in their own unique ways.
Whether you're after a similar flavor, a quicker flowering time, or just an intriguing alternative, this list has got you covered.
Feel free to explore and find your own tropical paradise. 🌴
FAQ
What are Pineapple Chunk feminized seeds?
Pineapple Chunk Feminized Seeds are a mostly indica strain created by crossing Pineapple, Skunk No. 1, and Cheese. 
How long does it take for Pineapple Chunk to grow?
The average flowering time for Pineapple Chunk ranges from 56 to 63 days, making it a relatively quick strain to grow.
What is Pineapple Chunk?
Pineapple Chunk is a cannabis strain that offers a powerful, uplifting, and euphoric high.
How much does Pineapple Chunk strain yield?
Indoor growers can expect a yield ranging from 1.5 to 2 oz/ft², while outdoor yields can range from 22 to 25 oz per plant.