Cheese Feminized Seeds Information
Hello, fellow cannabis enthusiasts!
Ever wanted a strain that guarantees an unforgettable, cheesy experience?
Well, the Cheese marijuana seeds are exactly what you're looking for.
With their incredible resilience and fast-flowering characteristics, you'll be an expert cultivator in no time.
Let's dive into the world of Cheese and explore its magic!
Cheese Strain Origin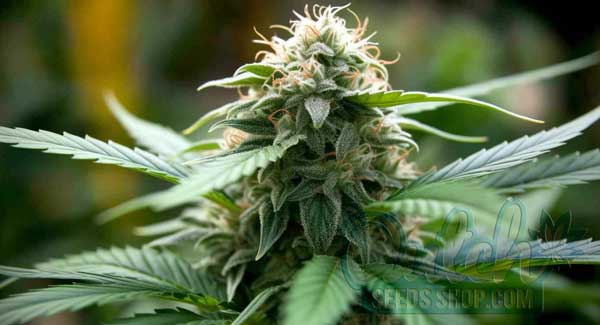 This legendary strain has a lineage that would make any cannabis plant proud.
The Cheese strain, a 60% indica, and 40% sativa mix, is an absolute classic.
It originated in the United Kingdom around the late 1980s.
Cheese is the glorious offspring of some cannabis titans: Skunk #1, Afghani, and White Widow.
Its distinctive name derives from its incredibly pungent, cheese-like scent, which we'll dive into more later.
What's fascinating is that Cheese was actually discovered by accident.
Cheese Weed Effects
Relaxation Galore: This marijuana leaves you feeling deeply relaxed. Got stress? Say bye-bye!
Euphoria at its Best: Euphoria is a hallmark, so expect some uplifting moments where giggles might be uncontrollable.
Stimulates Appetite: Got issues with appetite? It comes to the rescue. It's known to make everything taste divine.
Chronic Pain Relief: Many in the cannabis community swear by this weed for easing chronic pain, thanks to its powerful Indica traits.
THC and CBD
Aroma and Flavor
Smell: Think of a strong cheddar that's been dipped in a mix of earth and skunk. That's what you're getting here.
Taste: When smoked, it carries through its stinky profile but adds a touch of creaminess. There are also notes of earthiness and spice, with a slightly acidic kick.
Growing Cheese Plants
Preferred Climate
It loves a mild, temperate climate; think Mediterranean vibes.
If you're growing outdoors, ensure your plants get plenty of sunshine.
These plants are robust and can handle fluctuations in humidity.
Outdoor Cultivation: It is recommended for temperate or Mediterranean climates or greenhouses. You can expect a bountiful harvest by early to mid-October.
Indoor Cultivation: Make sure to invest in a good odor control system due to the intense scent. Also, ensure you have decent airflow and light penetration, which can be achieved through pruning.
Indoor and Outdoor Yield
Indoor yield: 1.8 to 2.1 oz/ft²
Outdoor yield: 26 to 30 oz per plant
Flowering Time
Buy Cannabis Seeds for Sale Online
We at DSS have a commendable selection of high-quality cannabis seeds.
The cannabis seeds at DSS are feminized, ensuring you'll only be growing those precious, resinous buds.
Free Shipping Worldwide - Including the USA
What's better than finding the perfect feminise seeds?
Getting them delivered for free!
We at Dutch Seeds Shop offer free shipping worldwide, including to the USA.
Not to mention, our shipping is blazing fast, with deliveries that typically take between 2 to 5 days.
Hold on; it gets better.
We also offer free seeds on orders over $100.
Now, that's a deal you don't want to miss!
Similar Marijuana Seeds
Critical Cheese: A delightful concoction, it combines the high yields of Critical with the distinct flavors. With a balanced Indica to Sativa ratio, this is a strain that offers a profound relaxation. The tetrahydrocannabinol content can range around 19% making it slightly more potent than the original. This is your go-to if you're after massive yields and a stinky cheddar delight.
Swiss Cheese: Ever wanted to combine pungency with the punch of Skunk #1? Meet this weed. A fast flowering strain that takes about 6-8 weeks to mature. With a slightly more Indica leaning profile, expect a body-heavy experience perfect for unwinding after a long day. This strain is resilient, and offers medium to high yields.
Super Cheese: This weed lives up to its name. Imagine the original with more potency and a more intense scent. If the smell wasn't intense enough for you, it cranks it up a notch. The strain maintains 60% Indica dominance, and with a blooming time between 8-10 weeks, it's sure to impress impatient cultivators.
Blue Cheese: This strain combines the classic with the fruity undertones of Blueberry. With tetrahydrocannabinol content between 15-20%. It offers a subtle euphoria and deep physical relaxation. Thanks to the Blueberry parent strain, you'll notice a burst of fruity goodness amidst the pungent aroma. Blooming takes about 8-10 weeks and is highly resistant to mold and diseases.
Exodus Cheese: This is an old-school classic. This strain is perfect for those seeking an extremely physical experience as it offers an intense body high. A subtle earthiness accompanies the piney scent of buds, thanks to its Skunk heritage. With a blooming time of around 8 weeks, this weed is excellent for those looking for a quicker harvest time.
Blueberry Cheesecake: For those with a sweet tooth, Blueberry Cheesecake combines the pungent aroma of buds with the sweet notes of Blueberry. It is slightly Sativa dominant, so expect an uplifting high perfect for social gatherings or creative endeavors. With a 9 to 10 weeks blooming time and THC content around 17%, it's ideal for a balanced, sweet experience.
FAQ