Plushberry Autoflower Seeds Information
These auto seeds hold the mystique of a strain that's both exotic and familiar, inviting cultivators and users into a world rich with flavor, ease, and satisfaction.
Whether you're just starting out with marijuana seeds or you're a seasoned cultivator, these seeds offer a balanced blend that allows for indulgence without overpowering the senses.
The perfect choice for cultivating indoors and outdoors, these seeds germinate into a plant that stands tall in flavor, yet modest in height, reaching about 4 feet.
If a sweet and earthy flavor, infused with citrus notes, is what you crave, these seeds are calling your name.
Plushberry Auto Strain Origin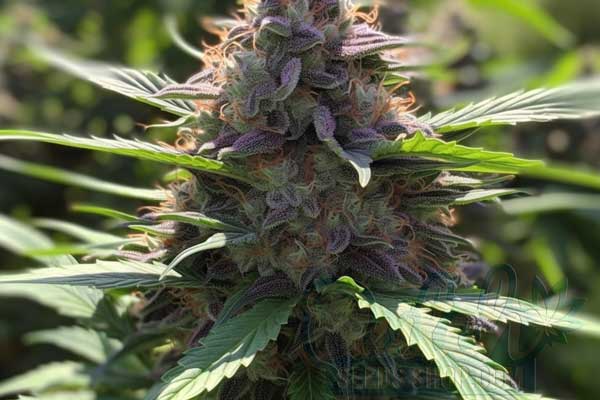 Born from a remarkable lineage, this is the progeny of Black Cherry Soda, Space Queen, and Ruderalis.
This auto hybrid strain has 80% indica with 20% sativa, creating a distinctive phenotype that resonates with cultivators and users alike.
The genetics bring forth a small and compact plant, teeming with resin and earthy and spicy taste.
Its lineage also perfectly evaluates an earthy aroma and a fruity appeal, making Plushberry an excellent choice for those seeking relaxation and euphoria.
Plushberry Auto Weed Effects
Dive into the world of this strain, and you'll be greeted by a sensational experience that's all about relaxation, happiness, and euphoria.
Known for its profound relaxation and sleepy effect on the mind and body, Plushberry offers both serenity and an intimate boost.
It's an impeccable companion for enhancing sexual experiences or unwinding after a long day.
With 80% indica, the relaxation feels natural, grounding, and peaceful.
Additionally, the Plushberry Autoflowering strain's therapeutic benefits make it an effective ally in managing symptoms of depression, anxiety, and chronic pain.
Its potential to reduce insomnia and aid mental health disorders like PTSD and ADD has also garnered attention.
When seeking sweetness and joy wrapped in a berry delight, this is the strain to explore.
THC and CBD
This auto strain is notable for its unique cannabinoid profile, specifically within its THC and CBD content.
The high THC levels in this fascinating plant range from 14% to 18%, offering a delightful euphoria and relaxation without overwhelming the consumer.
Those looking to alleviate pain or reduce stress will find these THC levels very effective, allowing for a pleasant high that doesn't overpower.
On the other hand, the CBD levels are relatively low, below 1%.
While this may not make it the prime choice for those seeking significant CBD-related benefits, the synergy between the THC and the trace amounts of CBD creates an engaging and smooth experience.
The moderate THC levels and low CBD content create an exciting yet comforting experience, perfect for social occasions or a relaxed evening at home.
Aroma and Flavor
The earthy smell and taste of this auto strain are where its magic truly shines.
Imagine a garden filled with the sweetness of berries, the tang of citrus, and the grounding scent of the earth - that's what Plushberry offers.
As soon as the buds are ignited, an enchanting fragrance fills the room, hinting at the sensory journey to come.
Upon the first taste, the sweet berry taste dances on the tongue, followed by the subtlety of citrus that lingers.
The terpene profile, with its rich presence of Limonene, Linalool, Beta-Caryophyllene, Beta-Myrcene, Beta-Pinene, Alpha-Pinene, Alpha-Humulene, and Eucalyptol, completes the picture, magnifying the strain's sweetness and joy.
Growing Plushberry Auto-flowering Plants
Embarking on a growing journey with these seeds is like opening the door to a world filled with possibilities.
The rich flavors and easy-to-grow nature makes it an enticing option for both new cultivators and experts alike.
Let's dive into what makes this strain an excellent choice for your garden.
Preferred Climate
Thriving in a mild climate, this plant needs attention to temperature and humidity.
Growing indoors allows for better control, but with precautions against pests, growing plants in a soil-rich environment outdoors can also lead to fruitful results.
Indoor and Outdoor Yield
The yield of this plant is something that appeals to cultivators.
Indoors, the range goes from 1.1 to 1.3 oz/ft², while outdoor growing can bring you 1.7 to 3.1 oz per plant.
The indoor setup, with control over the light cycle and humidity, often leads to a more fruitful harvest.
However, growing outdoors can also surpass expectations if you manage the climate well.
Flowering Time
Flowering time is a crucial aspect of growing cannabis, and this plant makes it easier with a period of 56 to 63 days.
With careful attention to nutrients, hours of light per day, and other environmental conditions, growers can achieve a timely and abundant harvest, enjoying the euphoric blend that this hybrid strain offers.
Buy Cannabis Seeds for Sale Online
When the heart yearns for something special, unique, and impactful, feminized and autoflower seeds at Dutch Seeds Shop (DSS) are the answer.
Our aim is to develop new strains, preserve old school strains and provide cannabis growers with the highest quality seeds.
With our online seed bank, buying auto seeds becomes a joyful journey, with variety of autoflowering feminized options available for both novice and seasoned growers.
The high-quality seeds with high germination rates, coupled with the security of a trusted source like DSS, offer extraordinary growth assurance.
Free Shipping Worldwide - Including the USA
With free worldwide shipping, including the USA, we ensure that the seeds easily reach your doorstep.
We also offer fast delivery that ranges from 2 to 5 days.
Those looking for a little extra can rejoice in free seeds on orders over $100 with free shipping, a feature that sets us apart as the great choice.
Whether you're in the market today for feminized seeds or autoflower cannabis seeds, the plush berry allure awaits, ready to fill your space with flavor, balance, and a joyous grow.
Explore the wide range of cannabis strains and hours of light per day in cultivation that DSS offers, and elevate your cannabis experience.
Similar Marijuana Seeds
If this marijuana enchants you, then you might find these similar marijuana seeds equally intriguing.
Each of them offers unique characteristics that resonate with Plushberry seeds but with their own distinct appeal:
Purple Urkle Seeds: With its floral aroma and sedative effects, Purple Urkle seeds stands as a counterpart to Plushberry's relaxing nature. The cultivation can be a bit more challenging than Plushberry's seeds easy-to-grow nature, but the premium yield is well worth the effort.
Purple Haze Seeds: Purple Haze dances to a different beat, bringing a cerebral high and mostly sativa genetics. While Plushberry seeds thrills with berry and citrus notes and body high, Purple Haze teases with a spicy potent kick, offering a refreshing mental experience. Flowering period is average, making it a choice for those who wish to explore beyond Plushberry seeds but stay within a comfortable growing timeline.
Guerrilla Breath Seeds: Known for its potency and wide yield range, Guerrilla Breath seeds is for cultivators looking for a challenge. Unlike Plushberry's seeds predominance, this hybrid offers complexity in both growth and experience. The yield varies, and the cultivators must be on their toes, but the reward is a robust, resin-rich flower that enhances the growing repertoire.
Goose Berry Seeds: For those who love the earthy and fruity essence but want to explore a new taste, Goose Berry seeds might be the ideal choice. It shares the easy-to-grow feature and delights with a citrusy twist. Though not as high in THC as Plushberry seeds, Goose Berry strain offers sweetness and happiness, making it an excellent choice for those venturing into new strains.
FAQ
How long does it take for Plushberry Autoflowering seeds to flower?
It takes between 56 to 63 days for these cannabis seeds to flower.
Is Plushberry Autoflower easy to grow?
Yes, it is moderately easy to grow and is known for its hardiness.
Is Plushberry Autoflower indica or sativa?
It has 80/20% Indica-to-Sativa ratio.